The Summer is almost over, and as we approach the last remaining days spent soaking the sun and tipping our toes in the sand, Spotify is giving a last hurrah to the top streamed tracks that followed us everywhere this Summer in Egypt.
This year's Spotify song of the Summer in Egypt is no other than "El Bakht" by Wegz. The heartbreak anthem was not Wegz's only song that topped Spotify's list this Summer. "B3ouda Ya Bilady" by Wegz was Egypt's fourth most streamed song in Egypt this Summer. 
Marwan Moussa also made a huge splash this season, where the internet could not stop sharing his songs "Aloomek" and "Batal 3alam", ranked number two and three on Spotify's official songs of the Summer list.
"The sound of the youth is being heard in every corner throughout the Summer, we are very pleased to see Egyptian rap continuing to grow and become the soundtrack of the Summer,"

said Mark Abou Jaoude, Spotify's Head of Music for the MENA region. 
"There is a growing fusion of sounds in hip-hop, it's now common to hear afrobeats, pop, dancehall on a rap track, and young artists are getting experimental with their beats and lyrics. It will be exciting to see what Egyptian Rap has in store for us in the future."
Another song that charted high on Spotify's songs of Summer this year was "Brrr Brrr Brrr" the song was a culmination of many talented artists' work, joining Abu El Anwar and Marwan Pablo on their first ever collaboration. With Lil Baba producing, the song has ad-libs that are impossible not to sing along to and dancey beats that make you want to stay on the dancefloor.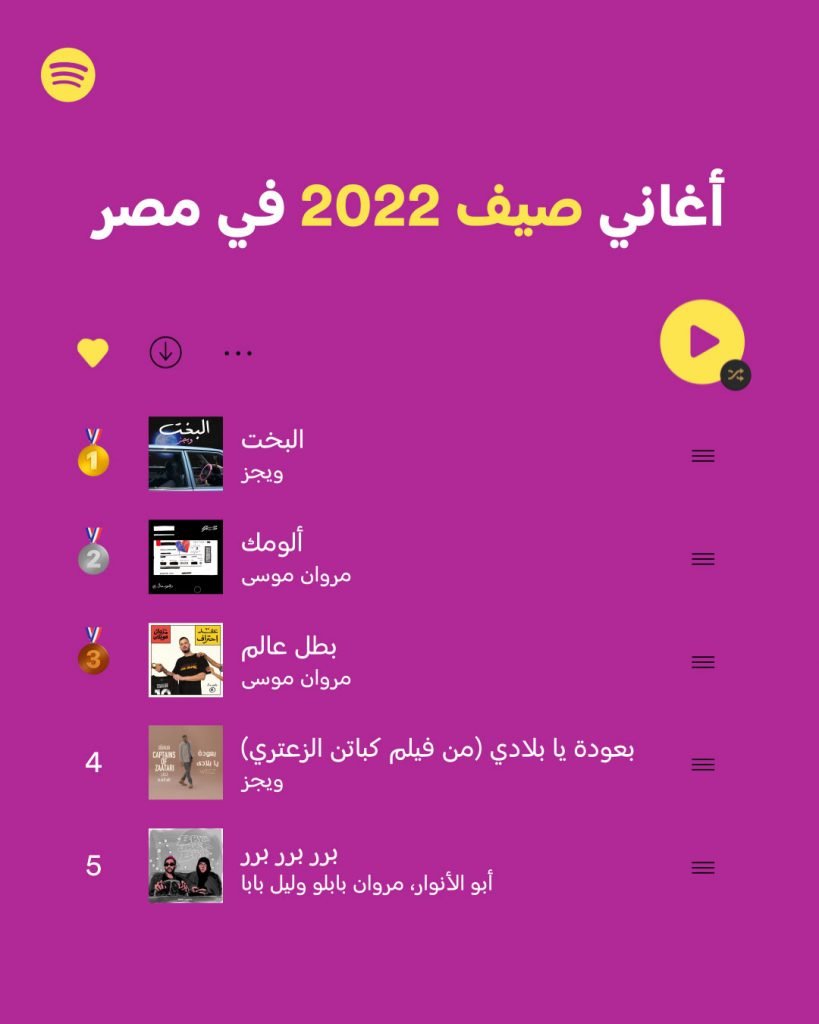 Check out Spotify's list of the top 2022 songs of Summer below