Cairo International Film Festival events are over, and the red carpet is no more. Yet we are still high on some fashion moments that are truly unforgettable.
Surprisingly, or not, our favourite designers were mostly, if not all, designed by Egyptians designers.
Perhaps it's the corona travel restrictions that made it preferable for our stars to dress in Egyptian designs but it did not let us down. Not even for a bit!
1 – Mo'men Awad dressing Cairo film festival red carpet's most fashionable men
Find him on Instagram @moamenawadofficial
Youssef Othman's classic suit
The classic fitting, stripes and vest were on point. And it feels nothing but the luxurious yet juvenile vibes of Youssef.
Chapeu for Mo'men who suited Youssef just right.
Mohamed Yousry in maroon velvet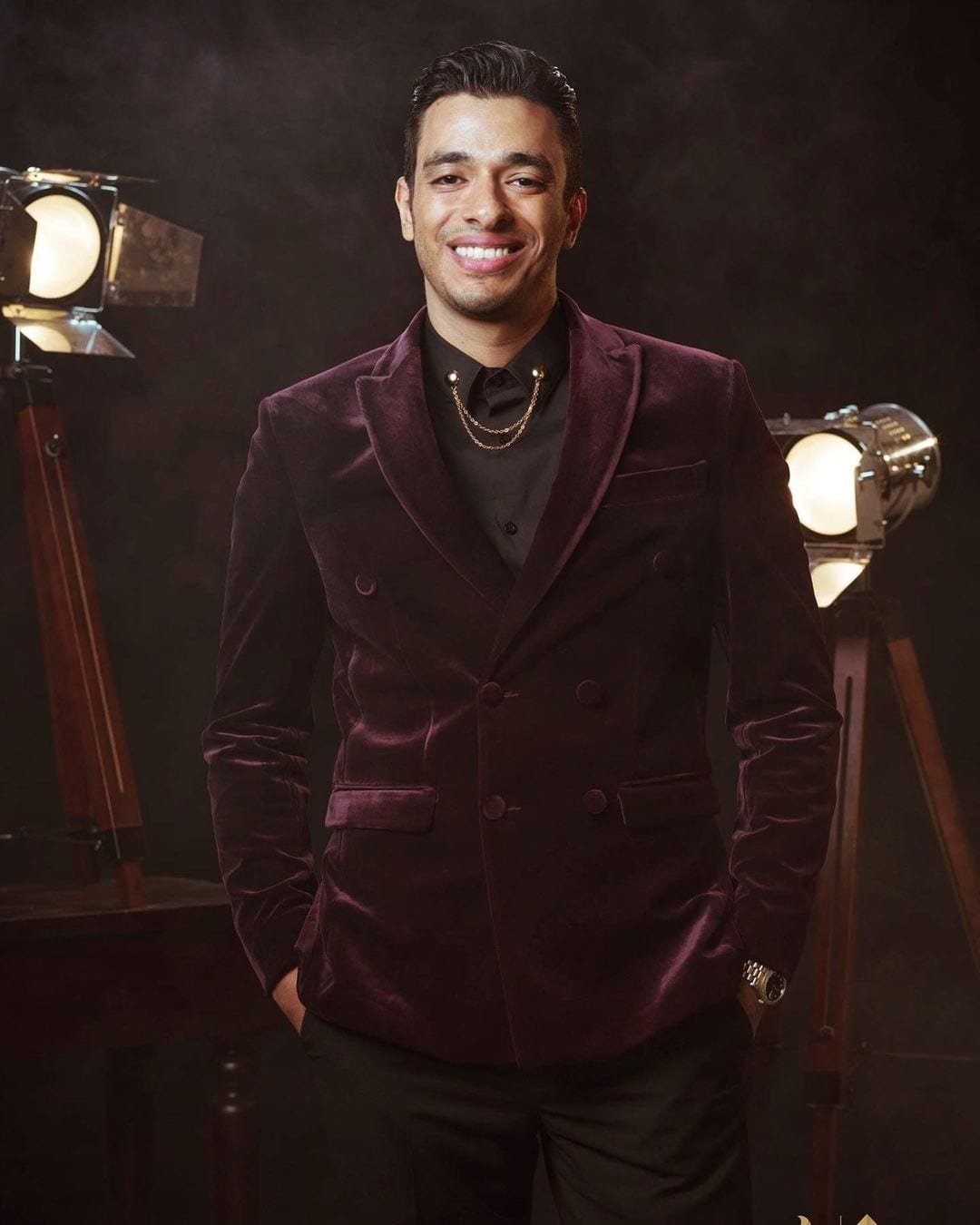 It's wintertime. It's velvet time.
And Yousry couldn't look any more cheque.
Hazem Ehab El Sawy in pitch black
This pitch black velvet blazer feels so soft to the eye and to the touch.
The cut is pleasing yet the fitting could use more refining.
But overall, delicious.
Toni Maher in more velvet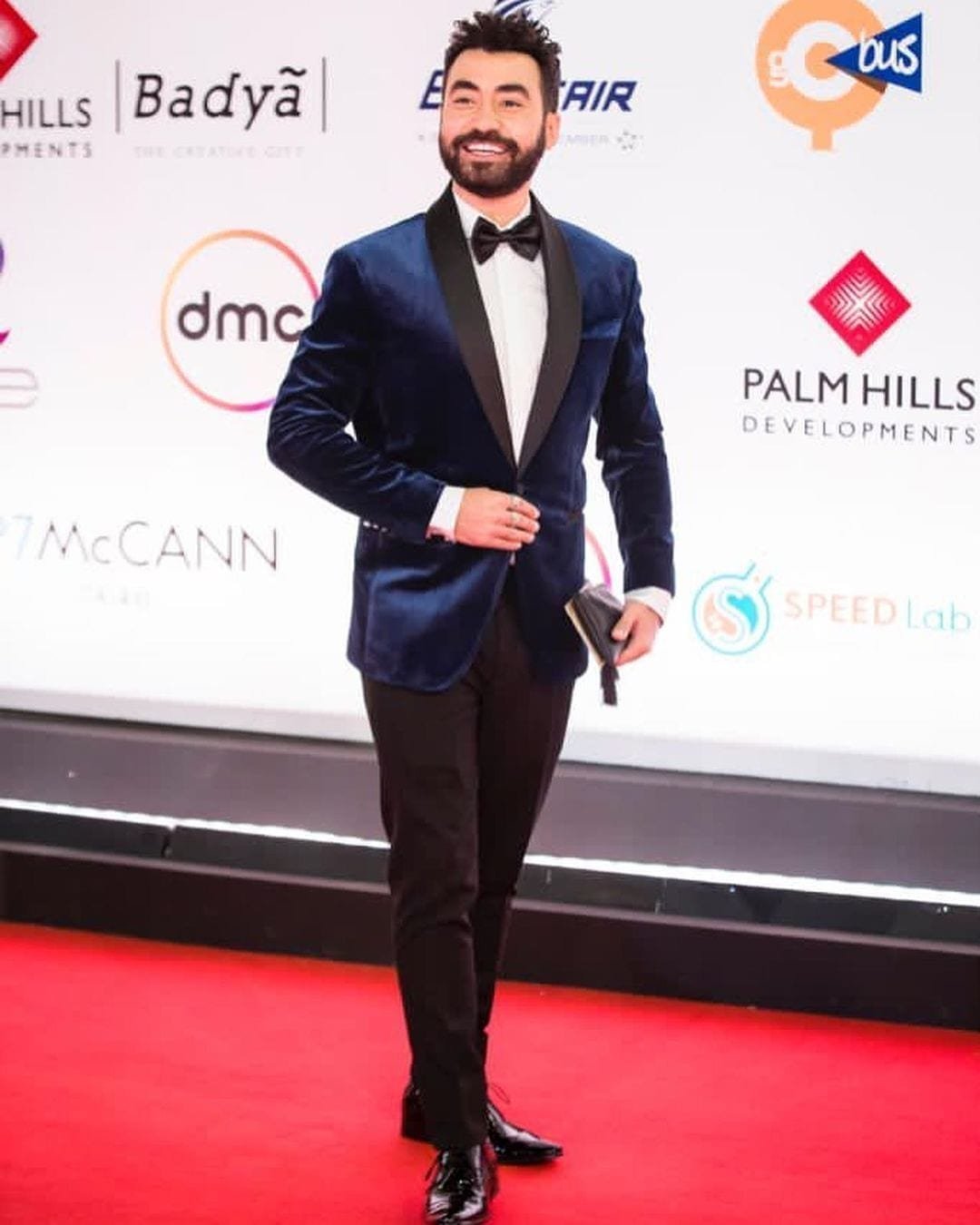 And here we go with Toni's suit and more velvet from Mo'men. We can't complain though, WE LOVE IT.
But we can't give all the credit to the designer in this spectacular look, Toni's lovable vibes served the suit so well. Bravoooo!
2 – Sara Onsi serving Cairo film festival red carpet with all the goodies
Find her on Instagram @saraonsiofficial
Amina Khalil and the luxurious vibes
This creamy fabric with the gentle color suit Amina's skin like cream chante on a beautiful cake.
The tail is so flattering and the jewelry with the shoes are just fabulous.
Riham Abdelghafour goes all the way shimmery.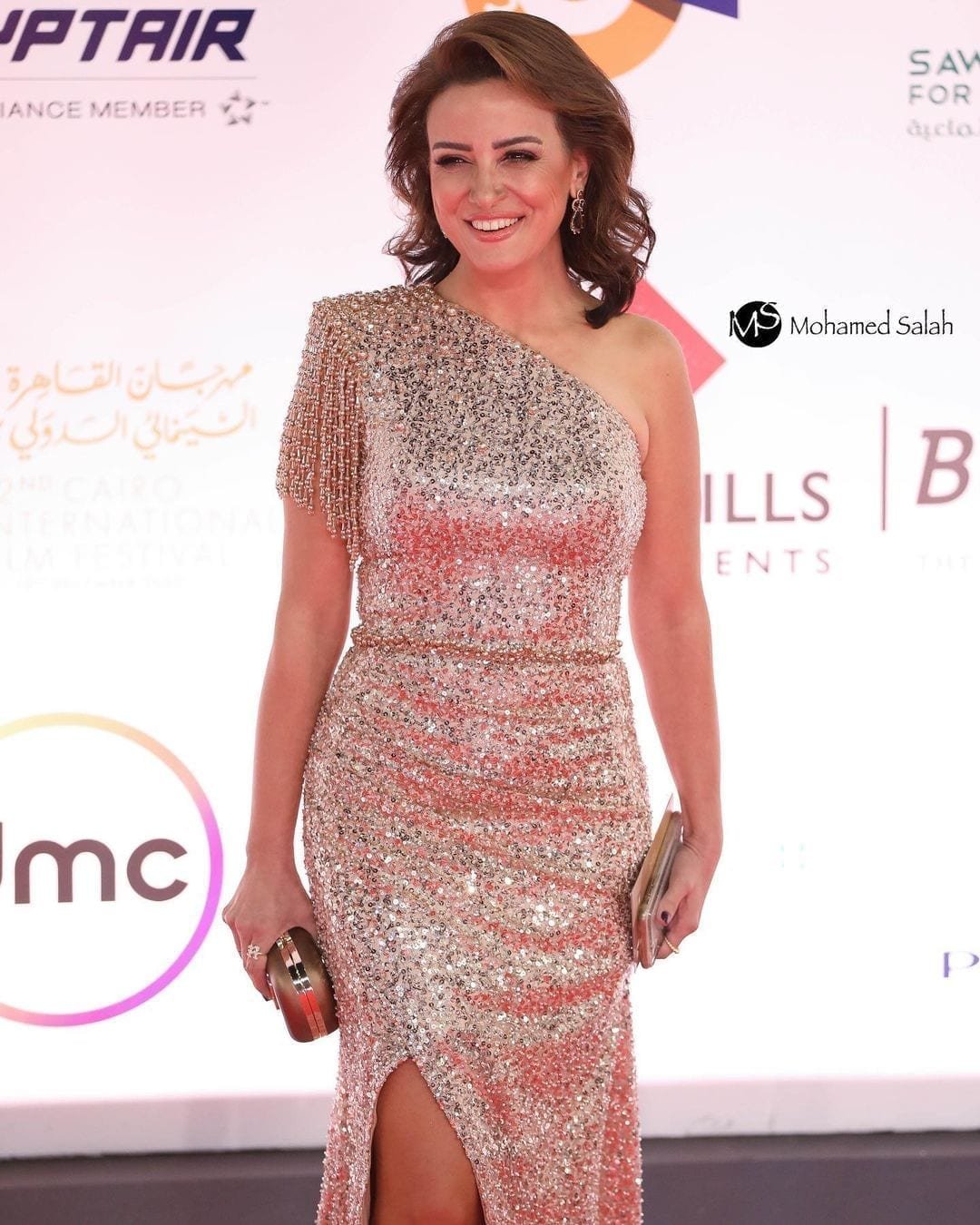 Riham walked into Sara's boutique and Sara was like SHIMMERY SHIMMERY SHIMMERY.
And oh boy! The sequin on this fabric with these shimmery shades of rose are serving a beautiful lady in a beautiful gown.
Yousra Ellozy: the lady in black
All heal the royalty.
What a beautiful gown for an extraordinary lady.
The pattern of the swarovskis from the chest down and the one shoulder sheer cape is magnificent.
3 – Samo Hagras dressing the Zahers sisters
Find him on Instagram @samo_hagras
Malak Ahmed Zaher in the black gown and Laila Ahmed Zaher in the blue-blackish gown.
Can you see how fancy the girls look?
Two innocent princess coming right out of a fairy tale.
4 – Maram Borhan is all about simplicity and chequeness
Find her on Instagram @maramborhan
Mariam El Khost in interesting frills
We love this gown specifically so much.
The black frills are so beautiful and Mariam is serving it like the queen she is.
Asmaa Galal in the royal blood color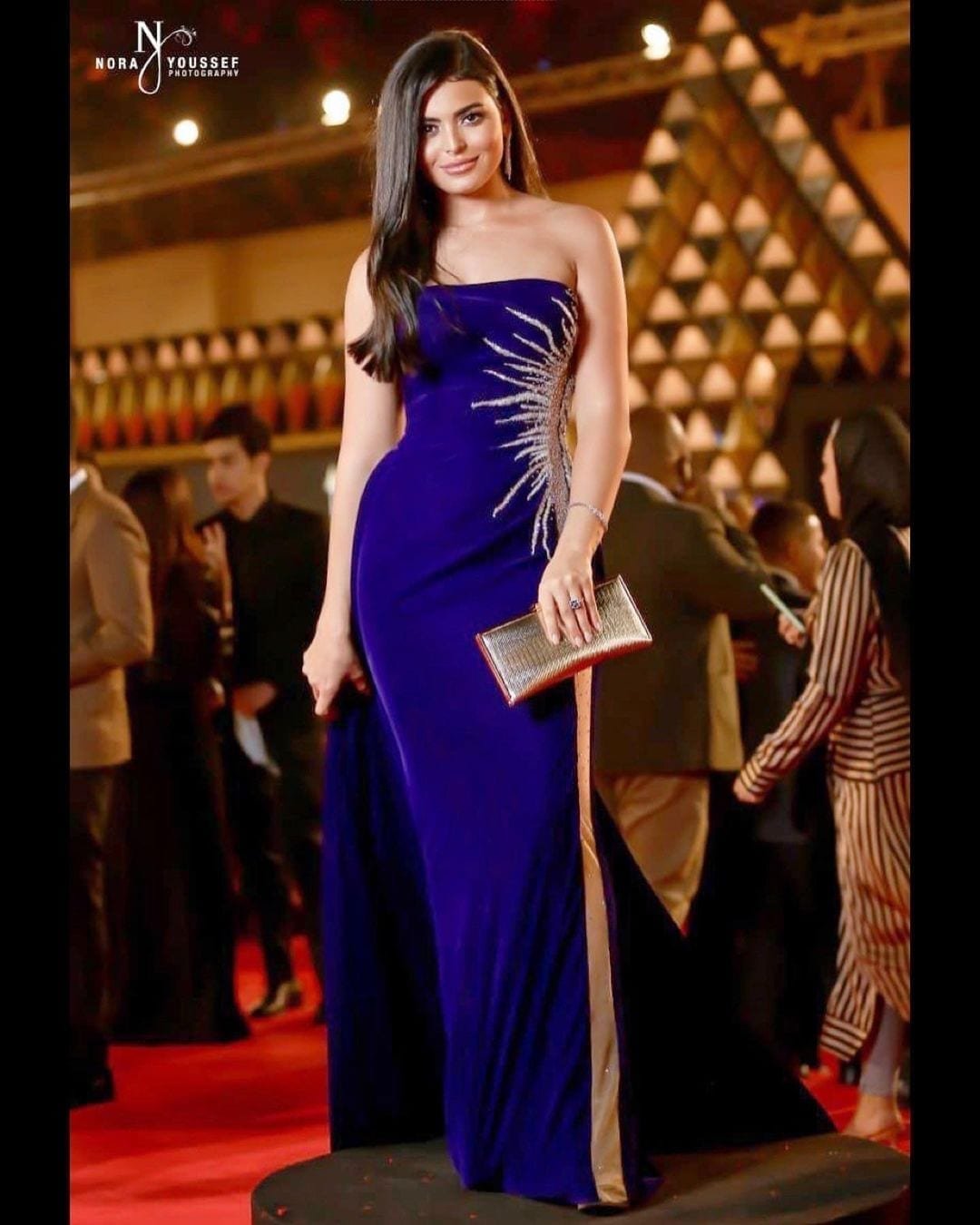 The simplicity of the cut and fitting suits this royal blue just right.
The sequin pattern and the bag are the perfect addition.
5 – Mariam Abedleghany dressing Mariam El Khost in a badass suit
Find her on Instagram @__mamzi__
This extraordinary look is serving bizarre yet satisfying fashion vibes to Cairo film festival red carpet.
And we are in love with it.
6 – Moez El Behery dressing Waleed Elgadi in bold and unique suits
Find him on Instagram @moaaz_el_behairy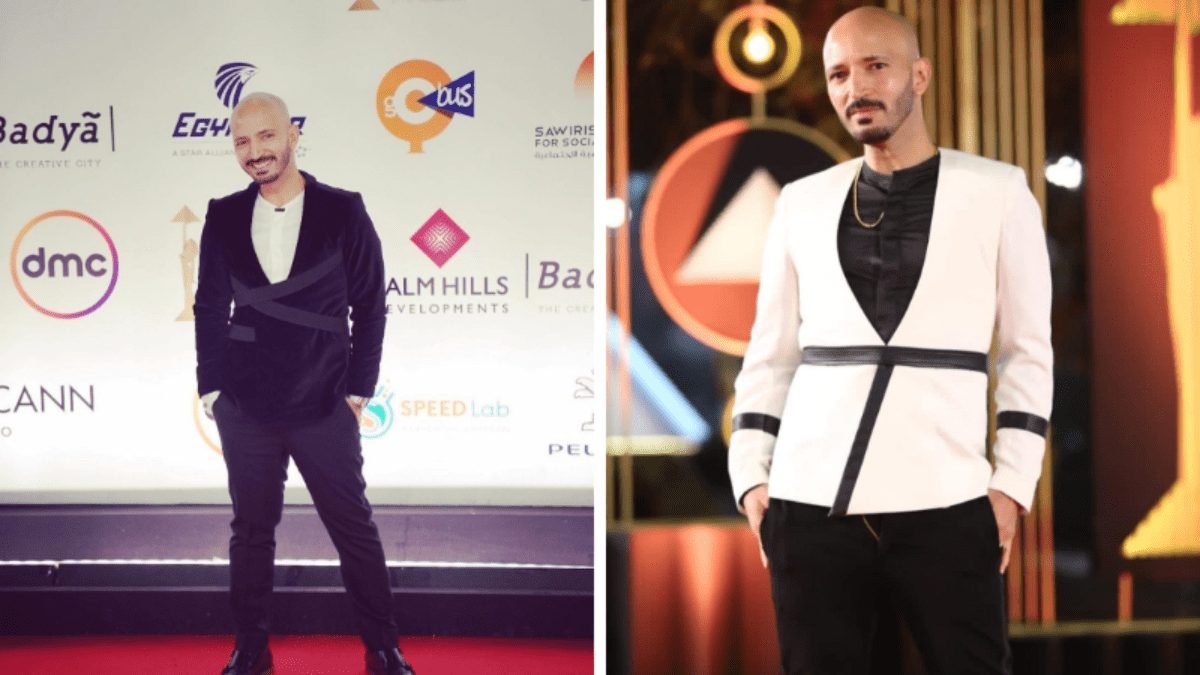 We always celebrate the bold and out of the box men fashion.
And Moez didn't let us down this year. These two looks on Waleed Elgadi are extraordinary.
7 – Nour Azazi dressing the gorgeous Mais Hamdan in a beautiful gown
Find him on Instagram @nazazy
The red carpet was blessed with this look on the always stunning Mais Hamdan.
Mais was one of our favorite dressed celebrities in El Gouna Film Festival red carpet, and we do not doubt that she is one of our favorite  on the Cairo film festival red carpet too.
Something about the neckpiece is so glamorous, I can't take my eyes off.
In no particular order, these are our favorite Egyptian designs from our Egyptian designers.
And no less than any international designer, they did a great job and blew our mind.