I remember receiving an email with the subject "Amir El Masry Is Selected for the BAFTA's Breakthrough Brits", and thinking this is either a spam email or I'm not sure who Amir El Masry.
Yet there he was; Amir El Masry, the boy we knew during our teenage years through the movie "Ramadan Mabrouk Abul-Alamein Hamouda".
It's rare in Egypt that we have an actor making headlines in international media, let alone get nominated for a BAFTA and a BIFA against Anthony Hopkins.
Yes, Amir El Masry is now a grown man that's making a serious breakthrough with his movie "Limbo", giving him not one, but THREE awards during Cairo International Film Festival.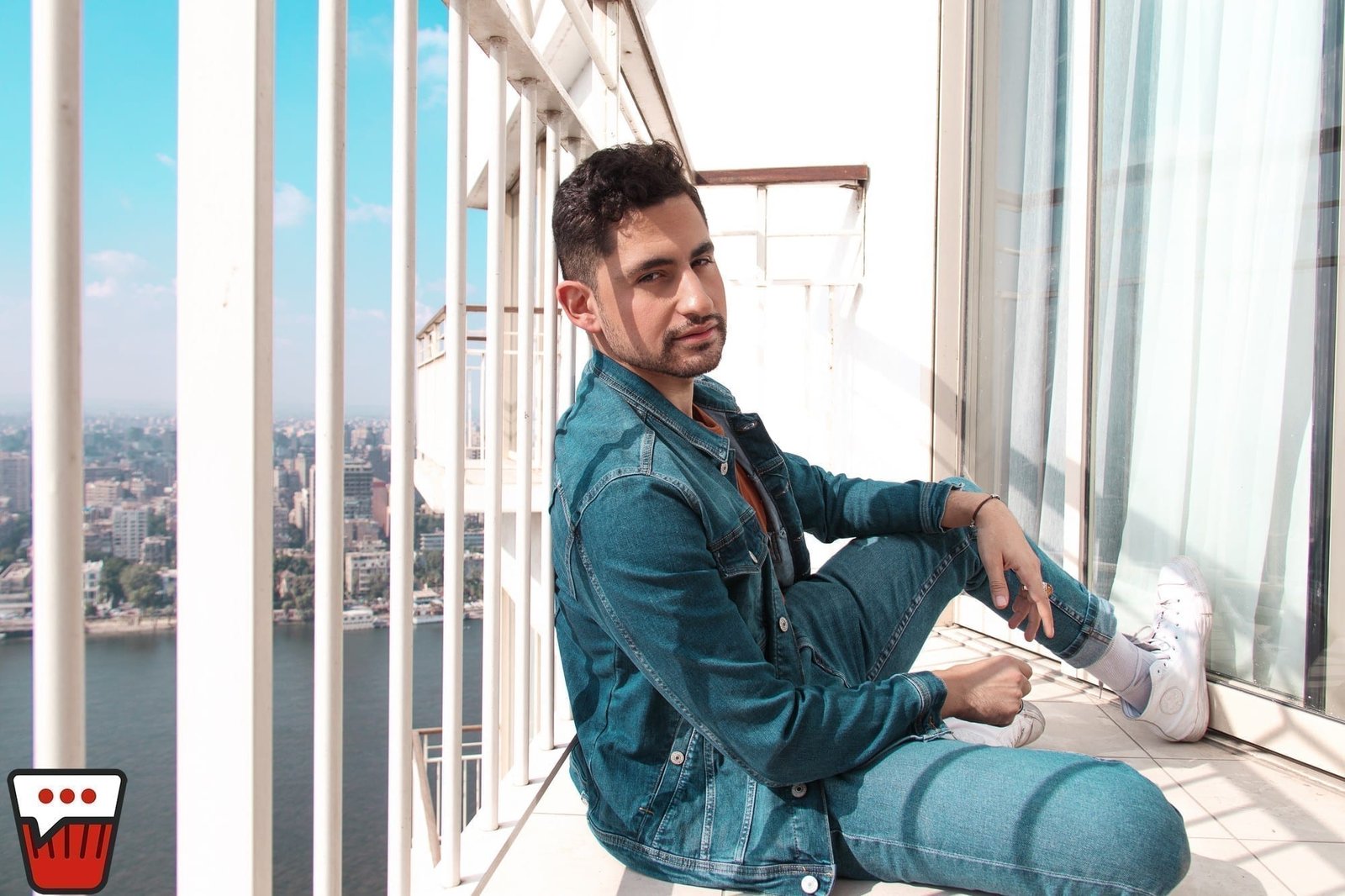 After receiving his Bafta nomination news, I reached out to his people and asked for an interview and suggested a photoshoot as well.
Surprisingly, everything was approved fast and professionally by Amir and his publicist, making it one of the easiest and most efficient projects to work on to date.
I met with Amir El Masry during the day of the interview and the shoot, and quite frankly, I expected him to be a stuck up who will spend most of his time bragging about his achievements. And let's be honest, it's fair enough.
To my surprise, he was a pleasant, shy and modest young man, who was respectful to everyone on set.
Seemingly overwhelmed by the attention he was receiving, he slightly tried to fade into the background when we weren't working.
So to break the ice, the geek in me had to ask about his experience on the set of Star Wars: Episode IX The Rise of Skywalker, where he played Commander Trach.
So much security, even more than most ariports. We'd even take our shoes off when we're getting intothe studios.
Born in Cairo and raised in London, El Masry adopted the best qualities from being a Brit and an Egyptian, not just in his personality, but in his acting as well.
In Egypt, we all took notice of El Masry alongside Mohamed Hendy during his role as the spoiled rich boy, Ramzy, in Ramadan Mabrouk Abul-Alamein Hamouda at 2008. Shortly after, we saw him with Yasmin Abd El Aziz in El-Talatah Yishtaghaloonha.
With so much potential in the Egyptian cinema, Amir El Masry disappeared from our screens right after, then started making a buzz in London.
I always wanted to be an actor – ever since I was 7 years old – but it's a risky job, and it takes a while to start making a living out of it, which is why I had to give myself a backup.

I studied criminology in London, then after graduating I studied acting in LAMDA – London Academy of Music and Dramatic Art, where I was doing theater.
It didn't take long, however, for El Masry to make it internationally. Just a year after he graduated from LAMDA, El Masry was already on the big screen with Jon Stewart's debut feature Rosewater.
Yes, that Jon Stewart.
Big Deal!
During one of the plays when I was still studying in LAMDA, the casting team for Rosewater were in the audeince, and after the play, they asked the school to have me audition for the role, which I went to.

I remember two weeks after, I left school early to go meet with Jon Stewart.
Like you would have guessed, he explained that he was terrified, almost shivering while holding the script in from of Stewart.
Instead of getting tested by Stewart, who's the writer and director of the movie, Amir El Masry was asked to put the script down and if he has shorts because it's hot in Jordan, where the film was shot.
I was 23 years old, and that was my first American and Hollwood sort of movie. I managed to get an agent from that movie, and I started working consistently since then.
Since Rosewater, Amir El Masry had at least two projects a year, varying from big-budget films to indie films, TV series, and even video games voice overs.
I always wanted to act in Egypt, and it's my ultimate goal. However, I still want to make it in Hollywood and Europe. I want to experience acting in more diverse roles, more indie movies, stories that are about humanity.

I feel like European cinema offers this more.
Acting can be tricky, especially when you jump from one genre to the other. For Amir, it was not just that, he also worked on so many projects in such a short time.
Amir El Masry's portfolio is very well diverse like we stated earlier, yet his acting somehow always seemed consistent.
No matter how much I hate the character, how far it is from me, personally, or even how evil the can be, I must find the humane part in them. What made them take this path?

I try to look for anything that is common with this character, and take it from there. I put myself in their shoe and try to think like them so Id be able to portray them as fairly as possible.
El Masry explained that this formula he's been following to get into the character could be exhausting because each character can take a part of him with it.
It can sometimes take a while to get this mask off.
While Amir El Masry mostly goes traditional with his acting, he can sometimes experiment with method acting, if the character needs that.
Going back to the movie Limbo; it revolves around four asylum seekers who are waiting for the processing of their refugee claims on a remote island in Scotland.
El Masry's character, Omar, is a promising Syrian musician who is separated from his family, who are staying in Turkey, and his brother remains in Syria to fight in the war.
The movie is all based on the amalgamation of real-life people.
El Masry said that he was lucky enough to meet actual refugees who experienced some of what his character, Omar, experiences in the movie.
I was lucky and priviledged enoguh to not expeirence what they did, but they genrously took the time to tell me about themselves and their expereince to help me with my character.

Just to have them take the time and give me the confidence to portray them was an enourmous compliment for me.
After meeting with the men behind the inspiration of the story, El Masry realised that Arabs use comedy as a survival mechanism for everything in life – the bad before the good.
I tried to extract the humorous side of the script.
We conducted this interview with El Masry before the film festival, which is why we haven't seen the movie in advance.
Every actor that gets interviewed has to speak highly of their film; they want to sell it to the press.
In this case, it felt different. We saw a passion and proudness from El Masry that seemed very genuine.
Limbo is a beautiful movie. I'm just so proud of it. If you like Wes Anderson or Elia Suleiman, then I think you might love Limbo.
Other than saying the names of two of my favourite directors, Amir El Masry didn't say much about how good the movie is. Yet what he said sounded extremely sincere.
Because of that, I decided to only write this story after watching the movie, to get myself to understand what he was trying to say.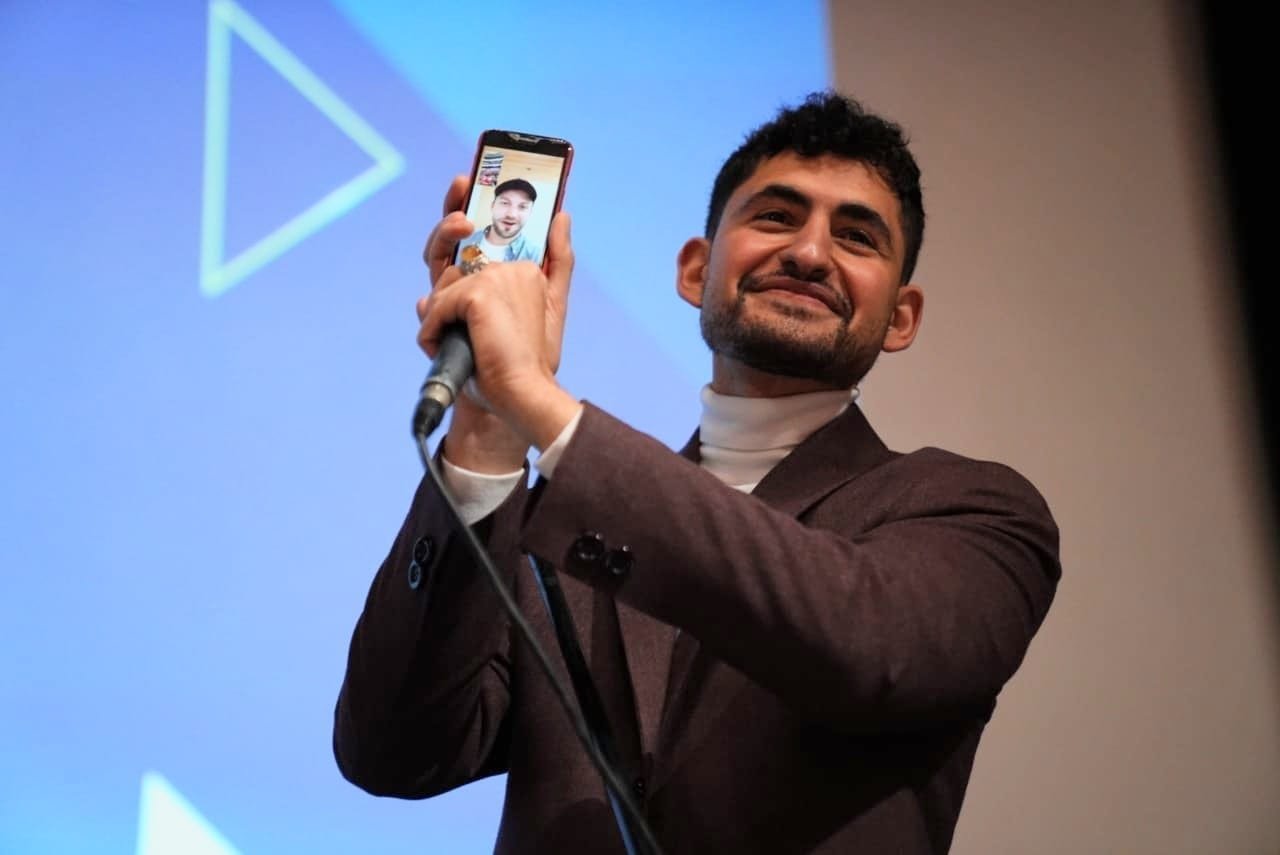 Limbo is written and directed by Ben Sharrock – a name that I was not familiar with until researching this movie. Needless to say, Limbo was the first, and so far the only, work that I've seen for him, and I can safely say that I know exactly who he is as an artist.
Visually, the movie is a piece of art. Each still from the film can be its own photograph. It is, however, too claustrophobic, which makes you connect with the feelings of the characters even more.
With very little dialogue in the movie, everything you see on the screen has a meaning. It goes as far as the aspect ratio of the film itself playing a significant role in it.
On the other hand, Amir El Masry's performance in Limbo is truly something else.
I have met Amir by the time of seeing the movie several times. I want to go as far as saying we became friendly, he even invited me and some of the crew from the photoshoot to the red carpet with him.
I knew who Amir El Masry was. He has a bubbly personality that you can't help but fall in love with. Just his presence in a room brings in a lot of positive energy.
Yet whenever he was on the screen in Limbo, I got an eerie feeling. His emotions would get to me to the point of wanting to leave the theatre because it became uncomfortable.
It was then that I knew that this man would be something big. Not just in Egypt but internationally.
His simplicity in his acting and his real-life personality are something to keep an eye on.
After seeing the movie, I wanted to go back home and write the story on Amir, but I waited till the festival ended.
I knew the movie would win, and it did.
Limbo snatched the top three awards in the movie. Needless to say, it was well deserved.
Working on this story was really more than I would have expected. Getting into to it, I only wanted to write a profile on an upcoming actor, but little did I know that I will be taken on a journey with this actor and his movie.
Limbo is genuinely a masterpiece, and Amir's performance will genuinely make you question so many things in life. You fall in love with Omar and hate the world that did this to him.
The movie is honest and doesn't take you to a part where you feel like this is too "Hollywood" to be true.
The best thing about Limbo is that it's all about Omar. There's no white saviour that comes to rescue him.
It's true.
Its all about Omar and Omar is the reality of the refugee's situation. He's a sad man who is separated from his family and would do anything to get things back to how it was.
Limbo breaks the concept that refugees want to leave their countries and take over Europe. On the contrary, most, if not all, of them had a great life before, and they would hae stayed if they had a choice.

No one wants to take anyone else's place. We all just want to survive and make it through.
Amir El Masry is not someone you'll be seeing less of anytime soon. On the contrary, you'll be hearing so much more of him.
Amir El Masry is surly the name you will be telling your grandkids that he was the pride and joy of the Egyptian and International cinema.
Assistant photographer: Shady Geroge @i.shadygeroge
Location: Grand Nile Tower