On August 10th, 2023, the prestigious Al Alamein festival in Egypt will witness a historic moment as the renowned Dubai-based Filipino fashion designer, Michael Cinco, takes the stage to showcase his latest collection, 'The Impalpable Dream of Egypt.'
This grand event, organized by Posh Management in collaboration with Counsel Masters, Skydive Pharaohs, and Al Alamein Arena, promises to be a mesmerizing celebration of art, culture, and Egypt's illustrious history.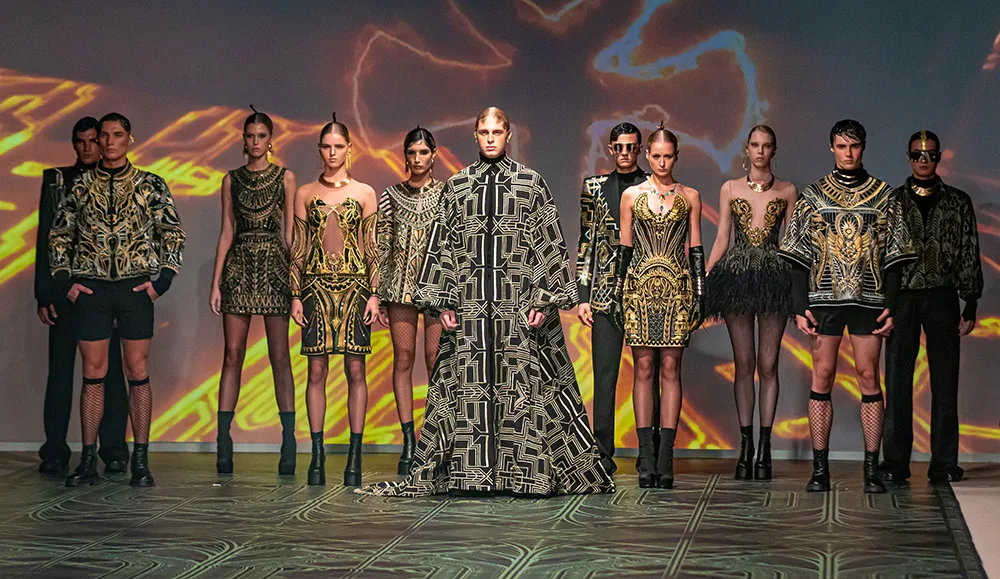 The Fascination with Ancient Egypt
Michael Cinco's inspiration for his latest collection stems from his fascination with ancient Egypt. 'The Impalpable Dream of Egypt' artfully pays homage to Egypt's rich cultural heritage, drawing inspiration from Pharaonic art and embroidery, as well as the majestic history of its rulers. The collection reflects a blend of opulent embellishments and meticulously crafted silhouettes, displaying Michael Cinco's signature style.
From Humble Beginnings to Dressing the Biggest Stars in the World
Michael Cinco has earned international acclaim for dressing some of the biggest celebrities in the world. From Beyoncé and Rihanna to Lady Gaga and Jennifer Lopez, his exquisite designs have graced red carpets and stages globally. His award-winning creations are known for their vibrant colors, crystals, and eccentric patterns, showcasing his acute focus on detail and luxury.
Beyond Couture: Expanding the Repertoire
In addition to his haute couture line, Michael Cinco has expanded his repertoire to include the Michael Cinco Jewelry collection and a Ready-to-Wear (RTW) line. The jewelry collection boasts unique and elegant designs, featuring the finest gemstones and precious metals with intricate craftsmanship. The RTW line offers exceptional designs suitable for various occasions, combining elegance with boldness and innovative cuts using high-quality materials.
About the Brand Michael Cinco: The Journey to Success
Born in the Philippines, Michael Cinco's journey to global success began with a passion for fashion that he nurtured from a young age. After studying Fine Arts at the University of the Philippines Diliman, he pursued his dream in the world of haute couture. His unique and vibrant designs quickly gained recognition, propelling him to dress celebrities and icons worldwide
Playing a significant role in Michael Cinco's success is his Egyptian-Arab partner, Sayed Aliouh, affectionately known as Sayed Cinco. Their collaboration has perfectly blended commercial and artistic sensibilities, making the house of Michael Cinco stand out in the fashion industry. Sayed Cinco's efforts in management and creative execution have been instrumental in the brand's rise to prominence.
The Tea?
Michael Cinco's journey from humble beginnings to global recognition is a testament to his resilience and determination. Through his designs, he continues to inspire and captivate audiences worldwide, leaving an indelible mark on the world of fashion.
As the countdown to the grand show on August 10th, 2023, begins, fashion enthusiasts and art connoisseurs eagerly await to witness the genius of Michael Cinco unfold on the runway. This event adds another chapter to Egypt's rich tapestry of cultural and artistic brilliance, solidifying Michael Cinco's place as a visionary designer who embraces heritage while pushing the boundaries of creativity.
---
When and where will Michael Cinco's fashion show take place?
Michael Cinco's fashion show will take place in Egypt during the prestigious Al Alamein festival, specifically at North Square on August 10th.
What is the inspiration behind Michael Cinco's latest collection?
His latest collection, 'The Impalpable Dream of Egypt,' draws inspiration from Pharaonic art and embroidery, as well as the illustrious history of ancient Egypt.
Which celebrities has Michael Cinco dressed in his designs?
Michael Cinco has dressed numerous celebrities, including Beyoncé, Rihanna, Lady Gaga, Jennifer Lopez, and Mariah Carey, among others.
What other fashion lines does Michael Cinco have besides haute couture?
In addition to haute couture, Michael Cinco has the Michael Cinco Jewelry collection and a Ready-to-Wear (RTW) line.
What role does Sayed Cinco play in Michael Cinco's success?
Sayed Cinco, Michael Cinco's Egyptian-Arab partner, plays a significant role in the brand's success through his management and creative execution.