A recent social media controversy has ignited a heated debate surrounding Ahmed Saad's stage outfit during his latest performance in Jeddah. Adding fuel to the fire, Ahmed Magdy's striking photoshoot with Grail magazine has further intensified the discussion.
Fashion, being a matter of personal taste rather than rigid rules, warrants a closer examination of these incidents.
While Saad's outfit was widely regarded as a misstep, Magdy's photoshoot exuded aesthetic appeal, offering a unique perspective, yet they both still received the same amount of backlash.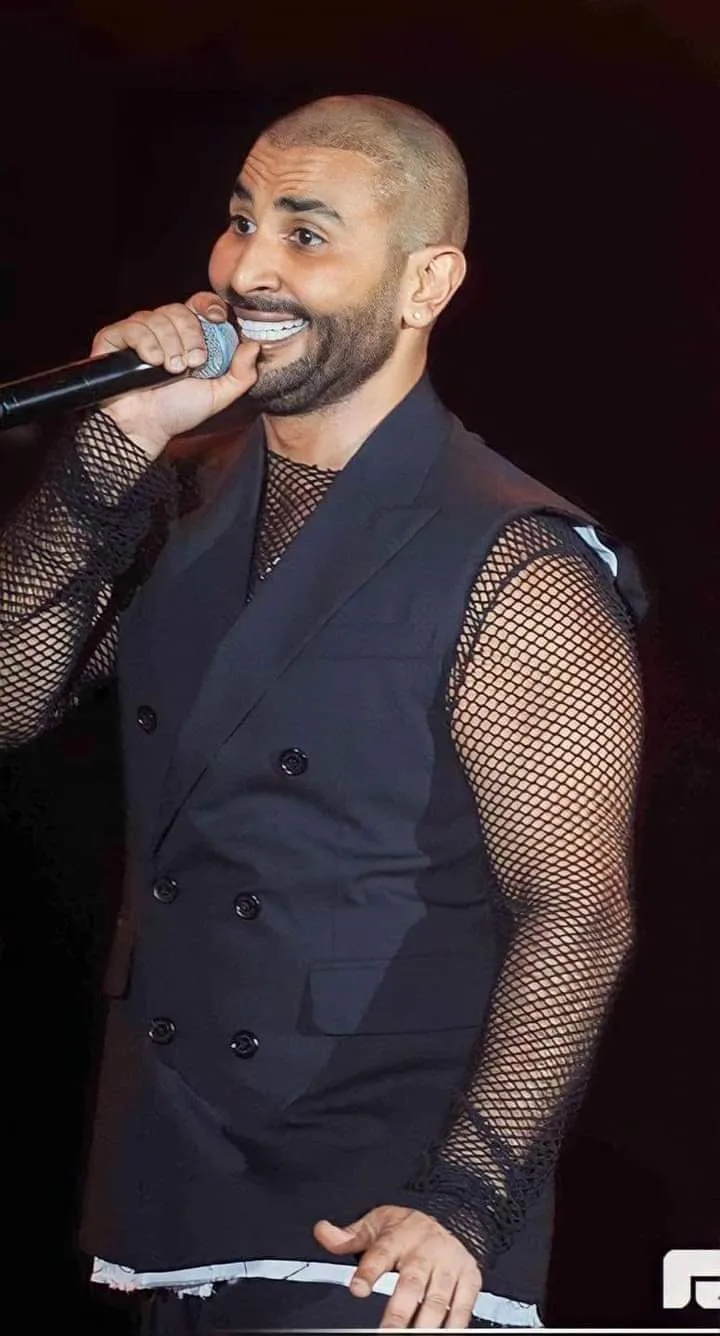 The Neglected Realm of Men's Fashion
The evolution of women's fashion has been extensively documented, with a focus on high-profile events like the El Gouna Film Festival and the Met Gala. In stark contrast, men's attire, particularly in Egypt, has received scant attention. Despite the rise of male fashion designers, well-dressed men at festivals rarely become topics of discussion.
Celebrities and Their Unconventional Style: It's not Every-Day Streetwear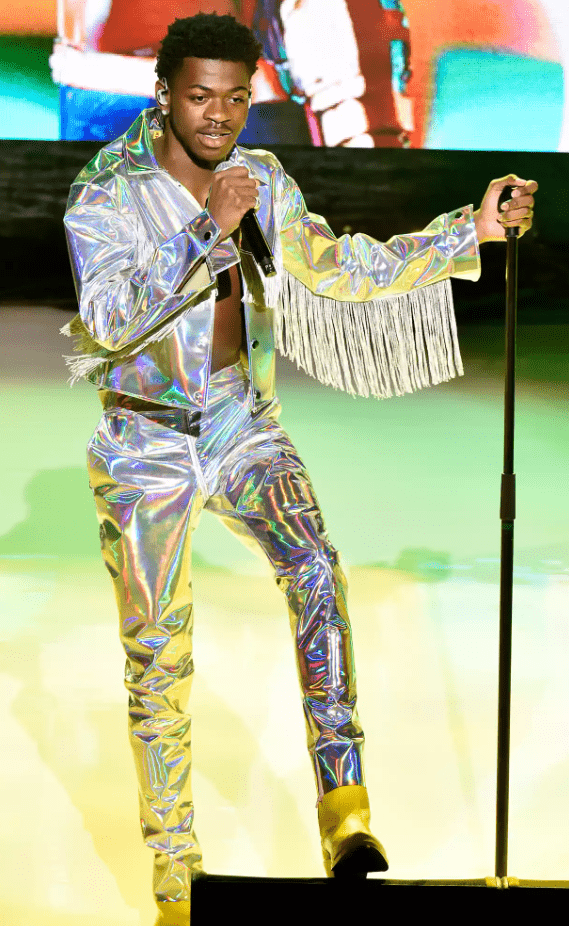 For years, diverse international artists have donned eccentric and unconventional attire while performing on stage or strolling on the red carpet. These include iconic figures such as Michael Jackson, David Bowie, Travis Scott, Marilyn Manson, Kanye West, and Lil Nas X, among many others, who use fashion as a means of expression. Major events such as the Super Bowl and the Met Gala typically specify a theme that performers and artists are anticipated to adhere to.
This does not by any means lead to the idea that what was worn on stage can be worn on the streets on a casual Sunday. I mean, if you want to, we totally support it. However, these are not the outfits you can easily find in a fast-fashion store. They are not meant for that in the first place.
Artist Image and Persona Representation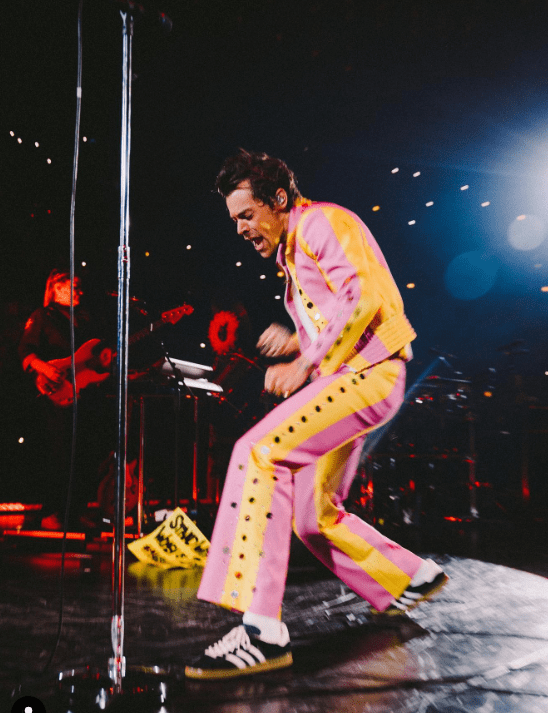 "Fashion is not about utility. An accessory is merely a piece of iconography used to express individual identity."

– Doug, The Devil Wears Prada (2006)
Agreed, Doug.
Fashion serves as a means of self-expression for all of us. Our outward appearance reflects our values, beliefs, interests, and inspirations to some degree. This implies that artists employ a similar approach.
Artists heavily rely on their appearance for image representation and presence in the scene. A distinctive haircut or clothing style easily distinguishes one artist from another, while an iconic item further simplifies the task.
Notice how Marwan Pablo's hair became such a popular thing when he first appeared in the scene, although it is quite common among young adults. But why go that far? This takes us to the next point.
Powerful Statements and On-Stage Presence
The 80s and 90s were a time of thriving rock star fashion, characterized by unforgettable iconic outfits featuring long hair, leather jackets, ripped denim, chokers, animal prints, and dark makeup. Pop stars during this era also had their own unique styles, featuring sequined dresses, shiny metallic items, and eye-catching colors.
Artists don eccentric attire to draw focus during performances. It is an artistic expression; truthfully, spectators are prone to gawk rather than heed. This trend is also evident in music videos and movie debuts, with hip-hop artists adopting more feminine styles in recent times.
Artists from past eras wore outfits that are now popular as streetwear. These outfits were controversial back then, but they have evolved naturally in fashion.
Think about it, how catchy would it be if your favorite male artist appeared on stage in a plain t-shirt and a pair of jeans at a concert? Not at all!
Male Egyptian artists are making fashion statements with notable success. Wegz, for instance, wore Valentino from the Fall/Winter 2022 collection, while Afroto sported a fashionable outfit at the Redbull Soundclash 2023 concert. Ahmed Bahaa of Sharmoofers deserves special mention for his numerous iconic on-stage ensembles.
Controversy and Personal Preference
As stated earlier, judgments regarding others' clothing choices ultimately rest on individual taste. The ongoing controversy surrounding Saad's outfit has escalated to the point of canceling his upcoming performance at the Al-Ahly Club opening celebration. It is essential to recognize that discomfort with unfamiliar styles stems from personal preferences and societal expectations regarding masculinity.
While it may be challenging to accept fashion choices that deviate from the norm, it is vital to acknowledge that artists often embrace unconventionality for a reason. Controversies surrounding celebrities' outfits arise from our discomfort in witnessing choices we would not make ourselves. Furthermore, they relate to our perception of masculinity and the preconceived notions of how it should be portrayed. Ultimately, the fashion world thrives on diversity, innovation, and self-expression, even if it challenges conventional norms.