Egypt launches its first touristic restaurant at the Giza Pyramids plateau; 9 Pyramids Lounge.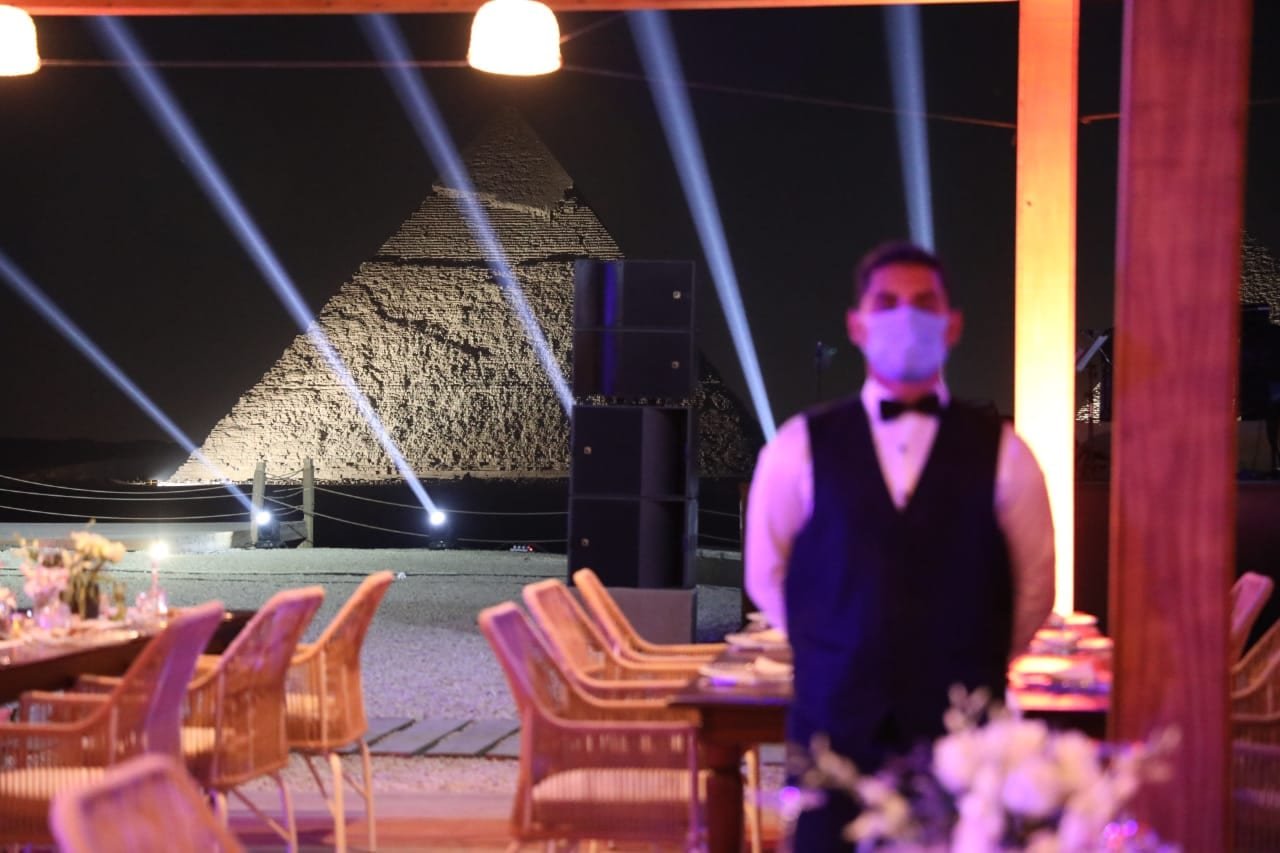 "Today, we announce the opening of the first tourist restaurant in the Panorama area of the Pyramids Plateau,"

Egyptian Minister of Tourism and Antiquities Khaled al-Anany said at the opening ceremony.
Called "9 Pyramids Lounge," the restaurant is the fruit of cooperation between the Supreme Council and Antiquities and Egypt's Orascom Pyramids Entertainment (OPT), which is a subsidiary of the Orascom Investment Holding (OIH) group.
9 Pyramids Lounge is built in a subtle wooden setting, with pillows scattered on the ground to emulate the Bedouin style.
"The restaurant's unique location offers a view of all pyramids in Giza," al-Anany said, stressing that Egypt is keen to establish a tourist and archaeological infrastructure as it will have a positive impact on the tourism sector in the monument-rich country.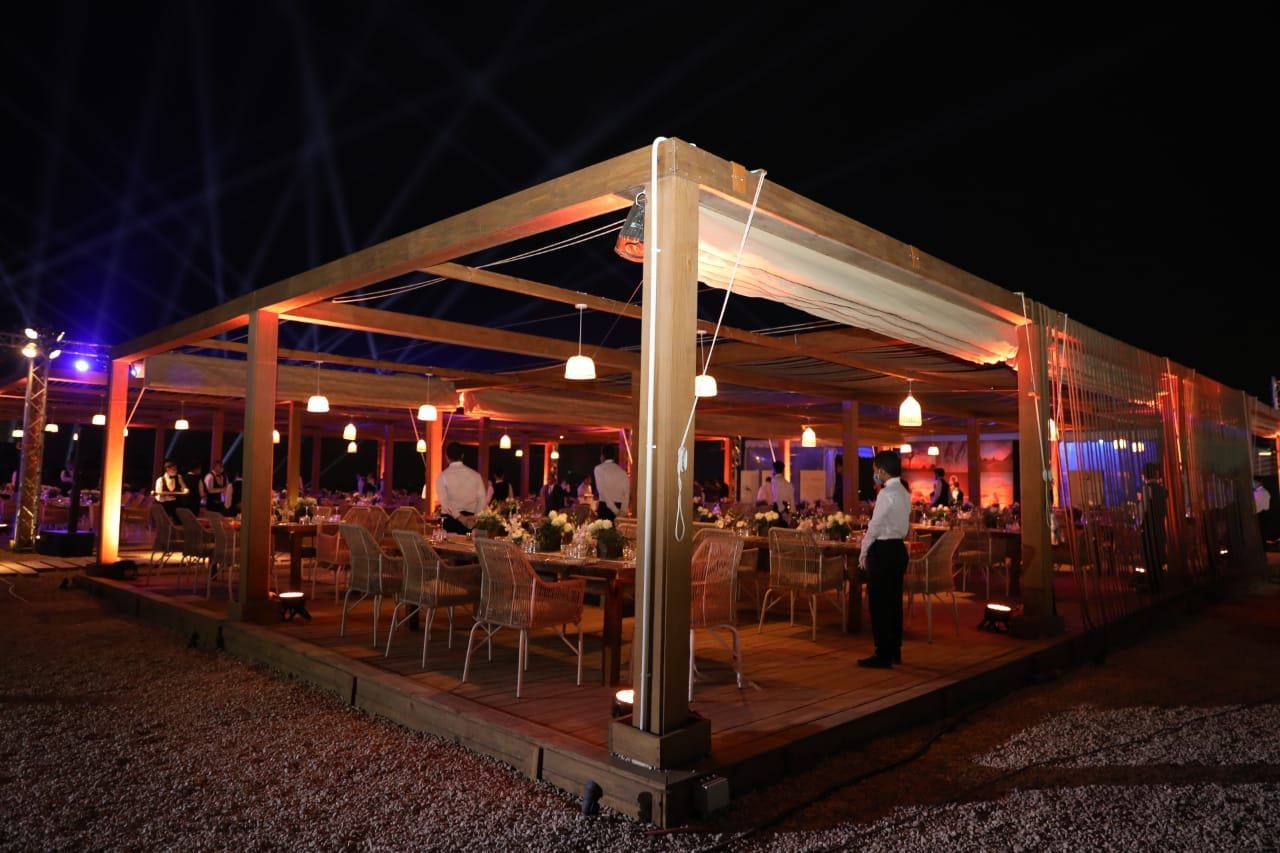 For his part, Naguib Sawiris, Chairman and CEO of OIH, said his group's main objective is upgrading services provided to the visitors of the pyramids while preserving the area from all forms of pollution as well as creating a fascinating experience for its visitors.
He revealed that two more restaurants and a cafe would be launched in early 2021 in an old building located on the northwestern side overlooking the three pyramids.
"We will also convert the entire visit to the pyramids area to eco-friendly electric buses," Sawiris said.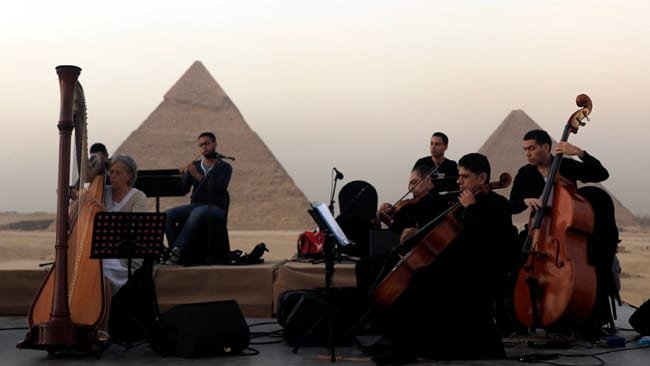 The attendees witnessed the trial operation of an environmentally-friendly electric bus in the area, which runs from the visitor centre station to Panorama One Station, reaching Menkaure, Khufu and Khafre stations and ending its route at Sphinx Station.
The cost of the project is EGP 301 million.
Now with all the technical information aside, et know more about the 9 Pyramids Lounge itself!
To get into 9 Pyrmaids Lounge, you have to follow the Giza Platue regulations:
Pass through security checks.
Buy entrance tickets (EGP 30 for Egyptians, EGP 200 for foreigners and EGP 5 per car)
Allow yourself 15-20 minutes to navigate your way through this process to arrive at the Lounge on time.
Rules, reservation and how to get there:
Reservation is necesary.
For reservation, call 01212299999 between 9 AM – 5 PM.
Visitors are able to access the lounge in their personal cars where there will be parking spaces available at the Lounge.
9 Lounge access gate is right after the Mena House Hotel.
Operating hours are between 9 AM – 5 PM
Breakfast is served from 9 AM -11 AM.
If you are joining us for breakfast, you are to vacate your table by 12 PM.
Last entry to the Lounge is at 3.30 PM.
What's the menu for 9 Pyramids Lounge, and the average prices?
Prices range from EGP 90 – EGP 350, in addition to the 30 or 200 EGP pyramids entrance fees mentioned earlier.
While we can't say it's a cheap place, but it sure sits on average in comparison to other restaurants and lounges in Egypt. Maybe even slightly cheaper. And with it's view and overall experience, we think it's worth it.
Now as for the menu of 9 Pyramids Lounge, it's a very standard International, Mediterranean, Grill, Middle Eastern, Egyptian menu.
You can find their full menu on their Facebook account.