After a successful three-week screening, Gaza Mon Amour by twin brothers Tarzan and Arab Nasser will continue screening for the fourth week in a row at Zawya Cinema as of Wednesday, August 25, 2021.
This comes in coincidence with the film's participation in the Amman International Film Festival, in which it opened the festival. The film has commercially released in Egypt on August 4, and is slated to release in Jordanian theatres soon.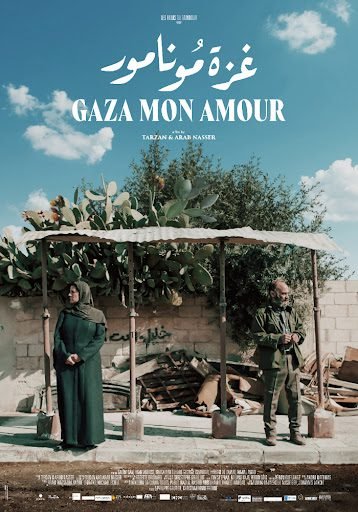 Recently, Gaza Mon Amour nabbed the Critics' Choice Award at the Fribourg International Film Festival in Switzerland. The film was Palestine's official submission to the Oscars, and it received the Best Actress award and the Best Feature film at the Critics Awards for Arab Films, an initiative organized by the Arab Cinema Center.
The film also won multiple international awards, including the Best Actor Prize for Salim Daw at the Malmo Arab Film Festival in Sweden, the NETPAC award at the Toronto International Film Festival, the Best Film award and Special Mention at the Cairo International Film Festival, the Best Actor award at the Antalya Film Festival and the Best Film and Best Script awards at the Valladolid International Film Festival.
The film landed its world premiere at Venice International Film Festival and took part in several prestigious international film festivals including, The Chicago International Film Festival, Stockholm International Film Festival, Thessaloniki International Film Festival, Zagreb Film Festival and Berlinale Co-Production Market, 2019.
Gaza, today, sixty-year-old fisherman Issa is secretly in love with Siham, a woman who works as a dressmaker at the market. Finally determined to propose, Issa discovers an ancient statue of Apollo in his fishing net, which he decides to hide at home. When local authorities discover the existence of this mysterious treasure, troubles start for Issa…Will he succeed to declare his love to Siham?
Directed by the Nasser brothers, Gaza Mon Amour features an all-star cast, including Salim Daw, Hiam Abbass, Maisa Abdelhadi, Georges Iskandar, Hitham Al Omari, and Manal Awad.
The film is produced by the French company Les Films du Tambour (delegate producer), in a co-production with Riva Filmproduktion (Germany), ZDF/Das Kleine Fernsehspiel and in collaboration with ARTE (Germany), Ukbar Filmes (Portugal), Made in Palestine Project (Palestine), and Jordan Pioneers. MAD Solutions handles the film's distribution in the Arab world.
Twins Tarzan and Arab Nasser were born in Gaza, Palestine, in 1988. They studied Fine Arts at Al-Aqsa University and became passionate about cinema and paintings. They directed Condom Lead (15 min, 2013), which got selected in the Official Competition at the Cannes Film Festival 2013. Their first feature film, Dégradé (85 min, 2014), made its world premiere at Cannes' Semaine de la Critique 2015, and also screened at the 2015 Toronto International Film Festival. Gaza Mon Amour is their second feature film.
Screening Times of Gaza Mon Amour at Zawya Cinema
Wednesday, 25/8: 1:00 PM- 7:00PM
Thursday, 26/8: 4:00 PM- 9:30 PM
Friday, 27/8: 7:00 PM
Saturday, 28/8: 4:00 PM- 9:30 PM
Sunday, 29/8: 1:00 PM- 7:00 PM
Monday, 30/8: 4:00PM
Tuesday, 31/8: 1:00 PM-7:00 PM