MedFest-EG is a medically themed educational film forum that launched its first edition in Cairo in January 2017. MedFest-EG offers a different scope of approaching healthcare and filmmaking through exploring common grounds between medicine and film.
The idea for MedFest-EG was inspired by MedFest UK and founded in Egypt by Dr Mina El Naggar and Dr Khalid Ali. Dr El Naggar is a Clinical nutrition specialist, member of the ESPEN society for clinical nutrition. He is also an actor, with numerous roles in TV and film, an award-winning filmmaker as well as the director of MedFest-EG.
1) First off, tell us how the idea of Medfest came about?
I work as a physician, and I've been acting since the year 2000, I performed in the theatre, then radio, short films, and series.
All the time while I was studying or working, I realised and discovered that there is a relation between Medicine and Art relating to the human we work on in both. For instance, the dramatic character the actor is acting it or that the writer writes about it, it's the same as the character that the doctor deals with.
The interaction between the doctor and the patient is an essential dynamic because if the doctor doesn't understand to what extent the patient feels, thinks, and deals with things; there is a part of the healthcare collapses. Hence, there was a thought on the personal level that there is a connection between Medicine and Art; it was something important to me.
Also, I met other doctors that are interested in arts among them Dr Khaled Ali my partner in the festival, he is based in London, and we talked that there is a student's festival that happens in London called Medfest UK. They show only two or four movies over the years for the students in the faculty, and that's it.
Hence, the idea was that we take it and develop it through movies that have more artistic value and are coming out of festivals—drama, Narrative, Documentary films, short film, and long ones as well. What's important is to have movies with good artistic quality, it is the main engine, and at the same time, it asks essential questions.
So based on this, our festivals have developed from doing an event or show as we started in 2017 to have a series of shows happening in governors in Egypt like Alexandria, Assuit, and Sohag. Also, we did international exhibitions in London, New York, and Tunis.
There are also workshops as a developing strategy and campaigns that are happening via the festival during the year.
2) We find it interesting that in a society where being in the medical field is what most parents push for, while acting is what's frowned upon, yet somehow you managed to do both. Not just that, but you introduced a whole festival about it.
The thing is in some period; everyone thinks that the concept of specialising in something is not a creative thing, so you have to be very focused.
However, there is another angle, and that what I work with is the idea of horizontal learning, and that what we do whether we want it or not, even if you're specialised millions per cent because every life experience you face is a chance to learn.
The idea of having a gap between both, and every person's background, not just in acting and medicine but from the idea of having the ability to discover the connections.
Engineering is a kind of art, and mechanics is also a kind of art, even drainage of septic tanks "تسليك البلاعات" is an art. Any job can be an art and can be connected to everything. Another example, we call the Urologist as a plumber, the carpenter as "عضمجي", and the orthopedist as a carpenter.
The thing is there are interconnections, but the whole concept that this is separated, so there are basic skills that are connected.
The artist is a human being that supposedly understands humans, so if you indulge this in any make, including medicine, this is the most valuable essence that can happen.
So that I see the relationship between both is a relation that includes everything, if people kept their eyes open, they can find connections from everything. I think this is important mainly because cinema and films are not useful except when they talk about real human beings and enter into the depth and present an image of a human being even if he is not as hyper-real.
3) In your opinion, as a film lover, and as a doctor, do you think the medical field is fairly portrayed in movies? Especially in Egypt.
I think we're getting better because in the past they were more manageable, but now there is a generation of directors who are more focusing on the details, and there are real research teams that work on more information, they don't take it from the outside.
And I think this started to move in a meaningful form. Because of this, the stigmas that happened because movies or series that tackled specific diseases and specific specialised doctors, and medical incidents that they face, I think those things are essential.
It slightly started to change, we still didn't reach it 100%, but I think we're getting in the way of it.
Moreover, there are two essential things. There's a difference between the medical drama that it is based on a medical setup like Grey's Anatomy, Scrubs, etc. and when we did Lahzat Harega in Egypt that the protagonist is a doctor and the drama that includes medical connections in it.
If someone dies, or take a bullet, or has a chronic illness, or has severe depression, or is addicted or someone faces the state of the war or face a cruel trauma or get post-traumatic disorder those are all details, even if we don't talk about medical drama.
Still, we talk about social drama, and that's the most accurate definition, and this needs to be worked on more and that what I see we're getting in the way of it.
4) How do you think the medical field and the film industry can merge and work together?
We at the Medfest Egypt this year we did a workshop called "من النص إلى الشاشة" from script to screen Medfest filmmaking program. The idea of it was that we brought doctors that have the talent of writing and wrote the tales of their medical experiences, and these tales are not necessarily to happen in hospitals but to have the awareness.
And in the next step, we made an open call with directors, and we made interlace for the scenarios that have developed recently.
From this, there were movies ready to be produced made up from films that have an awareness of the medical background all the way, and there is a director has a clear a cinematic vision that he works with on the movie.
Hence, there is a different discovery for this type in the world, and it tackled these questions. Now we're in the process of producing three short movies in this program, and we have projects to develop this more, but the directors will be part of them, doctors and the others are ordinary directors.
It's the idea of constant merging that there is no room for separation between any field and the other and I think this will make a change.
It will make a difference in both because I believe when the doctor is exposed to arts generally, you have for example, a conference at Harvard related that during the medical study there are elective art courses. Because the more you see as a doctor that gives you an awareness of the human nature and also let you have your observations and your impressions that will allow the possibility of the medical care have a higher level of empathy, respect, awareness, and mercy, those things we need.
Besides the drama is a widespread currency, so all the information that people get is from this drama, few watch awareness videos, but they tend entertaining materials. So when you have this kind of entertaining health-related content that tackles social issues, I think this can create something else.
5) With Covid happening this year, as a medical professional, how do you think the film industry would be affected by it?
Of course, there is a huge effect, because producers don't want to take a risk; people are scared to produce. Also, online platforms are flourishing because people are consuming more products from them.
I imagine some people are interested in talking about the trauma and the idea of pandemics and all. Still, the truth is the audience won't like to listen about this again anymore.
I think people would like more entertaining products, films, and programs, because of that for example (100 wesh) series was a massive success because people were waiting for this.
So the phycology of the audience, people while they are watching stuff they try to find something different other than what they have been going through.
However, Covid existing as an idea and as much as it's essential to have things reflecting what happened and shows us the consequences of it on the cinema, drama, and also in the medical field.
If we want to talk about what should happen to stop something like this from happening again, but I don't think this would be the idea that the drama will approach because people they want to be entertained to have hope, they need to love; they need to have a connection.
6) While we're still on the topic of covid, how will the festival take precautions for it?
The next festival will be in March, and we're hoping that the Vaccines work well.
The activities that we made during the Covid phase are online as the part we're doing it now the screening of the initiative "Not Okay" and the workshops we did in the hospitals and the from the Script to Screen, we chose a place that held for 100 persons.
We take 30% only form the place's capacity. The area is regularly airy, and of course, the masks and the sterilization become ongoing.
7) Can you give us a glimpse of this year's participating movies?
 Here we are talking about two things; the first one is the edition of "moments" which will happen in 2021 and that's a whole program—regarding the movie that is showing online.
We have five movies one of them is showing at the workshops happening in hospitals the film is called "Beast" is a Danish movie, and it won several awards through the past three years it was produced in 2017.
Also, we have a movie called the group, and that's an American documentary made in 2019, it's about three men going through rehab after committing violence towards their partners, and it introduces an exciting conversation about the causes of power and the male point of view.
Another movie it's called doublespeak, that's an investigation, and that's also an American movie speaking about a harassment incident that happened at work and how the girls deal with it while reporting the experience and the consequences that she faces.
Next week we will be having two other movies, a movie called "stop" and it's an English movie produced in 2016, and a movie called animal made by the United Arab Emirates in 2016.
We don't care about the producing year as much as we care about the content, the movie's quantity, and the question that it raises. We've seen around 80 films to choose these movies with that connection and how complete they are. Also, we wanted each movie to be different than the other and to have an indifferent artistic style and variety of productions.
8) What about the panellists and festival events?
We have this year the workshops that happen at hospitals, and it was manged by DR.Olfet Emam, and she's a Consultant Psychiatrist. She has worked with a lot of gender-based violence cases, and she gives training about women in Egypt and outside Egypt; that's for the on-ground workshops.
For online seminars, we have four doctors, DR.Ahmed Abd al-Karim from Alex university, DR. Jayda Mecky from Alex university, and we have Dr Shahnda Khalil. They are all psychiatrists who worked before either with trauma or family situations that involve domestic violence or violence at the work environment.
As for the media and artists, we have Sherif Nour El-Din will be moderating a session. Hala Gala, Ahmed Nabil, the cultural director, and the film's director program at Bibliotheca Alexandrina, Roslin Albeh's an actress she will be moderating the last session.
We usually use artists and doctors that have a relation with the campaign or crisis or the situation. However, for the doctors, we care that they are aware of the artistic side, and we know that through other activities that they do in their life.
9) We've seen the festival running a campaign called 'Not Okay' which stands for violence against women. Tell us more about the campaign.
The collaboration with the UNFBE and the Italian cooperation, we felt like it's a pressing topic, especially with Covid, there was an escalation for the violence.
Recently, there are two critical things, people who are speaking more about violence, so it became more of a pressing topic. On the other hand, there are concentrating on sexual violence, not all type of violence that leads at the end to sexual violence.
It's essential to question what is "okay" and "not okay", accordingly, all other types of violence are built, either we are aware of this or not. It's important to have this kind of conversation, to participate in interrupting the cycle of violence because the case is about all of us being against violence, men and women together.
And it's not about men against women or women against men, it's about trying to build a healthy community, that's our goal. This will never happen unless women took all their rights, and she's functioning in a healthy society; the same goes for the man.
We don't want someone being dominant over the other. The campaign includes a lot of things. We have the visual movement, and it has portraits of celebrities wearing masks saying "not okay" as representing the silence of what's going on which is "not okay", we have workshops that happen at hospitals using films and screenings that are happening online.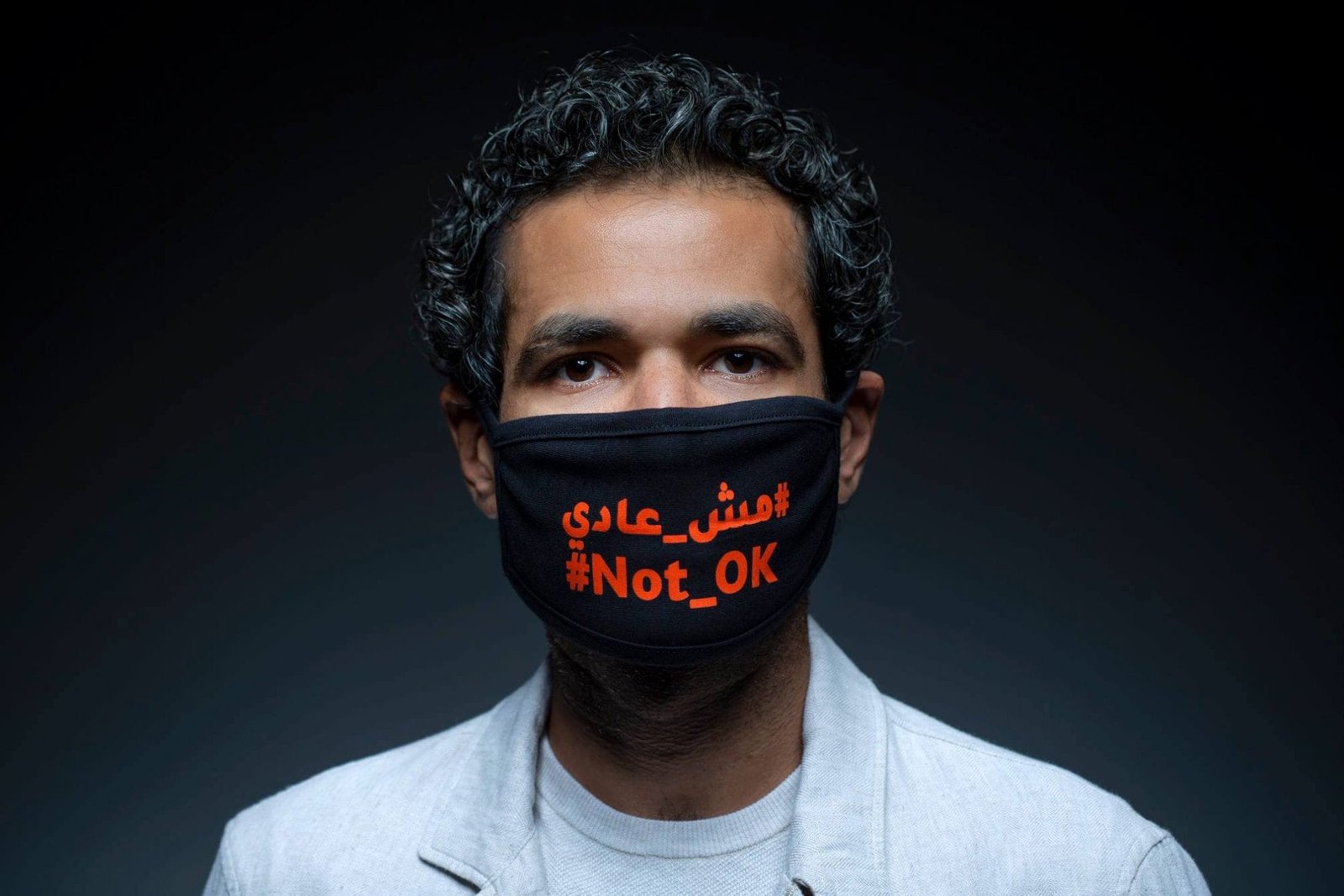 There will be letters from violence survivors speaking about how did they break out the cycle of violence.
10) Where do you want to take this festival in the next coming years? (goals, vision, mission, etc.)
Our goal is to be in a lot of places because we care that the story won't be revolving around Cairo only. And we already started the past years including the not okay campaign.
We are also targeting more students from mass communication, cinema Institutions, high institute of theatrical arts, medical students, and nursing students because those are the future.
We are also thinking about building cinema clubs inside universities raising those kinds of discussions, and creating several workshops that use arts and films as a way of connection.