Following its successful releases in several Arab countries, Zaid Abu Hamdan's DAUGHTERS OF ABDULRAHMAN will premiere in Egypt in the presence of the film's lead star Saba Mubarak, alongside producer Aya Wuhoush and director Zaid Abu Hamdan.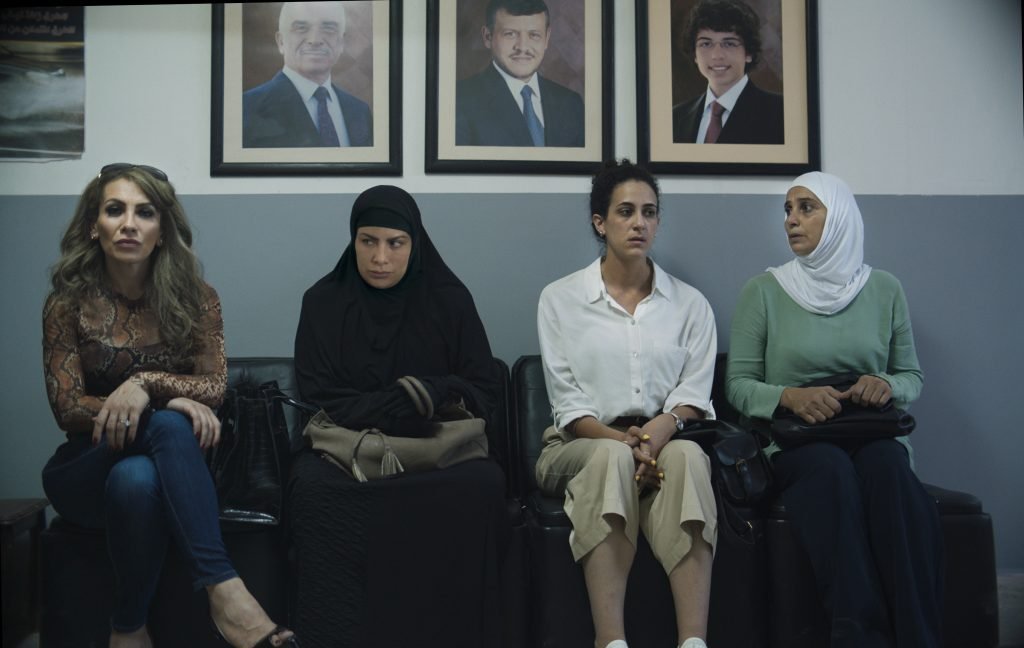 "I consider Egypt as my second country. It's an honor to premiere the film in several cinemas in Egypt, where it received the Audience Award after its world premiere at the last edition of the Cairo International Film Festival," commented Saba Mubarak.
As an Egyptian-Jordanian co-production, the film features the distinctive edge of Lagoonie Film Production'sstrategy. Shahinaz Elakkad, the founder of Lagoonie, said, "It's an honor for an Egyptian production company to be part of a 4-time Audience Award-winner Jordanian film. It's part of our company's strategy to bring titles from several Arab countries and introduce them to the regional and international audience."
"Creating a space for Arab films in cinemas around the Arab world is within our company's strategy due to the growing audience. DAUGHTERS OF ABDULRAHMAN won the Audience Award at CIFF, which proves that the audience is ready for such kind of films," added Alaa Karkouti and Maher Diab, co-founders of MAD Solutions company, the film's co-distributer with Lagoonie.
DAUGHTERS OF ABDULRAHMAN marks the first wide release of a Jordanian film in Egypt. The film was released in UAE and Tunisia to great success, where it is still screening. And in its home country, it is the first Jordanian film to run for eight consecutive weeks in cinemas.
Written and directed by Zaid Abu Hamdan, DAUGHTERS OF ABDULRAHMAN stars Saba Mubarak, Farah Bsieso, Hanan Hillo, Mariam Basha, and Khalid Tariffi. It is produced by Pan East Media (Saba Mubarak & Aya Wuhoush), Lagoonie Film Production, Wika Production and Distribution, and Arab Media Network. MAD and Lagoonie are co-distributing the film in the Arab world.
DAUGHTERS OF ABDULRAHMAN won four Audience Awards at international festivals: Middle East Now Festival in Florence, FEST New Directors New Films Festival in Portugal, San Diego Arab Film festival in the USA, and Cairo International Film Festival, where it held its world premiere. The film was screened at the Beirut International Women Film Festival, where it got a special mention, and was screened in the Arab Spectacular Section of the 1st edition of the Red Sea International Film Festival.
It opened the Malmö Arab Film Festival in Sweden and was featured at the Arab Film Festival in Germany and the 10th edition of the Calgary Arab Film Nights Festival in Canada in October; it will screen at the Lebanese Film Festival in Canada and the Arab Film Festival in Zurich, Switzerland, in November.
Set in a lower-middle-class neighborhood in Amman, the film follows the single and middle-aged Zainab, who lives a dreary existence as a local seamstress and her father's keeper. When Zainab wakes up one morning to a shocking discovery with the potential to defame her throughout her neighborhood, she and her three sisters are forced to come together despite their vastly disparate lives.
The film received several funds, including the Doha Film Institute development fund, the Jordan Film Fund of the Royal Film Commission development and production funds, and a fund from the CineGouna Platform (post-production) at El Gouna Film Festival. The film was also selected among the finalist projects at the Tribeca Film Festival – All Access program and for RFC Rawi Screenwriters Lab.
Pan East Media is a Jordanian production house established in 2011 by Saba Mubarak and Aya Wuhoush with the main objective of creating authentic audio-visual content in Jordan and presenting first-rate artistic work on both regional and international levels. In 2015, Saba moved the company's headquarters to the UAE and expanded the company's services to include cultural events management, talent management, and entertainment production. Moreover, the company aims to enrich the quality of the content delivered. Throughout the years, it has created and developed several scenarios for cinema and television.
Born and raised in Amman, Jordan, Zaid Abu Hamdan holds an MFA from the New York Film Academy in Los Angeles, California. Zaid started his career working on international TV shows as an Assistant Director and Producer, including E! Entertainment's coverage of the Golden Globe and Academy Awards. In addition, Zaid worked as a television reporter for the Middle East Broadcast Corporation Group (MBC Group) in Hollywood. He also worked on directing reality and scripted shows such as Sesame Street and a competition that shows and mentors the Arab Film Studio program at Image Nation, Abu Dhabi. Since 2009, Zaid has written and directed five award-winning and audience-acclaimed short films, including Bahiya & Mahmoud, the official Jordanian submission to the Academy Awards in 2012.