Egyptians have always been history makers. And when it comes to climbing and topping the world, there ain't no mountain high enough for the Egyptian athletes. And since today, 29 May 2022, is International Everest day, it's time to remember our champions.
So, we decided to highlight the 3 Egyptians who made it to the top of Everest and have a look at their journies.
Omar Samra
Omar Samra was the first Egyptian and the youngest Arab to summit Mount Everest (8,850m) on 17 May 2007. Moreover, he became the first Egyptian to complete the 7 summits college on 31 May 2013 by climbing the highest mountain on all seven continents and skiing to the Geographic South and North pole. (the Explorers Grand Slam)
Omar Samra is a British-born Egyptian adventurer, entrepreneur, and speaker. He was born in Wimbledon, London, and moved to Cairo when he was only weeks old. He graduated from the American University in Cairo in 2000 with a BA in economics and a minor in Business Administration.
In May of 2009, he decided to shift his career from banking to travel and exploration. He started a company, "Wild Guanabana," on discretionary spending, and it was the first carbon-neutral travel company in the Middle East & North Africa. Furthermore, the company received various international and regional industry awards, including the Global Tourism Award at the London Travel Market.
Sherif El Abd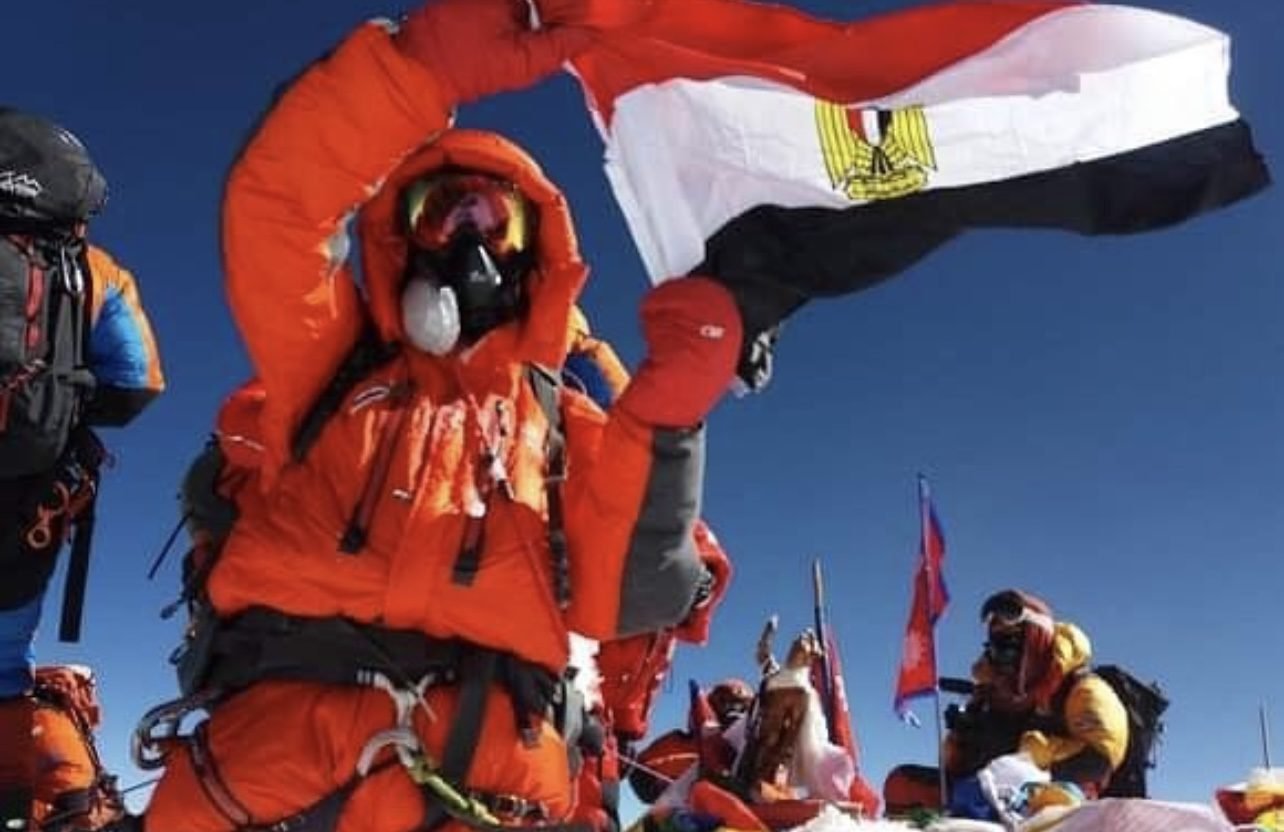 On 23 May 2019, the Egyptian ultra-runner Sherif became the second Egyptian to summit Everest, 12 years after Samra. However, Sherif's journey to the top of Everest was not easy at all as he suffered from dehydration and his friend died on their way back.
Before Everest, Sherif climbed the Ras El-Khaimah mountains in the UAE and Mount Toubkal in Morocco to prepare for the Everest summit. And his latest summit was Mountain AMA DABLAM at 6813m in 2021, making him the only Egyptian who made it, and he is currently attempting the Greenland Icecap crossing.
Aside from his career in climbing, Sherif spent ten years working as a director of Industry and Innovation strategy in Dubai before starting his journey to the top of the world.
Manal Rostom
Manal Rostom, 42, is the first Egyptian woman to summit Mount Everest on 16 May 2022; despite all the challenges she faced, as Manal said, she was the slowest team member.
Manal was born and raised in Kuwait. She studied at the University of Alexandria, Faculty of Pharmacy, where she got her master's degree. At 30, she decided to shift her career and focused only on her marathons and summits. She reached the top of Mount Kilimanjaro, Mount Kenya, and Mount Elbrus. She has run five of the world's six major marathons in New York, Berlin, Chicago, Boston, and London and competed in the Great Wall Marathon in China.
Furthermore, manual has been making her name, and her @survivinghijab account in 2014 was like Manal's message to the world, saying that the hijab is not an obstacle to achieving your dreams or making a difference. And in 2017, she appeared in Nike's middle east campaign, making her the first woman wearing a hijab to appear in Nike's ad.
In the end, we're so proud of our Egyptian athletes, and we are always waiting for more.