Image Nation Abu Dhabi's acclaimed feature film Scales has been selected as Saudi Arabia's national submission for Best International Feature Film at the 2021 Academy Awards, following a multi-award-winning global festival season and a successful run in Saudi cinemas last month.
Written and directed by Shahad Ameen, Scales explores the changing role of women in society through the allegorical, magical-realist tale of Hayat, a young girl who refuses to be sacrificed to mysterious sea creatures by her village.
Presented in black and white, the poetic film follows the unfolding social, familial and personal consequences of Hayat's choice to defy tradition and walk her own path.
"From its initial concept, it was clear that Scales presented an intriguing and distinctive perspective through an entirely new approach to filmmaking in the region, so it has been a labour of love for the Image Nation team to work closely with Shahad throughout the creative and development process and bring her vision to life,"
says Ben Ross, Chief Content Officer, Image Nation.
"Scales' fantastical narrative is deeply rooted in the Arab world while exploring universally relevant themes, perfectly embodying Image Nation's approach to creating quality Arabic-language content.

We are delighted that the Saudi Film commission has nominated Scales as its country's submission to the Oscars. We see this acclaim as testament not only to the film's avant-garde approach to visual artistry and storytelling, but also to the successful creative collaboration between Saudi Arabia and the UAE."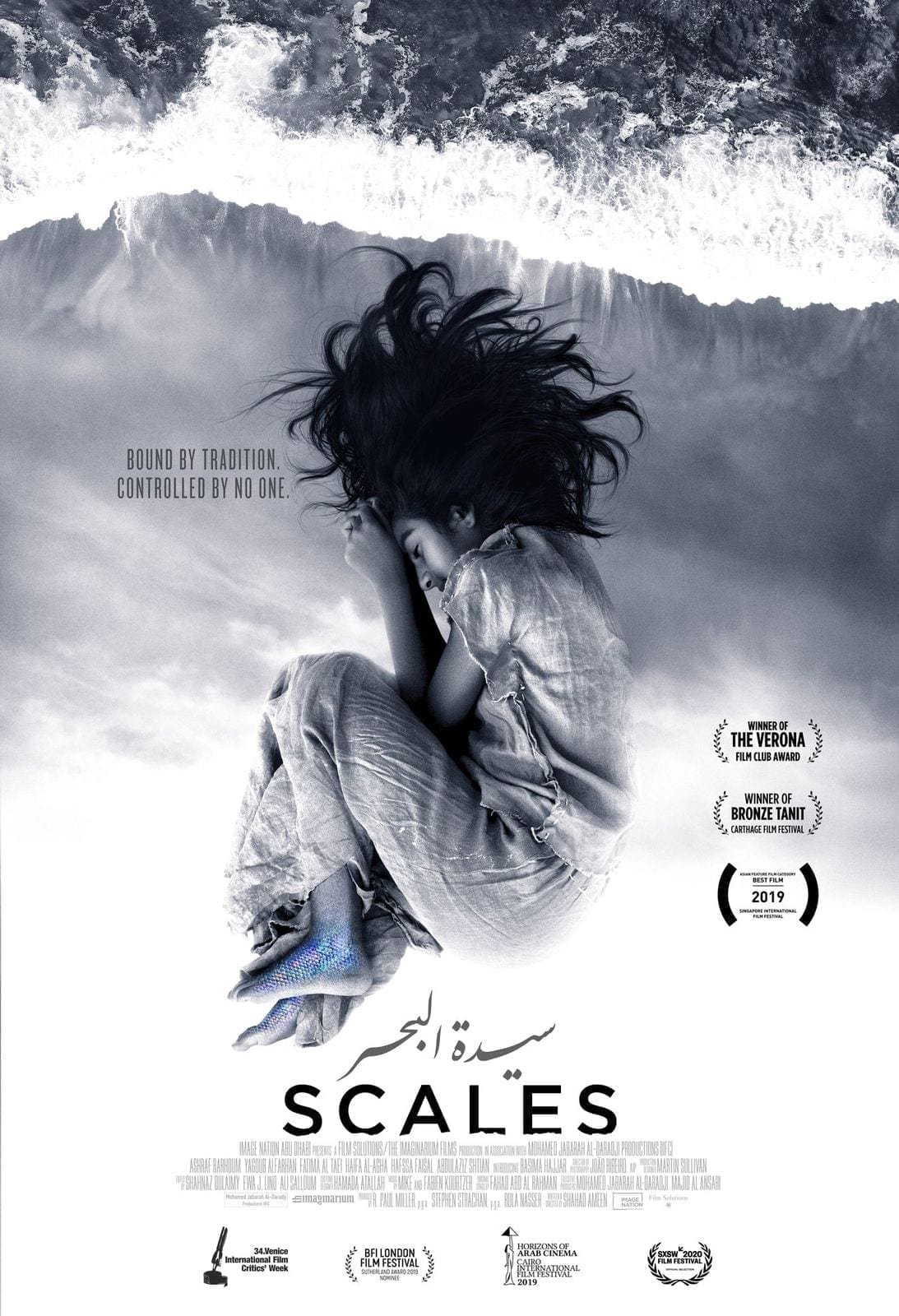 Discussing the film, Shahad Ameed, Writer and Director of Scales, said:
"I have only ever wanted Scales to be seen, enjoyed and to act as a catalyst for wider conversations about gender roles, beliefs and feminism in the Arab world. To now have my film selected to represent Saudi Arabia as the official Oscar entry, especially as an Arab female director, has surpassed any expectations I had for this project. The creation of Scales has been a raw and personal journey for me, and I am so proud it has been chosen to represent my country on this global platform.
"I hope the incredible journey this film has been on acts as inspiration for my fellow Saudi filmmakers to embark on their own successful paths," he added.
Scales premiered in 2019 at the Venice International Film Festival Critics' Week, where it won the prestigious Verona Film Club award for its innovative filmmaking and has since been shown at more than 10 competitive global festivals in cities such as London, Los Angeles, Carthage, Cairo and Singapore where it was awarded Best Picture.
In November 2020, it was screened in cinemas across Saudi Arabia in its first theatrical release, with an international release expected in 2021.
Scales was produced by Image Nation Abu Dhabi, which has seen previous Oscar successes with Best Documentary winner Free Solo in 2019 and Octavia Spencer's win for Best Supporting Actress for 2011's The Help.
Adding to Image Nation's slate of accolades, The Help also received nominations for Best Picture, Best Actress and Best Supporting Actress, while Roman J. Israel, Esq. saw Denzel Washington nominated for Best Actor in 2018.
Scales stars newcomer Basima Hajjar as Hayat, alongside Ashraf Barhom (Coriolanus, Clash of the Titans, The Kingdom), Yagoub Alfarhan (Ekhtraq, Bedoon Filter, Love Without Limits) and Fatima Al Taei (star of Image Nation's courtroom drama Justice). The film was produced by Paul Miller and Stephen Strachan of Abu Dhabi-based Film Solutions and Rula Nasser of Imaginarium Films, with executive producers Mohamed Al-Daradji and Majid Al-Ansari.
Image Nation Abu Dhabi is an award-winning film and entertainment company which has built its reputation on breaking boundaries and unleashing imagination.
It creates films, TV series, documentaries, and entertainment for consumers throughout the world and is the first UAE company to have multiple productions stream globally on Netflix.
Its success spans the globe, screening content at over 400 international film festivals and receiving the industry's highest honors, including two Academy Awards, a BAFTA, and an Emmy.
Image Nation has a strong track record of producing high-quality productions through a combination of local talent and international expertise.
The company encourages original thought and curiosity while providing a platform for inspiration and practical training through its robust development program, Arab Film Studio.
Its mission is to help build the film and entertainment industry across the GCC and MENA regions, a pioneering ambition in line with Abu Dhabi's vision to shape a competitive, sustainable, and globally open economy. Image Nation enables all those who engage with it to become guardians of culture and ambassadors of change.
Image Nation Abu Dhabi is part of ADQ, one of the region's largest holding companies with a diverse portfolio of major enterprises spanning key sectors of Abu Dhabi's non-oil economy.
About Shahad Ameen
Writer-director Shahad Ameen was born and raised in Jeddah, Saudi Arabia. She obtained a Bachelor's degree in Video Production and Film Studies from the University of West London, and also holds a degree in Screenwriting.
Her short films include Our Own Musical and Leila's Window (2011), which showed at the Gulf Film Festival and was named Best Film at the Saudi Film Festival.
Her short film Eye & Mermaid (2013) premiered at Dubai International Film Festival 2013 and was selected for competition at Toronto International Film Festival 2014, Stockholm Film Festival 2014 and Kortfilmfestivalen 2014 in Norway.
Eye & Mermaid was awarded First Prize in the Emirates Film Competition and Best Cinematography at the Abu Dhabi International Film Festival 2014 and was the winner of the Best Fiction, International Competition at the NDU International Film Festival 2014.
Scales was picked as a finalist for the prestigious IWC award at the Dubai International Film Festival 2015. Scales is Shahad's debut feature film.