A statement signed by a group of renowned composers and writers expressed their support for Rageh Dawood, a respected music composer, who has raised concerns about the use of his music without proper attribution in the new TV series "Seroh El-Bat'aa".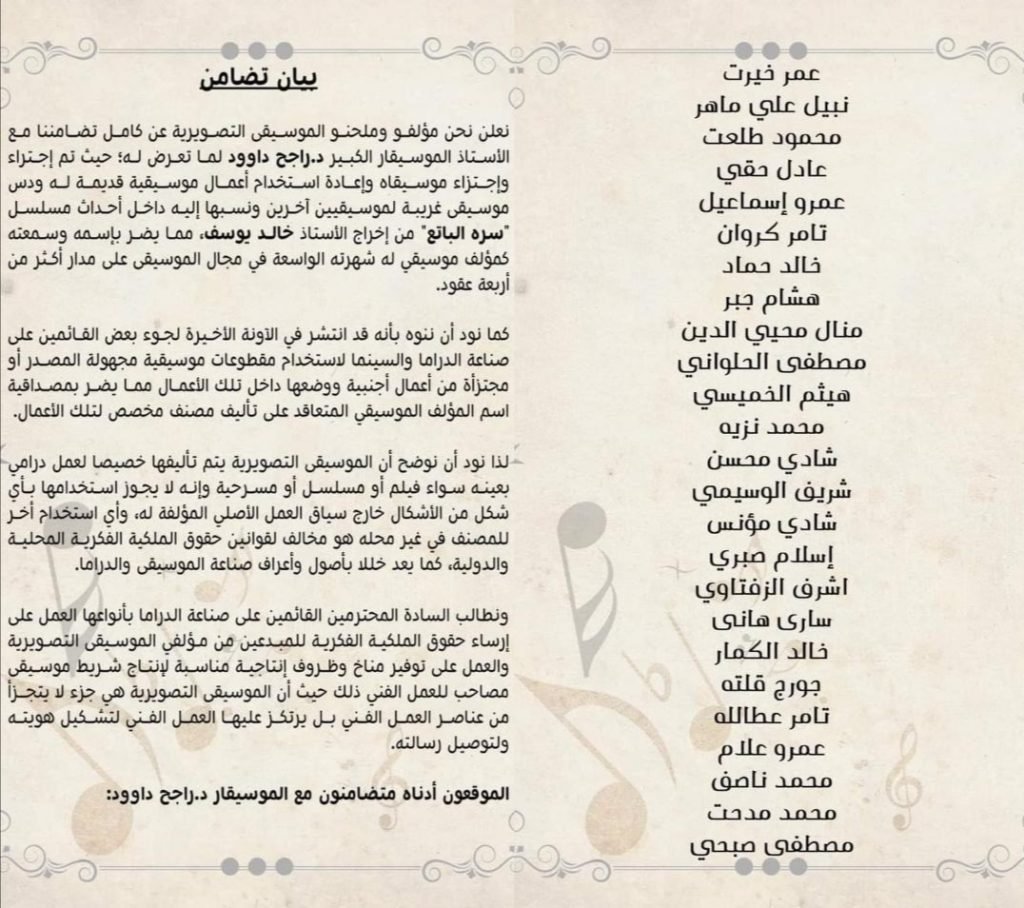 The Statement
The statement highlighted the importance of protecting intellectual property rights for music composers and writers in the entertainment industry.
Rageh Dawood expressed his dismay over the use of his music alongside other musicians' works without his consent, which could mislead the audience and damage his reputation as a composer, which has been recognized for over four decades. The group firmly stood in solidarity with Dawood, claiming that his music has been manipulated and reused without his permission, diminishing his reputation.
Producers' Disregard for Music Composers' Rights
Moreover, the statement noted a recent trend among drama and cinema producers to use unknown or foreign music pieces in their productions, disregarding the rights of composers and damaging the credibility of the music industry. The group demanded that the responsible parties in drama production establish intellectual property rights for music composers and writers, provide an environment conducive to creativity, and ensure that the music used in their productions is original and properly attributed.
Renowned Composers' Support for Rageh Dawood
Several music composers and musicians, including Omar Khairat, Nabil Ali Maher, Mahmood Talaat, Adel Hakki, Amr Ismail, Tamer Karawan, Hisham Gabr, Khaled Hamad, Mostafa El-Halawany, Manal Mohie El-Din, Haitham Al-Khameesi, Sherif Al-Wasimi, Shady Moanes, Khaled El-Kamar, and George Qalta, have endorsed the statement issued by Rageh Dawood, criticizing director Khaled Youssef for using music that is not his own in the series "Saraha Al-Bat'aa."
Khaled Youssef's Response
In response, Khaled Youssef, the director of the TV series, posted a video on his official Facebook account, acknowledging that Dawood had the right to alert the public that there was music in the series that was not composed by him.
However, he explained that he had the absolute right to choose music that he believed was suitable for the scene and the mood of the series based on his own perspective. Even without the composer's consent.
Youssef also stated that Dawood had provided him with the soundtrack of the series, but he only used the music when he found it insufficient for some scenes. He further mentioned that many scenes did not have appropriate music, such as the scene of Napoleon's procession, for which Dawood had created special music. When he asked Dawood to create music for the series, he said that he could not work for 16 hours a day, as he did for movies, and evaluate every scene to determine the appropriate music.
Youssef's Choice of Music
Therefore, he used the music of the old French national anthem "La Marseillaise" for the entry of Napoleon, as he could not find any other suitable music. However, the statement signed by the music composers and writers emphasized the importance of respecting intellectual property rights for music composers and writers, and ensuring that their work is attributed properly in TV and film productions.
The Tea?
Manipulation and consent seem to be recurring issues with Youssef at this point, and it doesn't seem like he actually cares about offending anyone about anything.