Recently, a controversy sparked on social media, capturing users' attention in Egypt. It all began with a screenshot of a private conversation between two individuals, Abanoub Emad, and Abdelrahman Awad, which contained offensive remarks targeting religious beliefs.
The conversation quickly gained traction, and the response from the online community was swift and passionate. Muslims expressed their anger over the derogatory comments directed towards the Prophet and Islam, demanding accountability for Abanoub's actions, and rightfully so.
However, what was missing from the post's first virality was that the other person, Abdelrahman, started by insulting Christianity, which now caused another debate on the hypocrisy of accountability holding.
Confession and An Apology
As the screenshots of the conversation circulated across the internet, accompanied by a picture of Abanoub, he swiftly responded by claiming that his account had been hacked. Later, he apologized for the situation, attempting to mitigate the damage caused by his words.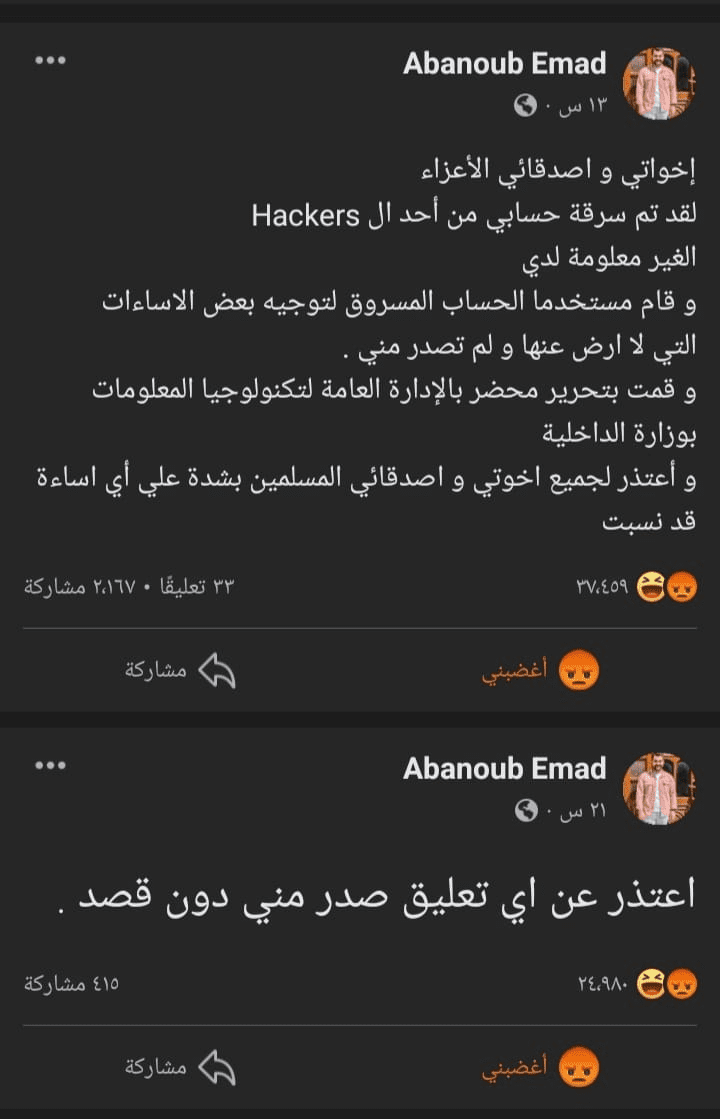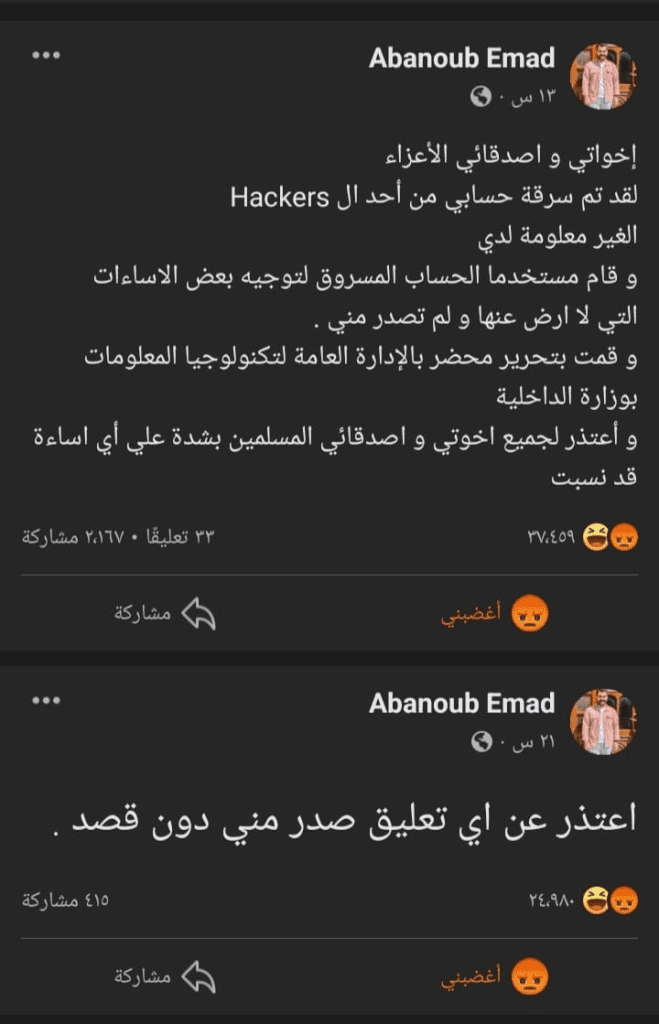 Abanoub went on to send a series of messages and voice notes, expressing remorse for his actions.
He explained,
"If you were in my place, you would do the same. I was only triggered when the guy insulted my religion, the Bible, and I couldn't remain silent. Although my response may have been harsh, anyone in my place would have reacted similarly. Once again, I apologize."
The Statement of Zagazig University
The backlash against Abanoub's offensive remarks reached the attention of Zagazig University, where he was studying at the Faculty of Oral and Dental Medicine. The university responded by referring Abanoub Emad to the Disciplinary Council and implementing all necessary administrative measures regarding his insult to the Islamic religion and contempt for religions.
However, The general Backlash became an issue of "us vs them."
Religious Discrimination and Hate Against Christianity
While Abanoub faced the consequences for his offensive words, the situation did not end there.
He became the target of death threats that extended to his family. Such threats constitute a serious crime.
Shockingly, social media platforms are filled with pages, posts, and groups of extremists casually discussing how the murder of Christians or individuals of different beliefs would be a victory for Islam. The fact that these discussions go unnoticed raises significant concerns.
Moreover, this controversy ignited a cycle of hatred and religious discrimination. Many individuals followed in the footsteps of Abdelrahman Awad, spreading offensive comments and posts that targeted Christians and Christianity. It is essential to question when insulting others based on their religious beliefs becomes a means to defend one's own beliefs.
The question arises here: Why is Abanoub the sole party held accountable for the conversation?
Although the messages exchanged between Abanoub and Abdelrahman are offensive and hurtful to those who believe in Islam, it is important to acknowledge that Abanoub's reply was a response to Abdelrahman's offensive post, in which he insulted Christianity, cursing the Virgin Mary and Christian chants.
Under no circumstances can either insult be considered appropriate. However, the controversy between the two individuals provided a platform for online users to continue the series of disrespect and insults, primarily directed at Christianity. Especially following Abanoub's arrest, Christians seem to have taken the peaceful approach of not responding, presumably out of fear of facing similar consequences.
During the same week as the incident involving Abanoub and Abdelrahman, a post circulated on Twitter urging users to "tell jokes about Christianity." Many Christians felt deeply offended and attempted to respond, but their concerns were largely ignored.
It is worth mentioning that insults, jokes, and even comics demeaning Christianity are unfortunately common online occurrences, often surfacing randomly and particularly during Christian holidays. Surprisingly, no individuals responsible for such disrespectful behavior are ever held accountable, even though it constitutes "hate speech" according to social media standards and blasphemy of religions according to laws.
Blasphemy of religions should not only protect Muslims and Islam but should defend the dignity of all existing religions equally.
When someone on Twitter questioned why only Abanoub was arrested, the user faced an overwhelming backlash, primarily due to a lack of understanding. Others simply disagreed, stating, "Islam is the only true religion, and Christianity does not deserve respect." Consequently, the series of hatred and disrespect persisted.
So what happens now?
If we stand for justice within our own religions, we should equally stand for the religions of others. If Abdelrahman Awad, the other participant in the conversation, walks away unharmed without any consequences for his offensive remarks, we would be fostering similar behavior.
Neglecting to address the actions of those who should be held accountable under the same set of laws will only lead to more individuals engaging in such behaviors and evading responsibility. This would create an environment of increased hatred fueled by the injustice of the situation.