Pinkberry®, the world-famous frozen yogurt brand that originated in Los Angeles, California, and known for its fresh, pure, and delicious frozen yogurt and variety of toppings, is finally hitting Cairo Festival City.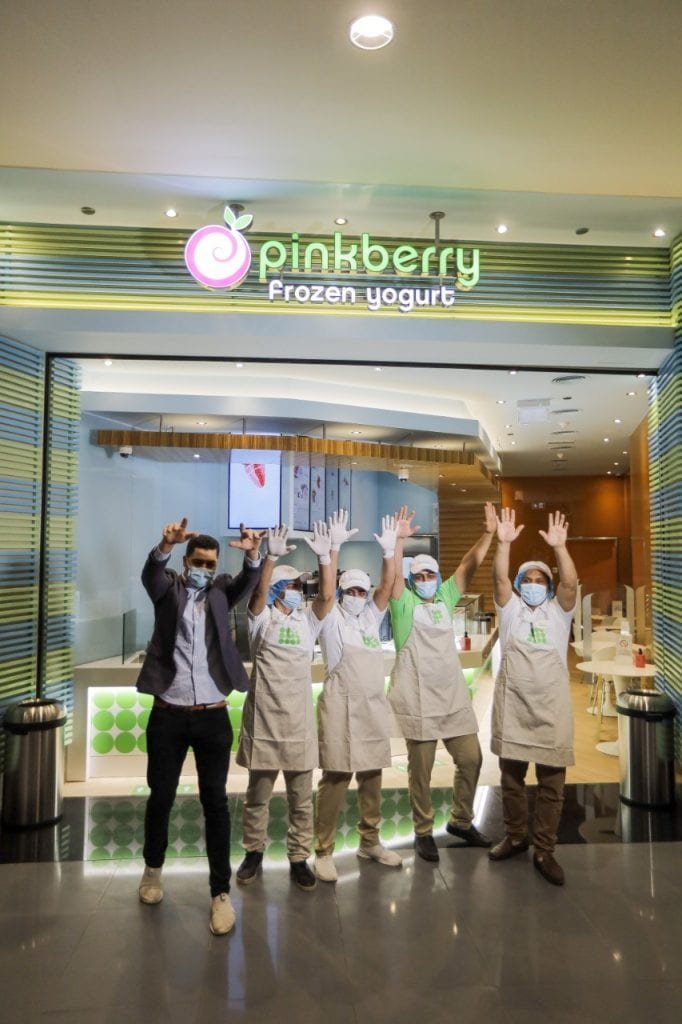 The first location launched back in 2012 in Cairo at City Stars, followed by Mall of Egypt opening the new store marks the third location in Egypt and the 55th store within the Middle East. Other stores opened in Kuwait, UAE, Bahrain, Jordan, Oman, Qatar, and Saudi Arabia markets.
Pinkberry is committed to uncompromising quality. The premium frozen yogurt is made fresh daily with only the highest quality ingredients to deliver the perfect balance of tart and sweet, resulting in a refreshing, light, and crave-able taste with a clean finish. Each flavor is expertly crafted to complement fresh seasonal fruit, and the toppings are each thoughtfully selected as perfect pairings to the yogurt. Even better, the number of toppings add-ones are unlimited, so add as much as to fill your cup comfortably. You always have a choice to steer in the healthier choices or indulge in some richer combinations.
Customers can personalize every yogurt experience at Pinkberry with any combination of delicious toppings. At Pinkberry, uncompromising quality is paramount, and the topping bar is no exception. Each topping is selected with
the highest quality standards, whether it's fresh fruit that is hand-cut daily in-store, wholesome granola cookies, toasted nuts, or top it off with some luxury sauces, peanut butter, or pistachio crunch, to name a few. If you are in the mood for something more on the blended side, try one of the signature smoothies, or better yet, build your way to a parfait with layers of frozen yogurt and more layers of toppings.
With a passion for helping people discover new ways to enjoy yogurt in their daily routines, Pinkberry assists every customer in pairing yogurt with the perfect toppings. Pinkberry's passion for yogurt delivers a distinctive yogurt taste served with gratitude in an inspiring store design to create a one-of-a-kind experience that delights you on every visit.
Come down for some swirly goodness at Cairo Festival City Mall, Upper Floor 3rd Level, near the food court area.
About Alshaya Group
Alshaya Group is a dynamic family-owned enterprise, first established in Kuwait in 1890. With a consistent record of growth and innovation, Alshaya Group is one of the world's leading brand franchise operators, offering an unparalleled choice of well-loved international brands to customers,
Alshaya Group's portfolio extends across MENA, Russia, Turkey, and Europe, with thousands of stores, cafes, restaurants, and leisure destinations, as well as a growing online and digital business.
Operating in multiple sectors, including Fashion, Food, Health & Beauty, Pharmacy, Home Furnishings, and Leisure & Entertainment, Alshaya Group colleagues are united by a commitment to deliver excellent customer service and brand experiences authentically.
Fresh, modern, and relevant, Alshaya's constantly evolving portfolio reflects its customers' choices and lifestyle. From flagship stores and restaurants in prestige malls to local coffee shops, drive-thrus, and online, Alshaya Group brings customers the brands they love in the places they want to be. Brands such as Starbucks, H&M, Mothercare, Debenhams, American Eagle Outfitters, P.F. Chang's, The Cheesecake Factory, The Body Shop, M.A.C, Victoria's Secret, Boots, Pottery Barn and KidZania.