"Abla Fahita: Drama Queen", Netflix's upcoming Arabic original series, is set to air on March 15, 2021 only on Netflix.
The series co-stars Abla Fahita's family, Caro and Boudi, in addition to the stars Bassem Samra, Donia Maher, Zeina Mansour, Rehab Hussein, Osama Abdallah.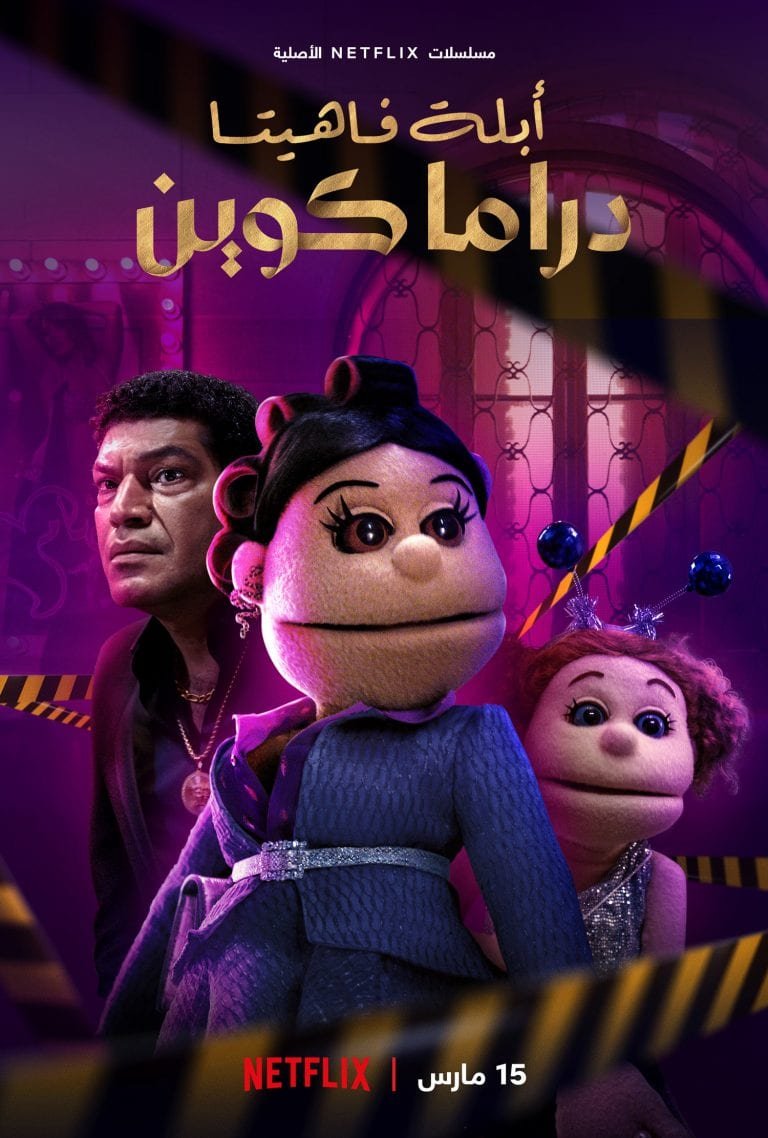 Abla Fahita: Drama Queen consists of 6 episodes full of an action packed comedy drama, which is considered as Abla Fahita's first foyer into the drama world and also highlights her human side. The illustrious diva goes on the run after being implicated in a crime.
Separated from her children, Caro and Boudi, and shunned by society, how far will Abla go to claim them back?
The series is directed by Khaled Marei and written by Abla Fahita with the participation of Mohamed El-Gamal, George Azmy, Dina Maher and Mahmoud Ezzat, and produced by OKWRD Productions in cooperation with Partner Pro and the executive producers, Amin Al-Masri & Rania Hegazy.
Created by Abla Fahita
Directors Khaled Marei
Starring Abla Fahita, Bassem Samra, Caro, Donia Maher, Zeina Mansour, Rehab Hussein, Osama Abdallah
Writers Abla Fahita, George Azmy, Dina Maher, Mohamed El-Gamal and Mahmoud Ezzat.
Producers OKWRD Productions, in cooperation with Partner Pro, Shorouk Mokhtar, Kawthar Younis
Executive producers Amin El Masri and Rania Hegazy
DOP Ahmed Youssef
Production designer Mohamed Attia
Wardrobe designer Yasmeen ElKadi
Senior Assistant director Fadel El-Garhy
Editors Khaled Selim and Hossam ElMasry
Production Supervisor Islam Hamza
Sound Engineer Elmy AbdelSattar
Mixing Tarek Alloush
Post & VFX Supervision Mohamed Fouda
Colorist Mahmoud Ali
Music by Hassan ElShafie
Head of Production Essam Saber
-END-
About Netflix
Netflix is the world's leading streaming entertainment service with 204 million paid memberships in over 190 countries enjoying TV series, documentaries and feature films across a wide variety of genres and languages. Members can watch as much as they want, anytime, anywhere, on any internet-connected screen. Members can play, pause and resume watching, all without commercials or commitments.
About OKWRD
Okwrd is an emerging Egyptian production company aiming to produce a unique kind of entertainment. Only possible through collaborating with the best talents in the Middle East and the whole world.
About Partner Pro:
Partner Pro Productions was established in 2005 as a sister company and content arm to the advertising production company, ASAP Productions. With over 25 years combined experience in the Egyptian production industry, Partner Pro is considered as one of the most recognized production companies in the media production industry, with a track record full of diverse and challenging productions. Our productions have ranged from sitcoms, to tv series to talk shows and digital content, in addition to our latest endeavors in the new era of digital platforms.