Every season there's a struggle, from layering up clothes during chilling cold winters to picking the perfect summer dress for a summer picnic. Let me tell you, the struggle may be real, but it's a shared one. That's how we know that choosing the perfect swimsuit in Egypt is not an easy task.
Each body is different, but indeed equally beautiful and you can wear and definitely rock any swimsuit. It all depends on how it makes you feel.
Here, we give you tips on how to pick the perfect swimsuit in Egypt for your figure, to have you dancing your feet away on the sand:
1. Apple Shape
Who comes up with these names? I mean, seriously, fruits?
If you have an "apple" figure, we get that you might be looking for something tummy concealing and firm around the bust. This is to have you move freely and feeling your best on the beach.
Here's what we recommend:
Shirring gives the illusion of a smaller waist, as it looks softly wrapped around your curves and does nothing more than define them.
If you shied away from a bikini or can't decide between a one-piece and a bikini set, a monokini is the perfect middle-ground.
The underwire will give your bust the support it needs to stay in place as you freely move and splash around waters.
Bikini with High-Waisted Bottoms:
The high-waisted bottoms work on reshaping the waist area and hiding the little lower belly we don't want on display.
https://www.instagram.com/p/CAJct2yp17F/
The elastic belt going a few inches below the bust, allows the rest of the fabric to fall loosely over the stomach area, giving it the needed coverage. This could also fall under the title of shirred fabric, which we know, does the trick!
https://www.instagram.com/p/CCEmIUNhFyf/
If the defining belt is not your thing, try out a loose-top Burkini.
https://www.instagram.com/p/CB-z-BglwxU/
2. Slender
If you have a petite figure, small bust, this  means, less support. This figure allows you to experiment with a vast of various styles and patterns and goes well with less coverage. From ruffles to tie-dye patterns, you name it! You can rock it all.
If you have an overall slim figure, patterns are your best friend. They can do magic to your looks; making your body look fuller and showing off your best features. With V-neckline, thin straps and a low-cut back, this shiny colourful fabric will have you looking like a mermaid.
https://www.instagram.com/p/CAzxekqhrRT/
Ruffles are  just lovely. Ever since they came to be, they have been trending nonstop. They add a touch feminine look to almost any piece. Whether they're the on the front, back, or on a bikini, we cannot help but love them!
Bikini with Triangle Top:
For less coverage and more sunlight on your skin, go for a Bikini with a triangle top. The top will give your bust a fuller look while showing the best of your petite figure. Plus, they give the best tan-lines!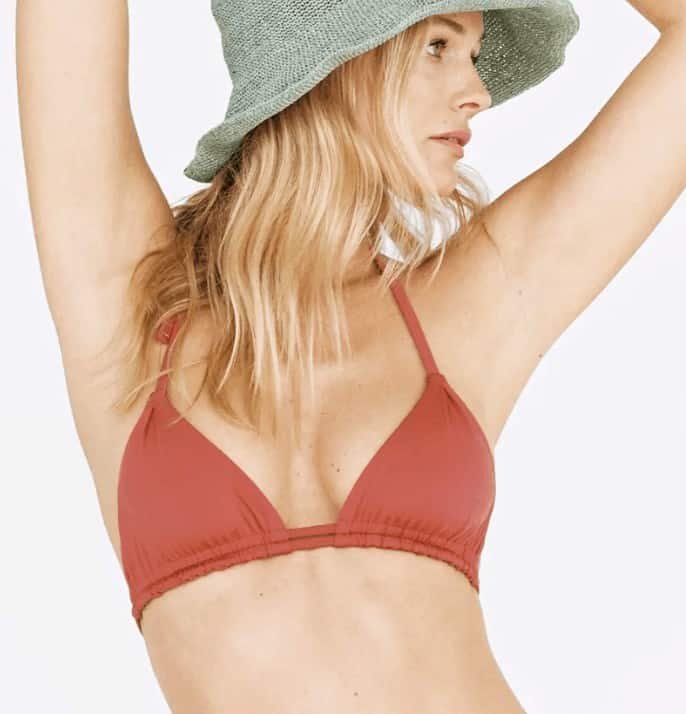 Burkini with Defined Waist:
The belt defines your waist and gives the illusion of a more hourglass-figure.  The skirt, going right below the hips, brings a more feminine vibe to it, along with the comfort of being modestly covered!
https://www.instagram.com/p/CBeB4NqJ8I-/
https://www.instagram.com/p/B_xyeRhBeVZ/
3. Pear Shape
Having a pear-shaped figure, your body weight is more saturated around the bottom area, in comparison to the top. With more full hips and thinner arms, might have you desiring for a bathing suit that attracts attention away from your bottom –perhaps-?
Skirted-bottom One-piece:
The short skirt will help cover up your hips and just enough thigh to have you feeling comfortable, so make sure you choose the best skirt length for you.
https://www.instagram.com/p/CAQG3wUhUtm/
https://www.instagram.com/p/CBd8_rPFT-5/
Low necklines have been around for a while, very eye-catching and undeniably fashionable. The plunging neckline will work to attract attention upon your request.
Same as the low-cut neckline, a patterned Burkini top will do the trick to drag attention to the colours on the top rather than the hip area.
https://www.instagram.com/p/CAqCocThUmS/
If you don't care much about covering up those areas and more about wearing a pretty Bikini (You go girl!), scalloped swimsuits are a thing this year. The cut gives a soft feminine look, going well with your body ratios. We guarantee you'll fall in love with it once you try it on.
Remember; the perfect swimsuit is one that makes you feel the confidence you need to enjoy yourself with no worries.  Don't stress yourself, nor do you need to stick to what any guide says. Enjoy your summer and catch some waves!