Women in the Egyptian film industry are very few, yet they're almost always presenting bolder and more daring ideas.
We're happy to bring to you Malak Badawi, the artist from Egypt who just won the Silver Hipatia Award for Best Short Film at Alexandria Short Film Festival for her movie "The Rollercoaster."
Malak Badawi wrote, edited, directed, and starred in the movie, which shows an inner monologue of a young woman thinking about the concept of true love.
Malak Badawi first gained our attention in the Ramadan series "The Flood" (Al Tofan) alongside several legendary actors in 2017 to Anesa Farah.
Malak Badawi, however, found herself on social media, where she released several sketches and satirical songs, where she would discuss serious issues in a sarcastic tone.
We had the chance to have a one-on-one interview with Malak Badawi to discuss her movie The Rollercoaster, career, artistry, and future.
Tell us about your movie "The Rollercoaster." How did the idea of the movie get about?
I got the idea of this movie 5 years ago, based on my personal experiences and a phase I was going through. While maybe I don't 100% relate to it now, but it's still a part of me and my growth as a woman. So I decided to shoot it and present it to an audience.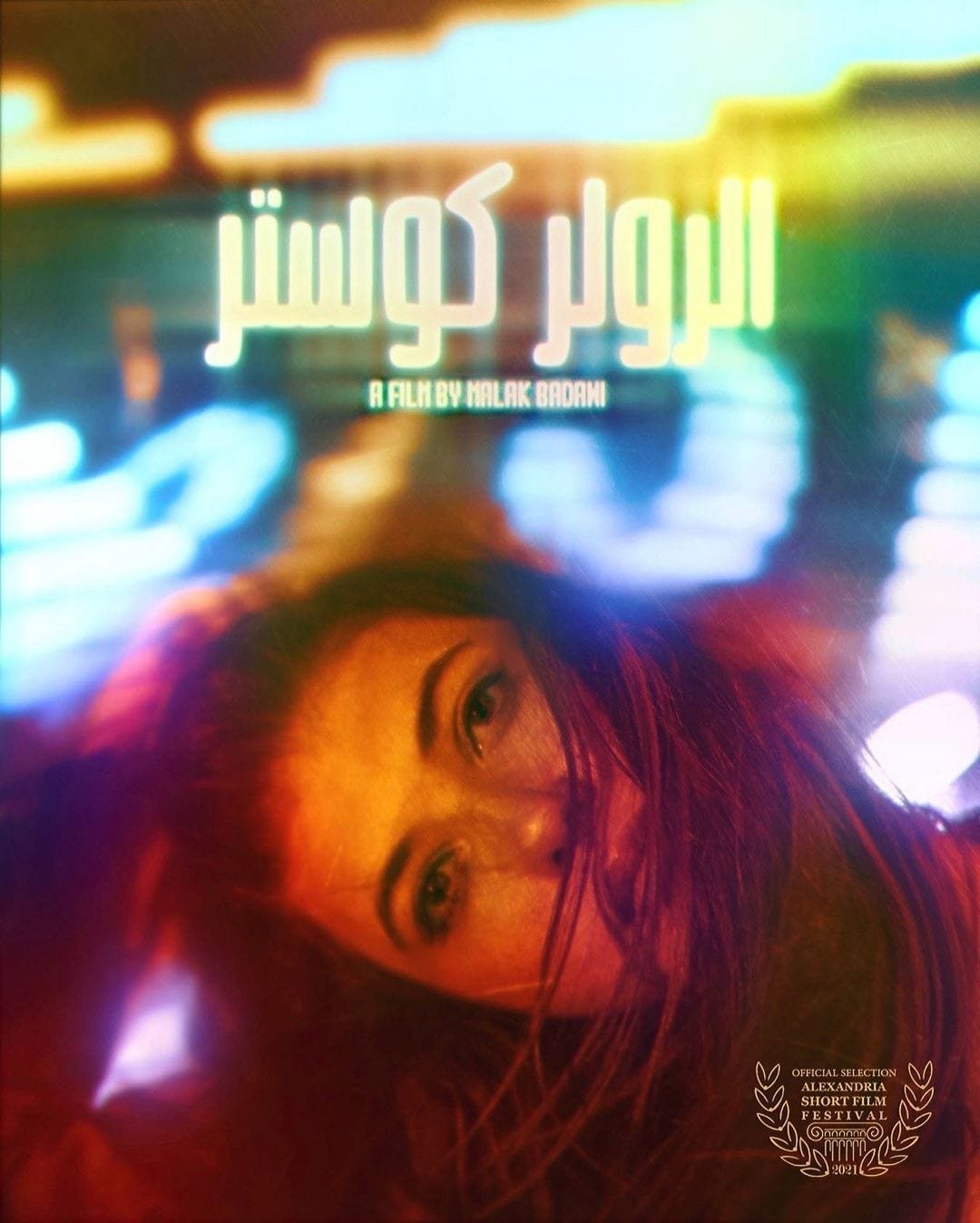 While the film's idea is not something foreign to every women's day-to-day thoughts, it's barely said bluntly. What made you decide to finally take a step and speak up your mind, publicly and artistically?
Again, I created the movie based on personal thoughts and experiences that I had. In this confusion phase, I was lost, so I decided to take the audience with me.
I wanted to let people live in this state of mind that all women go through. We've seen so many movies about men's emotions and never about women's emotions behind closed doors. At least not through another women's perspective.
Society made us stay silent about our honest thoughts, but it's 2021; if we can't speak now, when will we ever?
You know you'll probably get some backlash from men with fragile egos; how are you prepared for that?
I don't think they'll have a valid reason to be pissed off. However, I don't create movies to pat people on the back.
I create art to make people think, so even if they got upset, I must have done something right.
Your movie participated in the Alexandrian Film Festival. How was your experience?
It was a new experience for me. This was the first time I had the movie screen in front of a vast audience. By then, it was only screened with a few friends, and that's it.
This was also my first participating in a film festival, and the first time I receive a trophy — ever!
The best part was having my friends and family support me through the whole process.
You wrote, directed, and acted in the movie. Why did you decide to do that instead of collaborating with others?
It's not an ego thing, but I just don't know enough people on the same wavelength as me in the field yet. In fact, I don't have proper connections at all!
Maybe later, when I have enough connections, I can find people to collaborate with.
However, working on this movie alone made it my baby. I was like the mother who's doing everything for her baby and cautious with everything.
It wasn't easy to make everything alone, apart from the help I got from Salma El-Kashef as DOP and Shady Noor as a music composer. They did help me a lot, though, because they're real professionals who just made my vision come to life.
While the public might have known you as an actress, you're starting to venture into other artistic forms, like singing, writing, and directing. Do you feel like you are doing different things, or do you feel like they're all somehow related to one another?
I won't say I'm a singer yet, but I do make musical sketches.
I just love art, and I want to do anything related to art. Even when I was younger, I used to paint, and my mother would take me to painting classes because she saw my passion. I also studied visual arts in school and even took hip-hop dance classes because I was obsessed with hip-hop culture.
I even tried taking guitar lessons, but that failed miserably, so let's not talk about it. I wanted to become a Disney star, so you can't be one without learning how to play the electric guitar. It's a given!
On a serious note, though, I started getting into photography when I was in university when I got older. From there, it sparked my interest in moving images. Then many started encouraging me to try acting, and several workshops later, here I am.
Social media and digital platforms have allowed artists and content creators to create more than before, and you're definitely one who's been using digital hubs to your strength. Where do you see the future of artistic content creation going? Do you feel like easy accessibility might hinder the creative process?
On the contrary, it makes people seen more, and creators can now monetize easier than before. It's time we face the music and agree that the future is online, whether we like it or not.
However, we need to remember how much social media can be damaging for our mental health. It's just like a surreal thing that has all this creativity, up to the trash content that we all consume, but also a lot of hate and bullying.
I personally hate it, but it's part of the job, and we need to deal with it.
You've released several satirical songs. While they gave the illusion of being just a fun song, you were actually discussing important issues. Why did you decide to take the satirical approach rather than the serious, or maybe even the typical comedy approach?
I guess this is just who I am, and this is my style. I'm a very sarcastic person by nature, so satire is how I can adequately express myself.
Yes, I want to present comedy, but I'm never aiming for knee-slapping comedy. A dark comedy with a bit of a wicket twist is what I'm aiming for.
Do you feel frustrated that not everyone gets your sense of humor, or you knew that from the start?
You can't be everyone's cup of tea, and that's okay. I stopped listening to the negative comments because they'll get me nowhere, and I'll just get tired and burn out quickly.
And lucky for me, the positive feedback I get is a lot more than the negative ones.
More importantly, I want to keep it real! Walking on eggshells is boring, and won't get me anywhere, which is why I'm not afraid to break the rules.
I spent the last three years trying to impress everyone, and I wasn't comfortable.
Now tell us, anything cooking this Ramadan?
I don't have any series this Ramadan, which is honestly great for me. I can now have time to work on my craft and develop more projects for myself.
I won't have had the time to work on my short movie or attend the acting workshop I've been to — which was life-changing!
With that said, I will be releasing a sketch, which I'm very excited about because I believe it will be the project that takes my career to the next level.
I don't like speaking much about unreleased projects, but I can tell you this; from the idea to the direction. The final results will be something else!
What about your plans for the future?
Honestly, I just want to work on projects that make me happy and don't dim my spark. I want to find my own potential and let people see it as well.
I can guarantee you that I will not present myself as the airhead who's following any trend she sees.
Photo Credits from the opening of Alexandria Short Film Festival:
Makeup Artist: Heba El Key
Photogtapher: Marco Yacoub