After getting banned in several Arab countries, Marvel's "Eternals" is now rumored to be banned in Egypt after it was scheduled to be released tomorrow.
There is no official news about the status of the movie, but it is confirmed that it will NOT be screened tomorrow.
The film has been removed from all schedules from most cinemas.
Imax confirmed over their social media that it is postponed.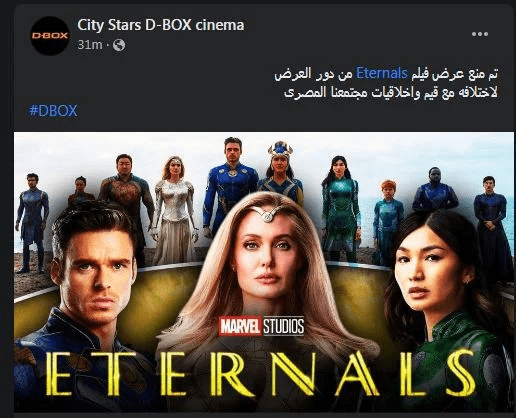 On the other hand, City Star's D-Box cinema made a post claiming that the film won't be screened because it's banned because it doesn't align with the Egyptian Family values. The post is now, however, deleted.
The film has been causing controversy in the Middle East because there are gay characters in it. Phastos, played by Brian Tyree Henry, is married to Ben, played by Emirati-born Lebanese actor Haaz Sleiman. The pair share Marvel's first on-screen same-sex kiss, which caused the ban in Saudi Arabia, Qatar, and Kuwait.
In an interview with news.com.au, Angelina Jolie, who plays Thena in Eternals, said: "I'm sad for those audiences. And I'm proud of Marvel for refusing to cut those scenes out.