Wine-making has a long history in Egypt, dating back to Ancient Egypt. It was infused with the Ancient Egyptian culture, and several temples and pharaohs owned vineyards as a prestigious symbol. However, over the years, the industry has lost its vibrancy. In this document, we will take a stroll down the history of wine-making in Egypt.
Wine in Ancient Egypt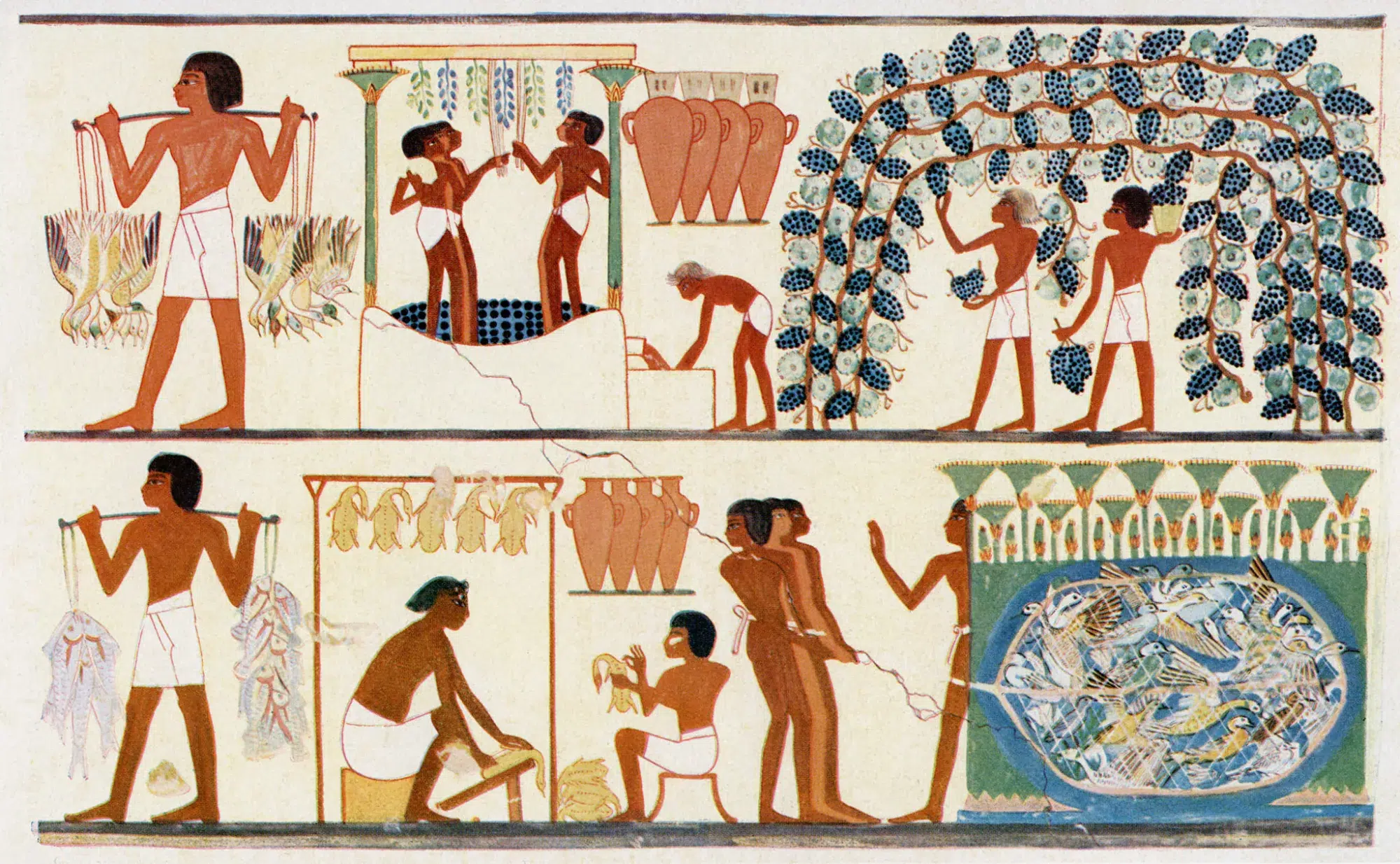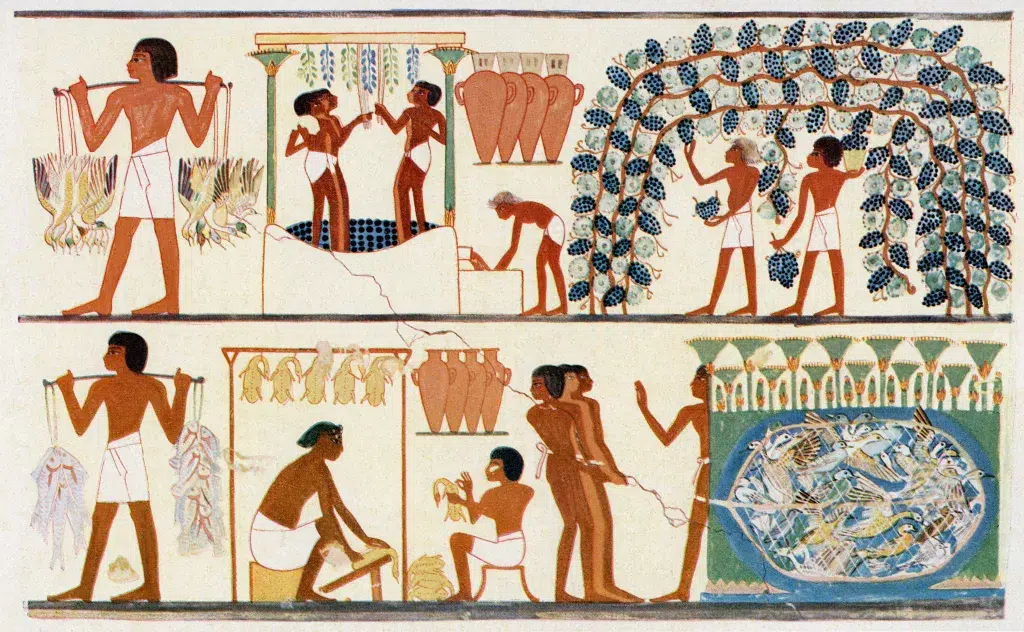 Paintings on tombs and other archaeological finds suggest that wine production in Egypt dates back to the Dynastic periods of 3000 B.C. and earlier. During several expeditions, large numbers of wine jars were found in the tombs of pharaohs in various areas, including Sakkara. Wine in ancient Egypt was mostly made from grapes, dates, figs, and pomegranates.
It is believed that wine was strictly made for the elite and that owning vineyards was linked to royalty. Owning vineyards was considered a luxury rather than a necessity. Wine was only consumed by the public during festivals and celebrations, such as the Festival of Hathor. However, other stories and research suggest that wine was consumed on a daily basis. Additionally, it was used for medicinal purposes, mixed with herbs to cover the foul taste of medicine, or as a sedative for operations such as childbirth.
Wine held great value during those times. Tombs were painted to depict the process of cultivating and harvesting wine. Wine, in ancient Egypt, was considered the drink of the gods and was often offered to them in rituals.
Hathor and the Destruction of Mankind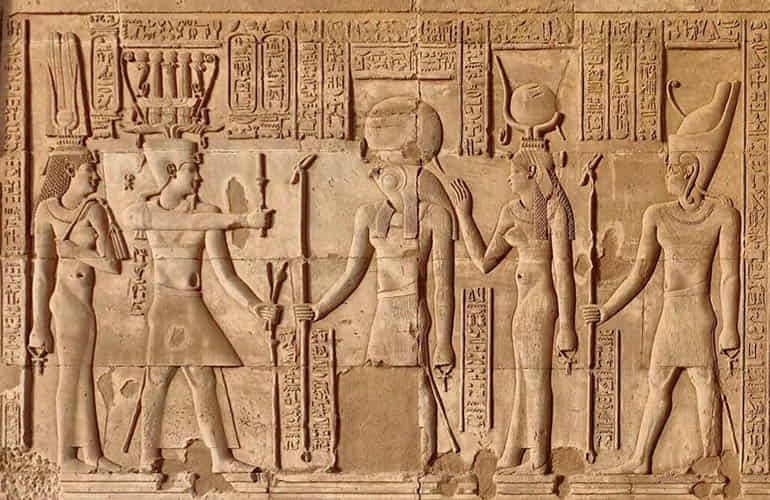 According to the Greek philosopher Plutarch, the Egyptians believed that wine was "the blood of those who had once battled against the gods."
This belief is said to stem from the myth of the "Destruction of Mankind" of Hathor, the goddess of beauty, sensuality, fertility, and the daughter of Ra, the god of the sun.
The story goes that Ra sent Hathor to avenge those who had disrespected him and strayed from his guidance. Hathor took the form of Sekhmet, with the body of a woman and the head of a lioness. Sekhmet was a savage lioness who enjoyed torturing humans and whose rage spread terror among mankind.
Sekhmet caused great destruction, killing many, and soon became addicted to blood, to the point where even direct orders from her father failed to stop her. The bloodshed came to an end when Sekhmet was tricked into drinking red wine, which she mistook for blood and caused her to relax and fall asleep. Ancient Egyptians later celebrated that day by drinking wine.
Modern Times Egyptian Wine-Making


In later years, wine-making in Egypt became less common than it was in ancient times. During and after the 7th century, the industry faced a major decline due to the Islamic influence on the country, leading to a significant decrease in both consumption and distribution.
Little is known about the wine-production industry in modern times. What we do know is that in the 1990s, Egypt's wine-making facilities sought international support to improve production quality. Currently, only a few brands remain prominent in the industry in Egypt, such as Omar Khayyam (a very dry red), Cru des Ptolémées (a dry white), Rubis d'Egypte (a rosé), and a couple more. As well as so, most existing wine brands now fall under the umbrella of Al Ahram Beverages Company, which is the biggest alcohol production company in Egypt.
With Egypt now being an Islamic conservative country, wine is no longer celebrated as it was in ancient times. This resulted in several brands producing non-alcoholic wines like Donelli's lemon and mint wine and Chula's red wine.
Under normal circumstances, wine consumption wouldn't be celebrated in Egypt. International wine day is a chance for us to celebrate a major part of our history and how ancient Egyptians had the lead in yet another industry.