Summer is almost over but the heat is still on, making us crave for all things cool and frozen. Now is the time to find creative ways to beat the punishing heat to cool things down with some refreshing fruity frozen treats.
Rather than marching into a dairy or ice cream shop and spending an arm and leg on sugary treats, why not get creative with your ice-crushing blender and make your own dessert. Apart from keeping you healthy and saving your pocket, the naturally sweet fruit dishes offers you a guilt-free indulgence. Preserved with all their goodness and nutrient values, these hibernating fruits are incredibly healthy and delicious too.
So, most of us would be asking how to achieve the precisely crushed ice for the perfect indulgence? 
Introducing, Panasonic MX-KM5070 ice-crushing blender equipped with powerful sawtooth blades excellent in precision crushing.
Try these refreshing smoothies and chilled drinks made of your favourite frozen fruits and say goodbye to typical store-bought ice treats, which often come loaded with sugars and artificial sweeteners.
Whether you are looking for an easy way to eat more fruits, want to cool yourself in the sweltering Summer or just need an energy kick to start the day, here are some icy treats to blend in your Panasonic MX-KM5070 Blender.
Strawberry-kiwi yoghurt smoothie
Blend frozen strawberries and kiwis with creamy yoghurt for a tropical gluten-free experience. This easy-to-make smoothie is perfect to start the day and packed with all the goodness of creamy yoghurt, tangy kiwis and fresh strawberries.
Raspberry peach green tea smoothie
Blend frozen raspberries and tart peaches add a burst of flavour to this green tea-infused smoothie that's good for poolside or porch sipping during summer. Having all the nutritional benefits and energy boosting ingredients, this delish icy slush will keep you going throughout the day.
Blueberry almond butter smoothie
Make use of your blending skills and get an energy boost with frozen blueberries blended with creamy, calcium-rich almond butter, a refreshing and nutritious smoothie perfect for an afternoon snack. Add a spoonful of flax seeds or chia seeds to make this recipe more fibre-rich and scrumptious.
Orange, lemon and mango sorbets
All you need to make delish sorbet is your favourite fruits, a splash of water, and perhaps a little bit of natural sweetener. Blend the frozen fruits with a few ice cubes to get the coolest Sorbet you desire. This dessert is perfect for vegans, people with dairy intolerances, or that sweet tooth who crave a treat minus the calories and extra sugar. Standard sorbet flavours include orange, lemon, mango and raspberry, but you can use anything you desire.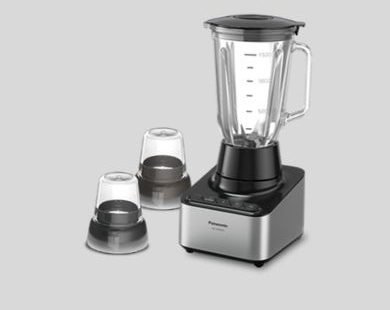 Know more about the Panasonic MX-KM 5070 Ice crushing blender here.