Today, realme announced the launch of its new device – realme 8 5G, its first 5G device in the Egyptian market. With this announcement, realme expands upon its existing global range of 5G devices that include the realme 7 5G and the recently launched realme X7 Pro. Along with exquisite design and other enhanced technology the device also features the advanced 5G processor that not only enables it to access high speed 5G internet connectivity but also enhances the overall user experience, providing Egyptian users with a 5G smartphone experience like never before.
Innovation in 5G technology has enabled users to access the internet at high multi-gbps peak data speeds with ultra-low latency rate, featuring a more reliable network with massive capacity and increased availability, giving users a more uniform experience. The realme 8 5G offers Egyptian audiences a taste of high speed 5G internet without compromising on exciting technology, features and sleek, exquisite design.
"Our objective at realme is to provide great future ready 5G devices for Egyptian audiences, so that they not only have access to the best overall smartphone user experience there is to offer, but also have the capability to be 5G ready – having the potential to connect to advanced 5G internet speeds and enjoy the future of technology"

said Hisham Moharam, Marketing Manager of realme.
"The realme 8 5G featuring the 5G processor is capable of giving the best of both worlds to our consumers, enabling them with the next level of device performance along with the ability to access high speed internet of the future."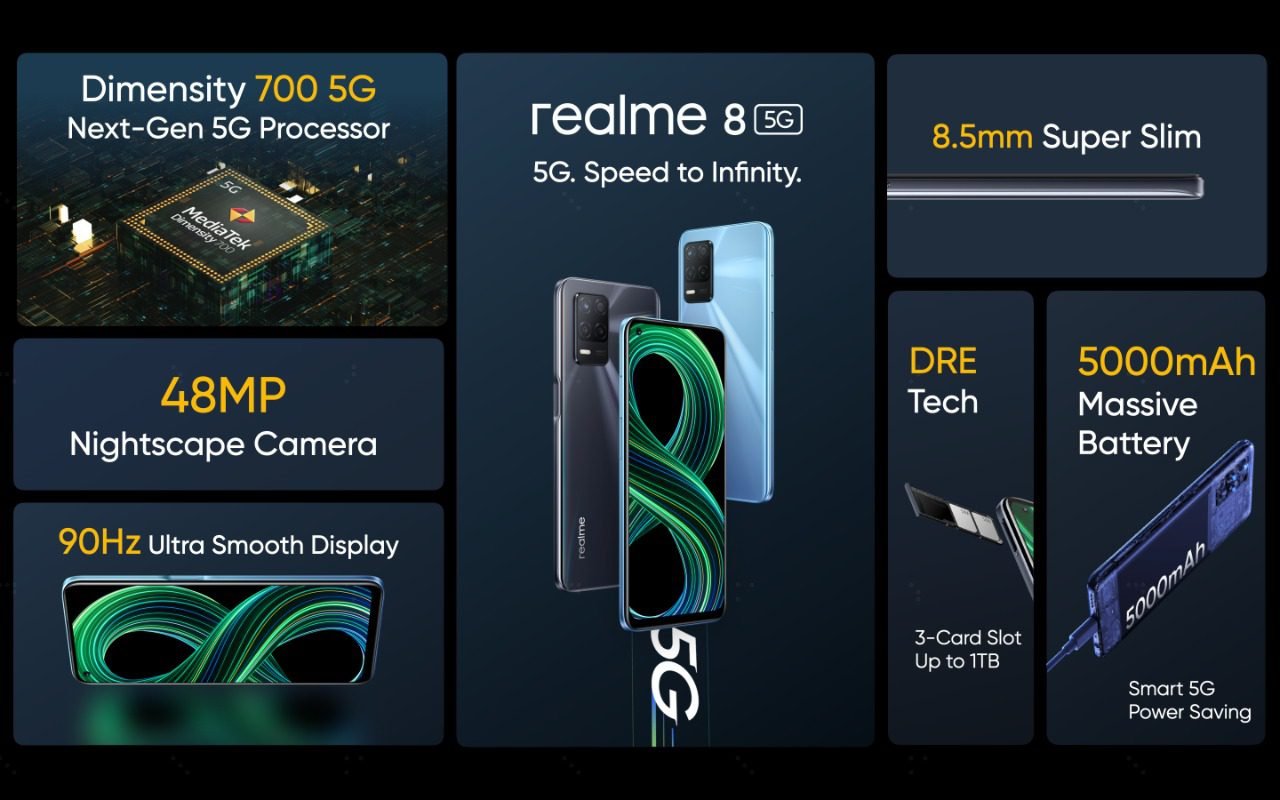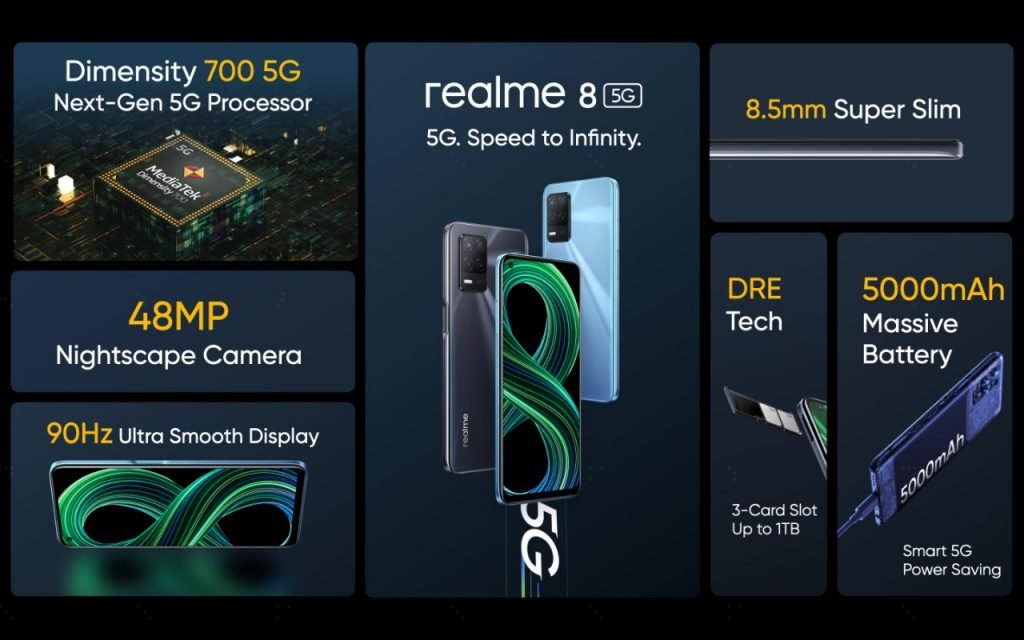 realme 8 5G Specifications
5G Capability in Super Slim Design: The realme 8 5G features 5G capabilities with up to 4 times more antennas to provide access to high speed 5G internet to users. However, the device retains its size, being the slimmest 5G smartphone in the segment. The 8.5mm super slim body which is 185g super lightweight provides a great, comfortable in-hand feel while provided super-fast 5G internet speeds to the users' delight.
5G Processor: realme 8 5G adopts the Dimensity 700 5G processor, which mixes two highly capable Arm Cortex-A76 cores in its octa-core CPU operating up to a speedy 2.2GHz, using the leading 7nm production processor, which is up to 28% more power-efficient than an equivalent 8nm process.
Battery & Smart 5G Power Saving: realme 8 5G is equipped with a 5000mAh massive battery, satisfying daily entertainment use. With the 18W type-c quick charge, the 5000 mAh battery can be fully charged very fast. The phone also supports Smart 5G Power Saving, which improves overall phone battery life, and can intelligently sense the surrounding signal environment and "senselessly" switch between 4G and 5G without any switching time, achieving 30% lower power consumption than phones without the Smart 5G feature.
Display: The realme 8 5G contains a 6.5-inch 90Hz Ultra Smooth Display with a with 2400×1080 FHD+ resolution, a 90Hz refresh rate and maximum 180Hz sampling rate. Capable of producing 90 frames per second, the 90Hz display has a 50% higher refresh rate when compared to a conventional 60Hz display, resulting in a seamless and smooth visual experience with every swipe of the screen. With a 6.5-inch big display and an incredible screen-to-body ratio, the realme 8 5G brings you a supreme visual experience.
Quad Cameras: realme 8 5G boasts an advanced 48MP Nightscape Camera, comprising of a 48MP Ultra HD Main Camera, a B&W portrait lens, and a macro lens.
AI Selfie: 16MP Ultra-clear front camera satisfies your verified selfie needs with F2.0 aperture, supporting smart beauty mode, Bokeh Effect, etc. The brand-new beauty algorithm developed for different genders, different skin types, and facial shapes and features allows you to take selfies that show natural and delicate skin quickly.
Pricing and Availability: The realme 8 5G is priced at EGP 4,290 in Egypt and will be available in the market starting today. The handset comes in 2 colors variants: 6GB+128GB
The realme 8 5G being launched in the Egyptian market as the next best new device in the realme 5G device range. This year, 40% of realme's production line are focused on 5G devices aiming to increase it to 70% by 2022. More than 90% of realme's R&D resources are now working on 5G technology and products. realme will be investing $300 million across the world to enhance the R&D as well as promoting or 5G technology.
During the next three years, realme aims to empower 100 million of young users to use devices that support 5G technology and moving them into a new modern and smart life with unprecedented user experience which will speed-up the spread of 5G in Egypt and across the world.
About realme
realme is the fastest growing global smartphone technology company. The brand was officially established in May 2018 by Sky Li, who, in addition to his vast expertise, was able to create a trendsetting brand, offering state-of-the-art technologies and the boldest designs in the smartphone industry.
The realme brand philosophy revolves around redefining the young generation's trends, opinions and visions, while revealing the endless capabilities its smart devices have to offer. The company is known for its famous motto "Dare-to-Leap", which defines realme products and creates a daring life experience for generation Z.
realme was able to achieve exceptional growth and become the world's fastest growing brand and "the brand of choice" among youth, enabling the globally acclaimed brand to demonstrate the power of youth to the whole world.
realme has a strong presence in more than 61 markets, including China, India, Indonesia, Thailand, Malaysia, Pakistan, Egypt, and Europe. The company has 85 million users worldwide, making it the fastest growing brand globally. For more information, please visit: https://www.realme.com/eg