Techne Summit, the Mediterranean's premier investment and startup event, is thrilled to announce that the much-anticipated 9th edition of its flagship event, "Techne Summit Alexandria", will take place from the 7th to the 10th of October 2023 at the iconic Bibliotheca Alexandrina under the auspices of the Ministry of Communications & Information Technology, Information Technology Industry Development Agency (ITIDA), Digital Economy and Technology General Division (DETGD), and the Federation of Egyptian Chambers of Commerce (FEDCOC).
The esteemed sponsors of this year's event include Zain Tech, Novartis, and EdVentures as the Platinum sponsors; the Micro, Small and Medium Enterprises Development Agency (MSMEDA), Hivos, and Investors of the Mediterranean as the Gold sponsors; and Paragon, Pepsico, Roche, and Trianglz as the Silver sponsors; and the event is organized by Markade Agency.
Techne Summit Alexandria 2023 will gather top-notch entrepreneurs and investors from around 40 different countries to engage in intricate discussions and tackle pressing industry topics. With a staggering lineup of 300 speakers, including 220 investors, and 145 exhibiting startups and companies, the event is set to draw over 35,000 attendees and will feature industry-leading experts, with renowned brands such as Microsoft, Roche, Fawry, Novartis, Amazon, UN Women, UNDP, and many more. These leaders will converge to delve into discussions on tech, innovation, and investment across 10 distinct tracks.
With over 80 informative sessions, invaluable content, and 50 interactive exclusive workshops, Techne Summit Alexandria 2023 is set to be a pivotal moment for the region's tech and innovation ecosystem. The summit will host prominent investors from the Gulf Cooperation Council (GCC), including Waleed Alballaa, General Partner at Sukna Ventures; Ali Abussaud, Founding Manager Partner at HALA Ventures; and Mohammed Al-Rashidi, Founder and Executive Chairman of One Global VC.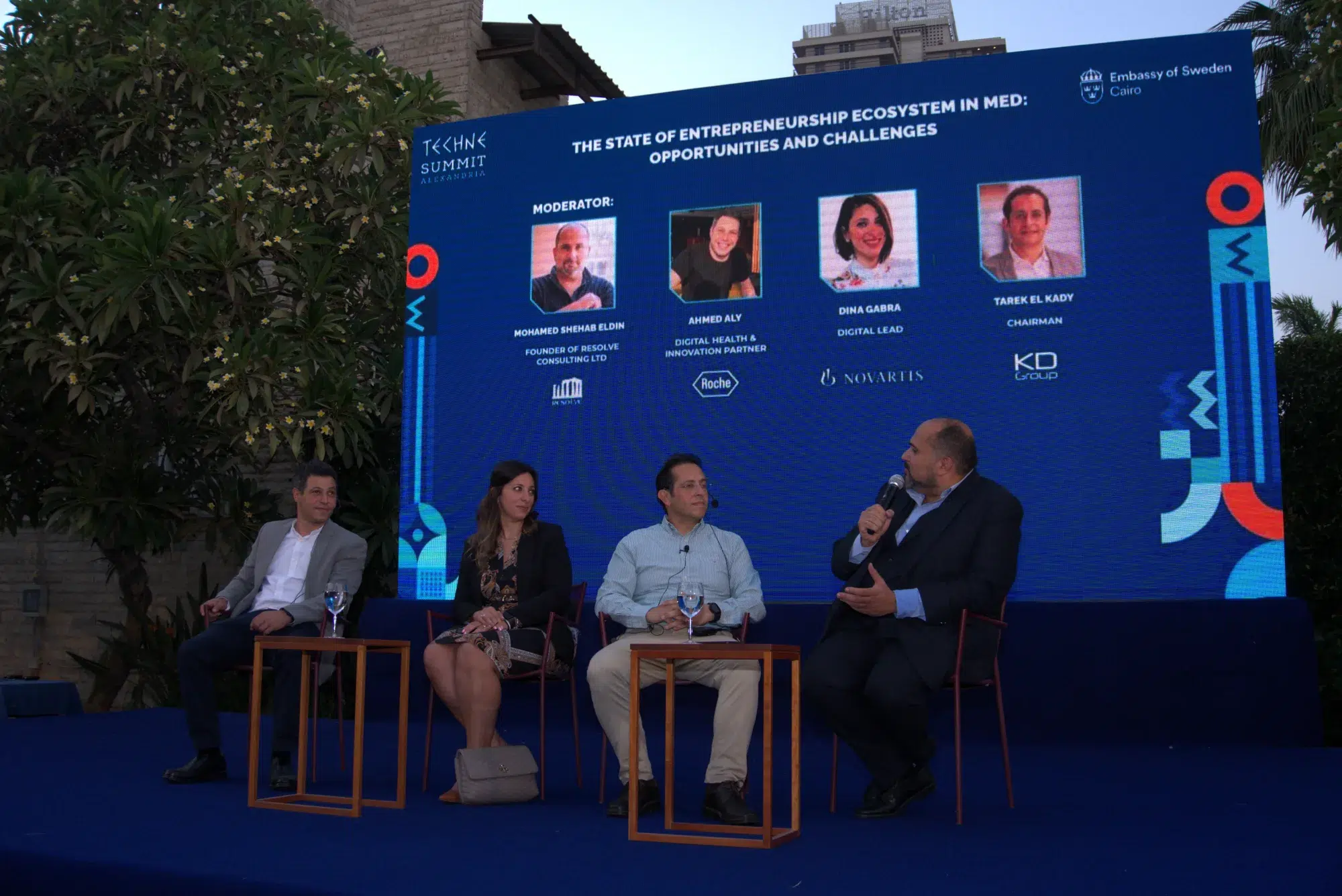 Notably, investors from as far as the United States, including Joanne Wong, Chair of IEEE Entrepreneurship, and Keo Sar, Executive Director of August Hill, will join the Investors' Bootcamp to explore co-investment opportunities, network, and discuss the most critical challenges facing the region's investment and entrepreneurship landscape. The summit will place a significant emphasis on attracting foreign investment in entrepreneurship and innovation.
Commenting on the event, the Ambassador of Sweden in Cairo, H.E. Mr. Håkan Emsgård, said,
"In almost two weeks, Techne Summit 2023 will open its doors in Alexandria. For the ninth year in a row, Sweden is sponsoring a pitching competition to support Egyptian entrepreneurs with this year's theme "Fintech".

We believe it's a vibrant sector for an evolving young population presenting numerous opportunities to Egypt for the youthful tech talent pool in financial inclusion, cash-to-digital transformation, investment platforms, remittance services, and regtech solutions, among others.

The Embassy of Sweden is looking forward to yet another successful Techne Summit. Sweden will continue to work together with Egypt in many areas, especially in the areas of entrepreneurship, tech and innovation."
Tarek El Kady, Founder of Techne Summit, said:
"In recent years, we've seen the critical need for corporate innovation. Many startups struggle to address real market challenges. Through our innovation program, exemplified by SehaTech, Cropsa, Flash Lead, and Clinido, we've witnessed outstanding achievements; from gaining public awareness, raising capital, and growth in market share.

We are proud to witness a new milestone in Techne Summit's journey in collaboration with the Embassy of Sweden with this year's edition which represents a significant opportunity to network, exchange expertise, join workshops in the presence of some of the world's renowned line-up of speakers to help corporations navigate this innovation journey."
The highlight of the event is the Mediterranean Investor Matchmaking Pitch, where up to 30 handpicked startups will pitch to the most relevant investors, perfectly aligned with their stage, geography, and industry. In addition to Techne Summit's annual Techne Arena that will host two exciting competitions, featuring startups from diverse industries powered by Nilepreneurs, and a Fintech Competition by the Swedish Embassy.
It is worth mentioning that Techne Summit has earned its reputation as the ideal platform for deal sourcing since it kickstarted in 2015 as it attracts both established and rising startups. Moreover, the eighth edition of the Techne Summit Alexandria achieved remarkable success, hosting more than 30,000 participants, 400 speakers, 200 investors, more than 180 exhibitors from leading companies, and over 1,000 exhibitors from startups.