After starting a controversy, Mena Massoud, the star of Disney's live adaptation of Aladdin, deleted his Twitter account. He went on to compare the box office earnings of Aladdin with Disney's 2023 live adaptation of The Little Mermaid, starring Halle Bailey. Massoud did not do much to hide his disapproval of The Little Mermaid getting a sequel, hinting that, unlike Aladdin, The Little Mermaid did not break the billion-dollar mark.
First, a little context…
The Egyptian-Canadian actor first gained prominence in 2019 when he portrayed the lead role in Disney's live adaptation of Aladdin. We have also seen him in leading roles in Hulu's Reprisal of 2019 and Netflix's original film The Royal Treatment of 2022.
Halle Bailey, on the other hand, is an American singer and actress set to star in Disney's upcoming live adaptation of The Little Mermaid. Bailey gained popularity through her music career as a member of the R&B duo Chloe x Halle member and her acting career in the TV series Grown-ish.
Over the past ten years or so, Disney began producing live adaptations of some of their 80s and 90s classics, including Maleficent (2014), Cinderella (2015), Beauty and The Beast (2017), Mulan (2020), Cruella (2021), and others. In addition, Aladdin and The Little Mermaid were also set as a continuation of the strategy.
When Aladdin, starring Mena Massoud and Will Smith, was released in 2019, its earnings reached $112M on the opening and later broke the billion mark. The movie was then considered a big success in a commercial sense.
The Tweet
On May 13, 2023, Mena Massoud posted a tweet comparing the opening weekend earnings of Aladdin and The Little Mermaid.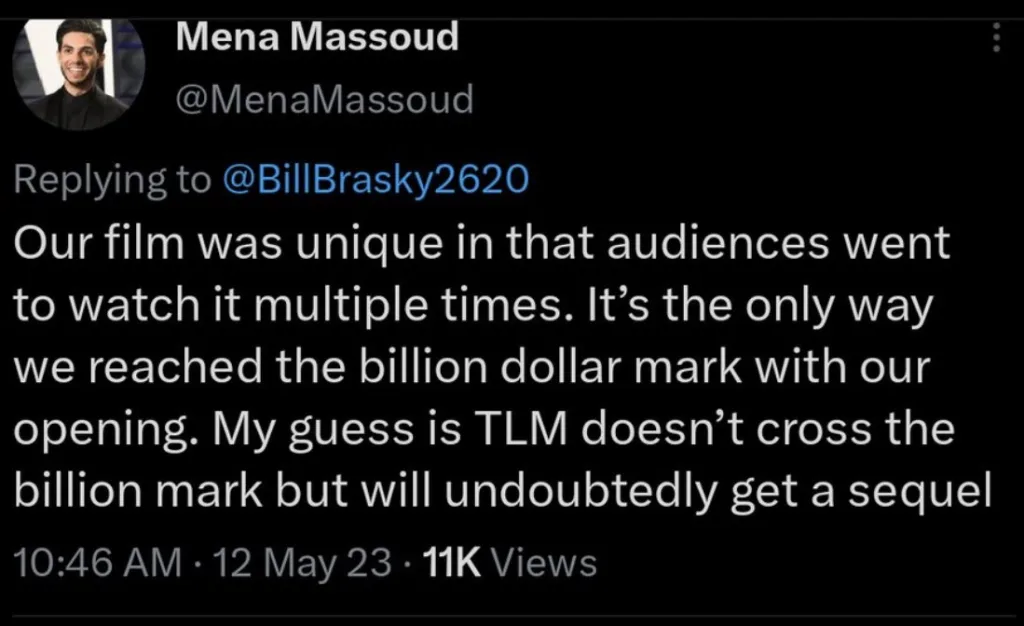 This tweet was seen as a dig at The Little Mermaid's potential to earn a billion dollars, implying that it will not be able to do so without the help of sequels.
The Backlash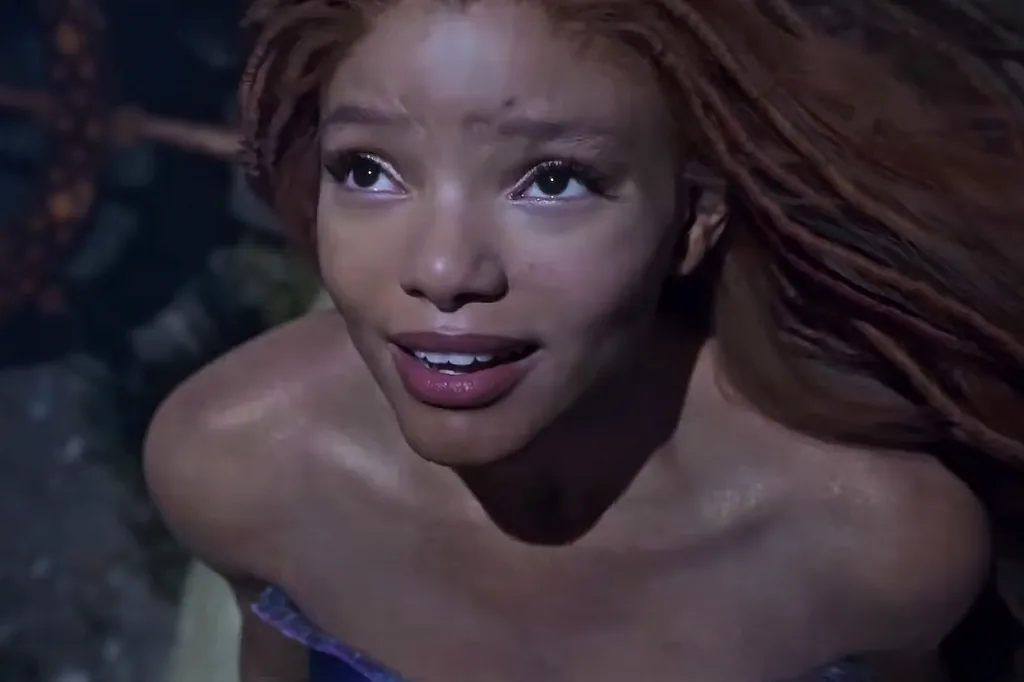 The backlash started by Halle Bailey's fans for several reasons since Mena Massoud's remark was perceived as jealousy, aiming to undermine Bailey's success after the news of The Little Mermaid getting a sequel, while Aladdin failed to.
Many considered Massoud's tweet to be not only insensitive, considering the ongoing representation discussions in Hollywood, but also racist. For example, when Halle Bailey, a woman of color, was cast to star in The Little Mermaid, a controversy came to life on social media, and many did not seem to support the idea.
Accordingly, many considered Massoud to be against the film for the same reason, and Bailey's fans were furious, saying that the film did not need to be hated any further after all the fuss around its cast.
In 2022, Massoud tweeted, "Black artists have the highest representation for minorities in Hollywood followed by Asians, Latin Americans, Native Americans, and in last place…North Africans."
When fans linked his recent and previous statements about representation, they accused Massoud of not only deeming The Little Mermaid as unworthy of success but also suggesting that it would go on to receive a sequel solely because the lead actress is a woman of color.
Mena Massoud's Declining Hollywood Career, and How this might be the Nail in the Coffin
While he has been an advocate for diversity in the industry, some have speculated that his remarks could hurt his chances of landing future roles. Additionally, his tweet has sparked a larger conversation about the intersection of race and representation in Hollywood.
In 2019, Massoud did not hesitate to call out Hollywood for the lack of opportunities for minorities and people of non-white origins. He said he struggled to land jobs in future productions after Aladdin. While his co-star, the English actress Naomi Scott, landed a role in Charlie's Angels right after Aladdin's big success, Massoud struggled to get an audition.
Although Massoud never clearly stated that the lack of offers he faced was related to ethnicity, fans speculated so, as he had expressed a desire to work on projects that showcase his heritage on several occasions. He has also frequently visited Egypt and has been announced as the lead in upcoming Egyptian films.
To make matters worse, his Twitter controversy might negatively impact his career and future as a rising Hollywood star.
The Bigger Picture: Hollywood only cares about tokenism, and Massoud might have had a point
It does not work to undermine the works of others in the industry, especially those in the same boat. Accordingly, Massoud's statements about The Little Mermaid were undoubtedly low and uncalled for. However, they set the ground for a bigger controversy and a conversation that has to take place.
Hollywood has made notable progress regarding diversity representation in productions but still has a long way to go. Representation should not stop at attempting to cast white and black actors –almost- equally. The aim is for it to expand and further include different ethnicities.
Asian representation in Hollywood productions is almost non-existent, starting and also stopping with Disney's Mulan and some side characters in other films. As well as so, very few of Egyptian and North African origins get a chance. Think about it; besides Rami Malek, who else is there?
This was further proven by the fuss around Netflix's Cleopatra "documentary," which is another story.
With that being said, do you believe there might be a brighter future for Egyptian and North African representation in Hollywood, or is it a long shot?
Food for Thought:
In light of this controversy, it's worth considering whether modern Egyptian culture and heritage will ever be taken seriously in Hollywood. While Massoud's role in Aladdin was a step forward in terms of representation, there is still a long way to go before the industry fully embraces the diversity of the world we live in. As consumers, we can do our part by supporting diverse films and advocating for more inclusive production practices. Only then can we hope to see true progress in the film industry?