Spotify is launching today EQUAL – Spotify's new global commitment dedicated to fostering equity for women in audio and celebrating their contributions.
Spotify EQUAL will shine a spotlight on women artists locally, regionally, and internationally through global partnerships, activations, new content experiences, and on and off platform support.
Back in November 2020, Spotify launched SAWTIK, its inaugural women-in-music initiative for the Middle East and North Africa to amplify the voices of emerging female artists, where Arab superstar Latifa joined as the initiative's godmother. Under EQUAL, SAWTIK artists will be given the opportunity to have their art celebrated and recognized on a global stage.
The full EQUAL campaign includes:
Celebrating women creators around the world, with the launch of EQUAL Hub, takeovers of flagship Spotify playlists and partner playlists.

The EQUAL Hub is a dedicated space on-platform to highlight women creators and allow fans to seamlessly stream their music. It will extend beyond the month of March and is programmed globally.
Over 200 of top Spotify playlists like Today's Top Hits, Viva Latino and Modus Mio will feature women on all of their playlist covers to celebrate and amplify awareness on platform and ensure that even more fans have the opportunity to listen.
Spotify playlists like Women of Arab Music, SAWTIK and Iconic Arab Women will represent the Arab female artist in the EQUAL Hub.
Supporting women voices with the new invite-only EQUAL Board. Made up of 15 organizations from around the world, Spotify's EQUAL Board will provide each organization a one-time grant and work together on tangible ways to make the audio industry more equitable for women creators.
Engaging fans by encouraging them to 'Flex Their Power to Listen' and to play more women, no matter the day. With data driven social videos, highlighting the breath of content on Spotify created by women. And also with social share cards, empowering fans to share their own personal recommendations of women creators.
Extending their commitment to women creators beyond March. In April, Spotify will launch the EQUAL music program, fostering equity for women, in 50 countries from Japan to Argentina and from Malaysia to the UK. It will also continue to build on the success of programs like Sound Up and EQL that provide new opportunities for women creators in audio.
To celebrate the work of women artists globally and locally, Spotify revealed top-streamed women artists (based on streaming data from January 1-February 22, 2021).
Taylor Swift takes the top spot, Ariana Grande comes up next, followed by Dua Lipa. In Egypt, the top streamed Arab women artists include Fairuz, Sherine and Nancy Ajram.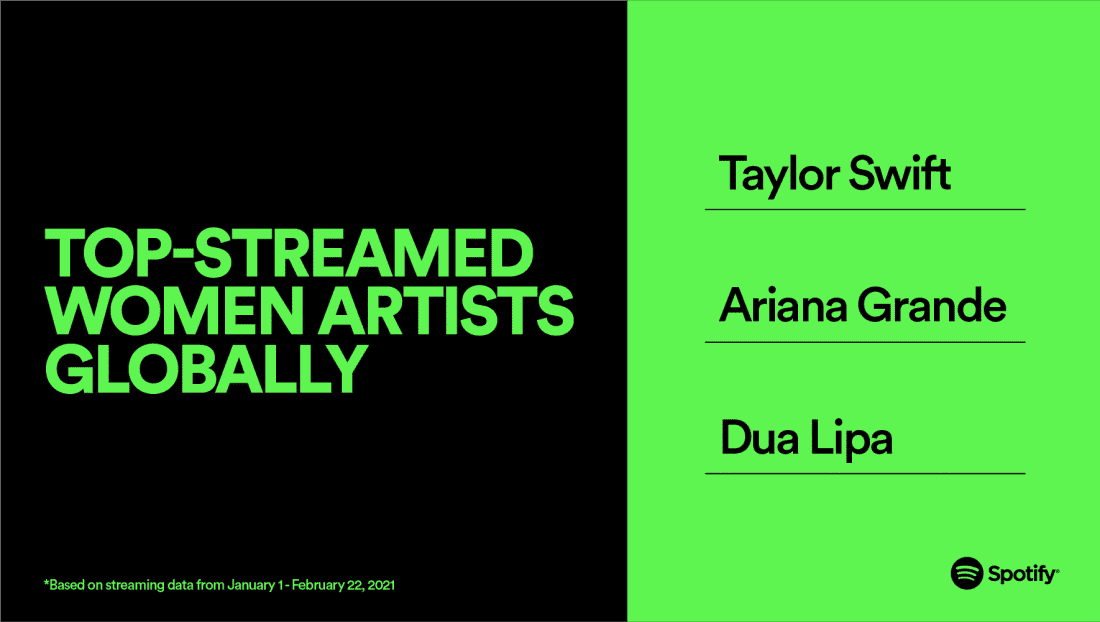 As the world's most popular audio streaming subscription service, Spotify takes its responsibility of highlighting and amplifying women voices seriously by curating top audio destinations for women artists with global playlists for fans from all over the world to discover.
About Spotify
Spotify transformed music listening forever when it launched in 2008. Discover, manage and share over 70 million tracks, for free, or upgrade to Spotify Premium to access exclusive features for music including improved sound quality and an on-demand, offline, and ad-free listening experience. Today, Spotify is the world's most popular audio streaming subscription service with 345m users, including 155m subscribers, across 170 markets.