Debates, arguments, and expressions of anger and offense are seen everywhere on the Egyptian side of social media in light of the spread of images of Champollion's statue at Collège de France in Paris.
This statue has been causing controversy for years because it portrays Champollion placing his right foot on Ramsis II's head. This offended many Egyptians as they perceived this statue as humiliating to the Egyptian pharaohs and heritage.
And what adds more contradiction to this statue is that it was designed by Bartholdi, the same sculptor of the Statue of Liberty in New York, which was originally designed for Egypt.
Frédéric Auguste Bartholdi carved the marble statue depicting Champollion standing with his left foot on a pharaonic head in 1875.
It was displayed in the Parc Egyptian for the Universal Exhibition of 1877.
The statue was intended to be transported to Figeac, the birthplace of Champollion, but the project did not find sufficient support, so it remained in Paris.
In 1878, the statue was placed in its current location in the courtyard of the Collège de France.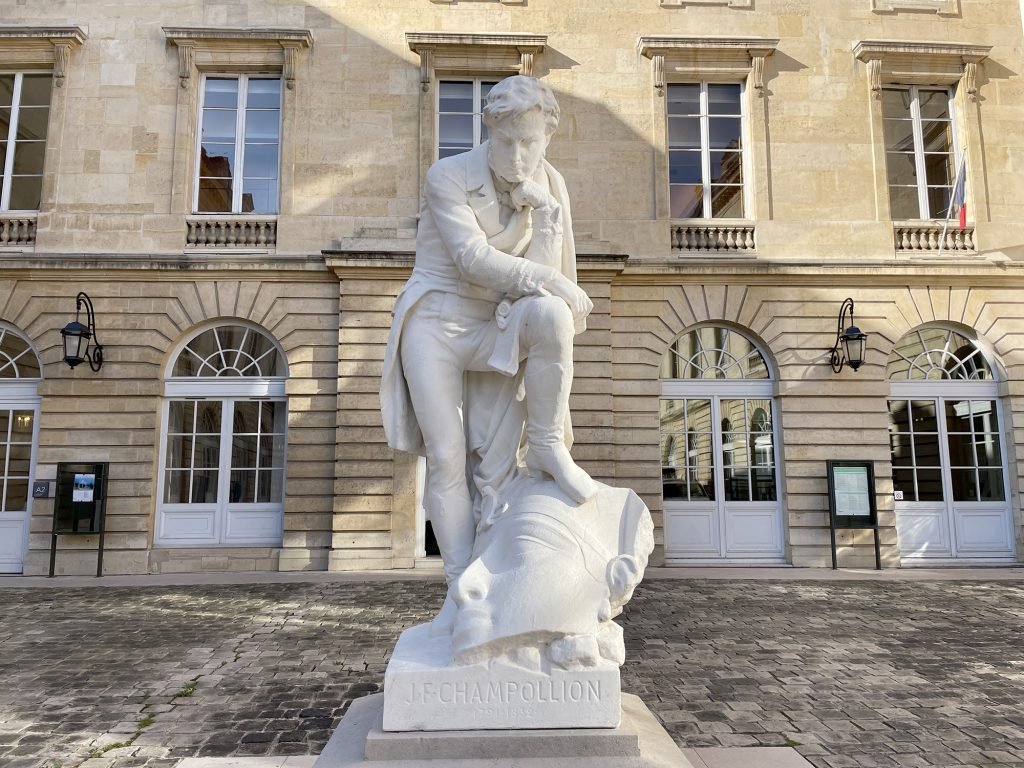 Assumptions of the meaning behind this statue
Jean-François Champollion is known primarily as the decipherer of the Rosetta stone, which led him to decipher Egyptian hieroglyphs.
Many believe this statue represents this achievement and victory over ancient Egyptians. But if that's the case, then not cool, France. Not cool. There's a whole street named after Champollion in downtown Cairo; this is what we didn't expect in return.
It's undeniable that Champollion contributed to Egyptology and opened the way for knowledge of the history and mysteries of the Pharaohs and ancient Egypt. Still, there could have been many better ways to pay tribute to his legacy than displaying his boot on the head of the Pharaoh of Egypt.
Egyptians' reactions to this statue
Many Egyptians are now expressing their disappointment and anger regarding this statue and urging the authorities to do something about it because it offends them.
#ازاله_تمثال_شامبليون 🫵
لا لإهانة مصر وحضارتها .. جامعة السوربون تضع فى مدخلها تمثال لشمبليون وهو يضع قدمه على على أحد ملوك مصر القدماء ماحدش يقولى فن وكلام فاضي التمثال لازم بتشال ويتم تقديم اعتذار رسمي .. اللي معايا ينزل بالهاشتاج #ازاله_تمثال_شامبليون 🫵 pic.twitter.com/bIhtLcdKAT

— باروون👑الهاشمي (@BaroonMsr) September 25, 2022
A #statue in #France for #Champollion lying his leg on the neck of the great Ancient #Egyptian king #Ramses the 2nd.
You never can & you never will. And the ancient egyptian grandsons' are coming after you & soon you'll deeply regret what you did before & now. #Egyptian_curse

— Karim Mohamed ElSayed (@el3omda1bs) September 26, 2022
But this backlash cycle is not new; it has been happening for years.
In 2018, A group of Egyptians living in France wrote a petition to Macron condemning the statue, saying, "We are surprised and saddened by this tremendous insult to Egypt and its civilization.
And back in 2007, the influential Egyptian writer Anis Mansour (1924-2011) wrote in one of his articles for Asharq Al-Awsat that he had thought deeply about the meaning of "shoes" for the French since he had seen the statue.
"I looked long and meditated. I tried to understand what the sculptor wanted. How did France not apologize for such a statue? And what [is] the sculptor's point of view? I know that I am not the first one to see, be astonished, and ask about this statue.

But I resume the condemnation, and this time I ask not about the meaning of the statue but rather the meaning of the boot. It must be that the French boot is different from the Egyptian or the Arab boot … is it cleaner? I only found one explanation, that Champollion had completely managed to decipher the Pharaonic symbols, and it's under his feet. But I was not convinced and did not feel comfortable." he wrote.
Archeologists and government officials' response to the situation
The Egyptian Egyptologist and former Minister of State for Antiquities Affairs, Zahi Hawass, commented on this situation in a telephone interview with Amr Adib on the MBC channel.
He stated:
Look at the statue from the French side. When the french made this statue, did they really think it would be offensive if they made him put his feet on a statue of Ramsis II? The answer is no.
Hawass added,
For foreigners, putting your hand on something is the same as putting their feet on something. They never meant to insult Egyptian artifacts.
However, he stated that it isn't acceptable and still feels offended about it as an Egyptian.
In 2013, I sent an answer to the French ambassador personally. Before securing a high position or job, they did not respond, and of course, I didn't have the authority back then, but I explained to them and told them that the presence of this statue is an insult to us Egyptians.

Hawass stated.
There have been many attempts from the Egyptian government and officials to solve this issue some years ago.
In 2013, some Egyptian archaeologists petitioned the foreign and antiquities ministries to condemn the statue as derogatory toward Egyptian Civilization. They urged the French government to remove this "shameful statue."
Omar Al-Hadary, former chairman of the Tourism and Antiquities Committee of the Revolutionary Youth Federation, asked the antiquities ministry to stop all French archaeological missions to Egypt until an official apology was made and the statue removed.
And according to a report made by Al-monitor, one of the attempts happened in 2014. Former Culture Minister Gaber Asfour told Al-Monitor that when he was in office, he sent an official letter to his French counterpart demanding the statue's removal.
"At that time, I was confident that the authorities there would respond. But this did not happen. I didn't receive any reply from them,"

Asfour said.
Although his topic has already been causing arguments since 2013, no action has been taken from the french's side. But now that the topic is surfacing again and is receiving attention from many people, we're hoping to see if any action will be taken regarding this statue.