On 1 July 2022, we were invited to attend the ASUS Intel performance day in Dubai's Mandarine Oriental Hotel for their new product demonstration. The event stirred us to learn more about the Taiwanese laptop makers' plans, new technologies, and how they see the competition in the market.
When we arrived in Dubai, we started talking with the ASUS team about the products, and we were surprised by how honest the team was, speaking of the competition and not just saying the pros of their products but also the cons.
During the event, we learned more about the behind-the-scenes secrets of ASUS. In addition, we knew about their incredible collaboration with the American microprocessors giant, Intel.
The day started with a keynote of the ASUS regional manager, Jeff Lo, welcoming the guests and introducing ASUS' latest technology, 12th Gen Intel® CoreTM H-series Processors.
The keynote was followed by the presentation of the Territory PR manager, who told us the six main features people usually look at when choosing a laptop: Performance, Battery life, Display Quality, Price, low fan noise, and Building Quality.
Then we started comparing those six factors and reflecting on ASUS laptops to see how committed they are to the user needs. As normal people who are not technically experienced in the field, we found several positive points we found important for you to know.
We always look for a high-performance Laptop
We always look for high-performance laptops and didn't even ask what a High-performing laptop means. It means how fast your computer runs depending on the processor of your device and its memory size.
We usually write content, research new topics and news, and simultaneously design social media posts, which requires a fast laptop. And we all need that fast laptop whatever the task we are doing. But, at the same time, we don't want it to cost us an arm and a leg.
So, based on experts' reviews and user experiences for ASUS laptops, we can easily find that ASUS devices with the new 12th Gen Intel® CoreTM H-series Processors are a good choice. After testing, the new generation made the older laptops' processors 2.5x faster (technically, the older processor versions (i5 and i7) will be 2.5x faster than the i9.)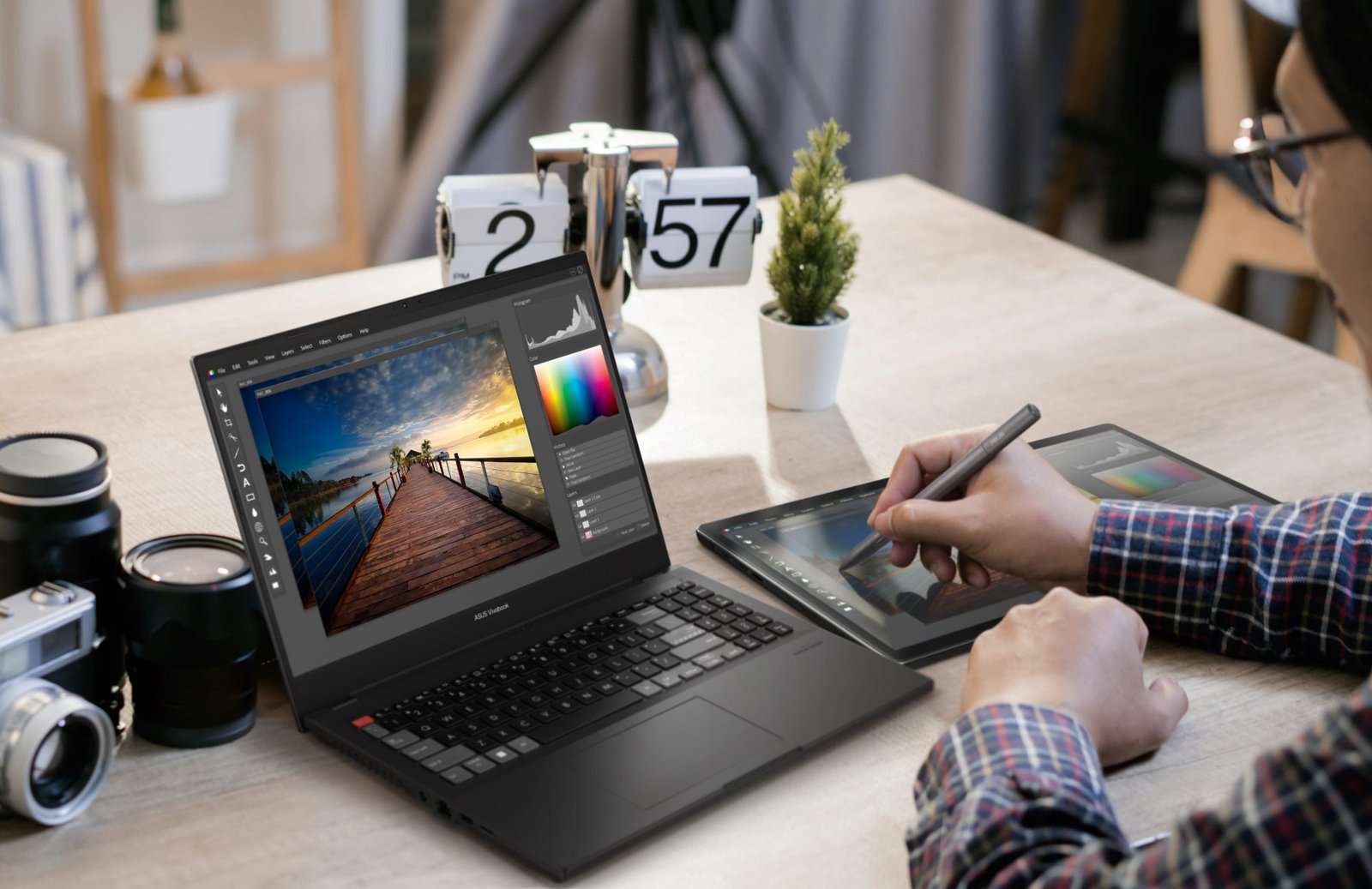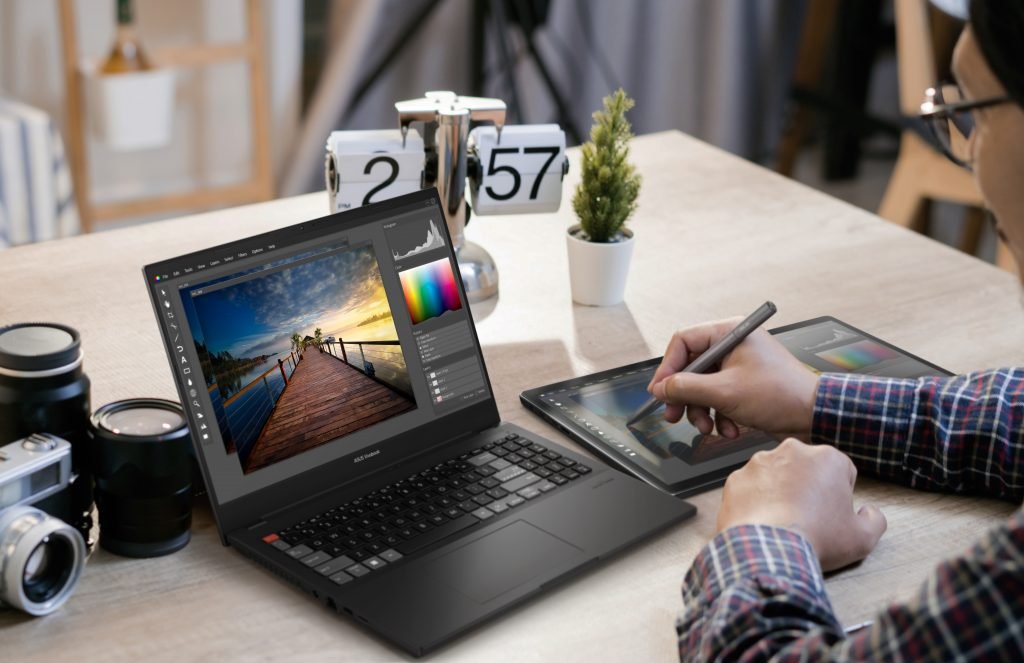 Especially the Vivobook series, speaking of its blazing fast video editing, rendering, streaming quality, and 3D modeling with a Value price.
A battery that lasts forever helps
We all look for a laptop battery that can withstand the long working, gaming, or streaming hours. While one of the main factors that affect the battery life of a laptop is the build material and heat dissipation efficiency (how much heat you feel from your laptop after a certain number of hours).
If your laptop gets hot quickly, your battery will run out within a couple of hours. It's a hassle, and we haven't reached out to that perfect laptop yet. But when we met the ASUS team, they promised to provide high-performing laptops with efficient cooling fans and build material through their 12th Gen processor technology.
More specifically, ASUS has an innovative game-changer structure for dealing with heat called the 3D vapor chamber, with thinner heat pipes and higher performance. They are using it in the Zenbook Pro 16X UX7602.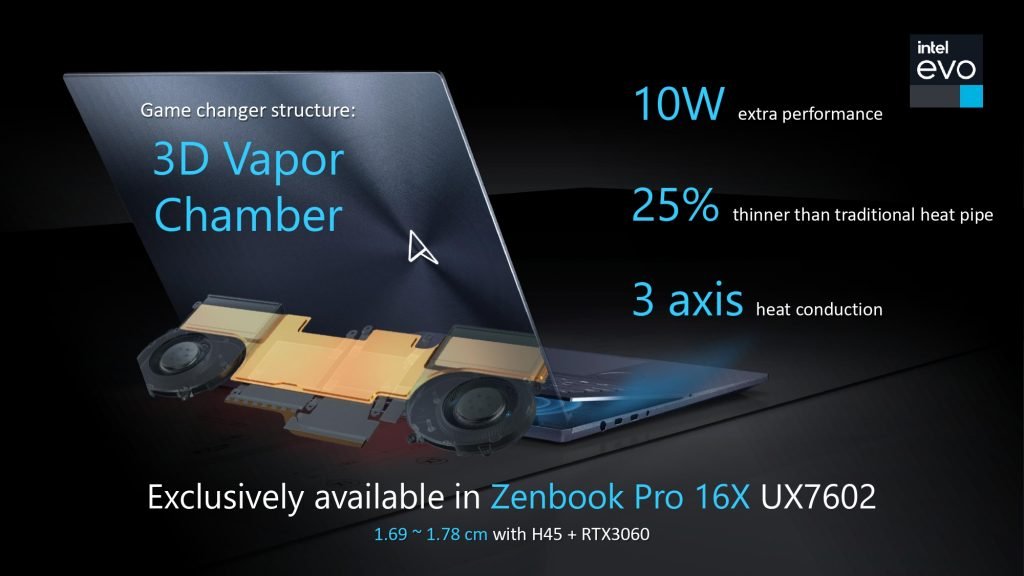 We need a life-lasting material
One thing common in all the laptops' key features is the building quality. So basically, the difference between the laptops in the market is made by the building quality.
Good building quality is a winning formula between thinner, light, life-lasting material and thermal design (heat dissipation).
It's a hard formula, and most laptops provide high performance and good shape, but on the other hand, they are heavy and cost a lot. And when we were invited to the ASUS Intel performance day event, we didn't expect the ASUS devices to be lighter than the others in the market.
On the contrary, when we met the ASUS team in Dubai, tested their devices, and carried them, we found that they are so light (almost 1 kg) and in good shape with good heat dissipation and minimal noise compared to the other devices in the market.
We want a high Display quality for streaming too
We also want a better screen for the best streaming experience when buying a new laptop, and at the same time, we want the battery to last forever. In contrast, a better screen means more battery consumption. And the keyword is OLED.
Of course, we all heard about that OLED technology that raises the value of the laptop we buy. But unfortunately, we thought it was something like LED technology, and we didn't learn more about it.
OLED is better than LED technology. OLED is even lighter, thinner, uses less energy, and offers the best viewing angle compared to the LED by far. As a result, ASUS is heavily investing in OLED displays to match users' increased expectations.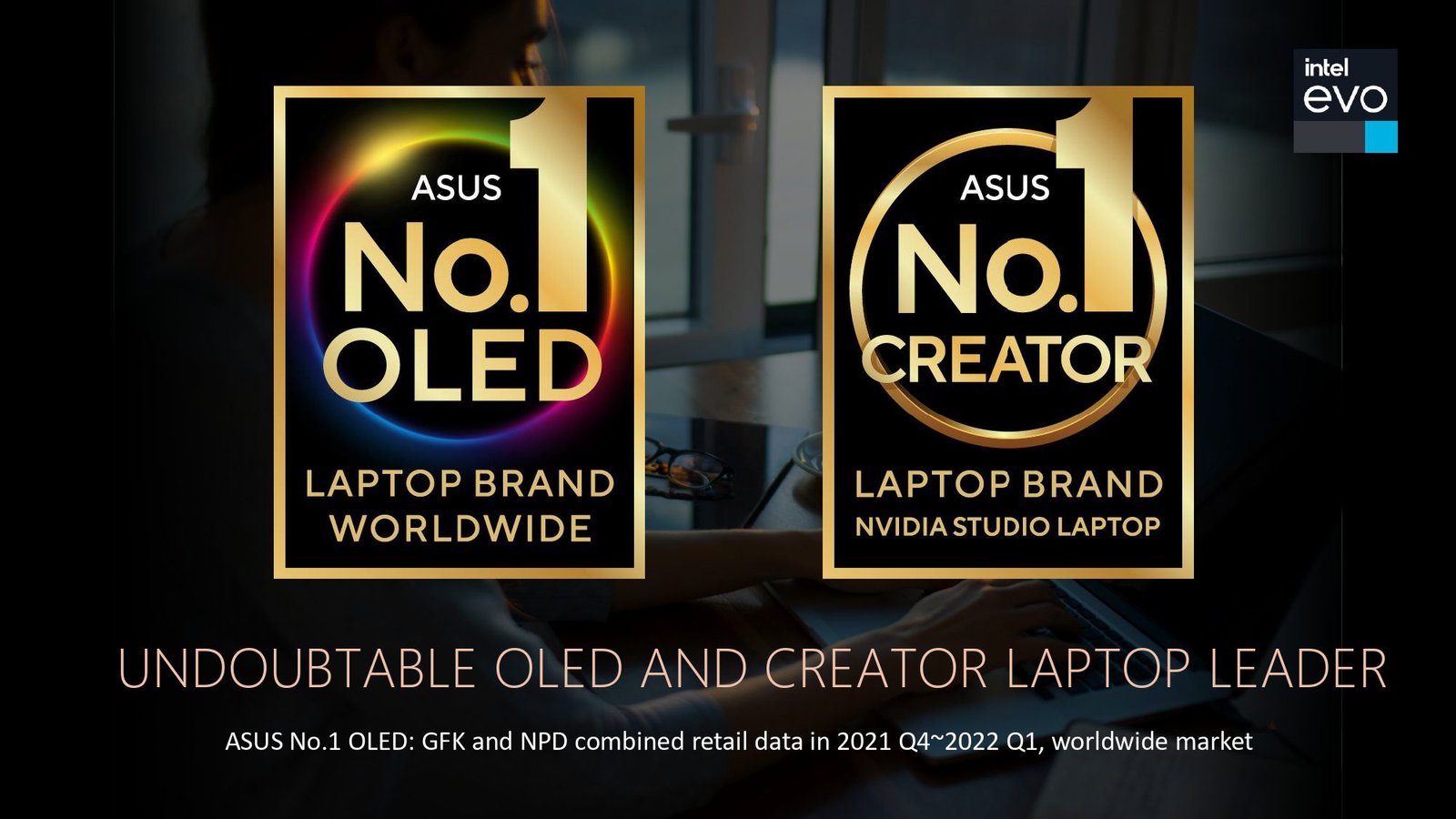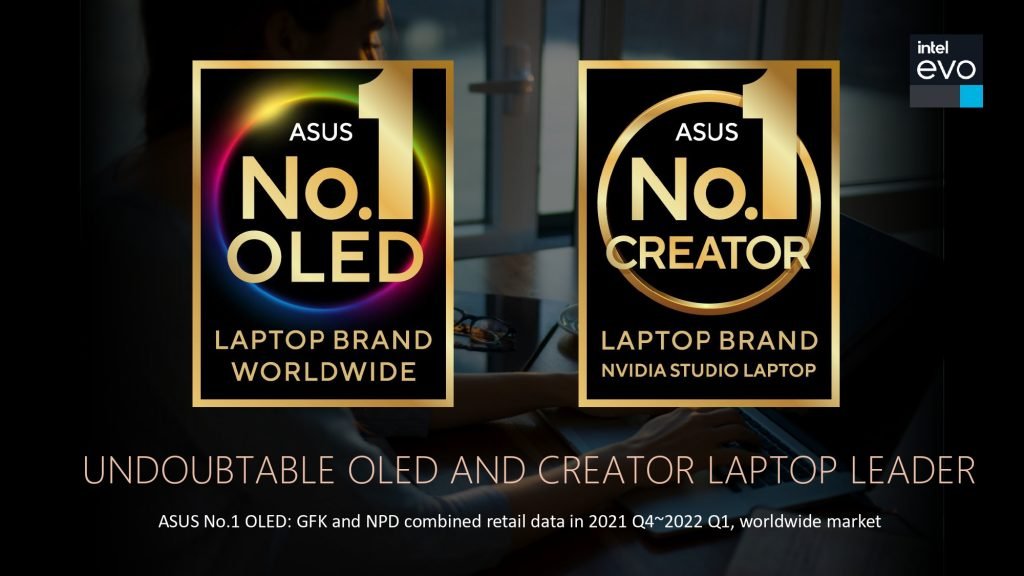 In 2021, the Taiwanese company was the number one OLED laptop brand worldwide and enjoyed a 68% market share. Additionally, in 2022, ASUS is outfitting all their laptops with OLED displays, from their Vivobook series to their high-end Zenbook series and the ASUS Studiobook Pro for content creators. All that makes ASUS laptops one of the best in the competition.
We need to keep the fans silent
Low fan noise usually depends on the previous factors, from the quality of heat dissipation and cooling fans design to the battery life.
We always desire high-performance laptops with minimum fan noise. In contrast, better heat dissipation and battery life lead to louder fan noise.
It was a challenge, but ASUS told us that its new technology would allow us to customize our Fan Profile in MyASUS, so we can switch to Performance Mode / Full Speed Mode when full power is needed and Whisper Mode for distraction-free silence.
Technically, in Whisper Mode, we can restrict the noise to 28dBA and under – and intelligently gives you a 0 dBA silent environment when performance is not needed.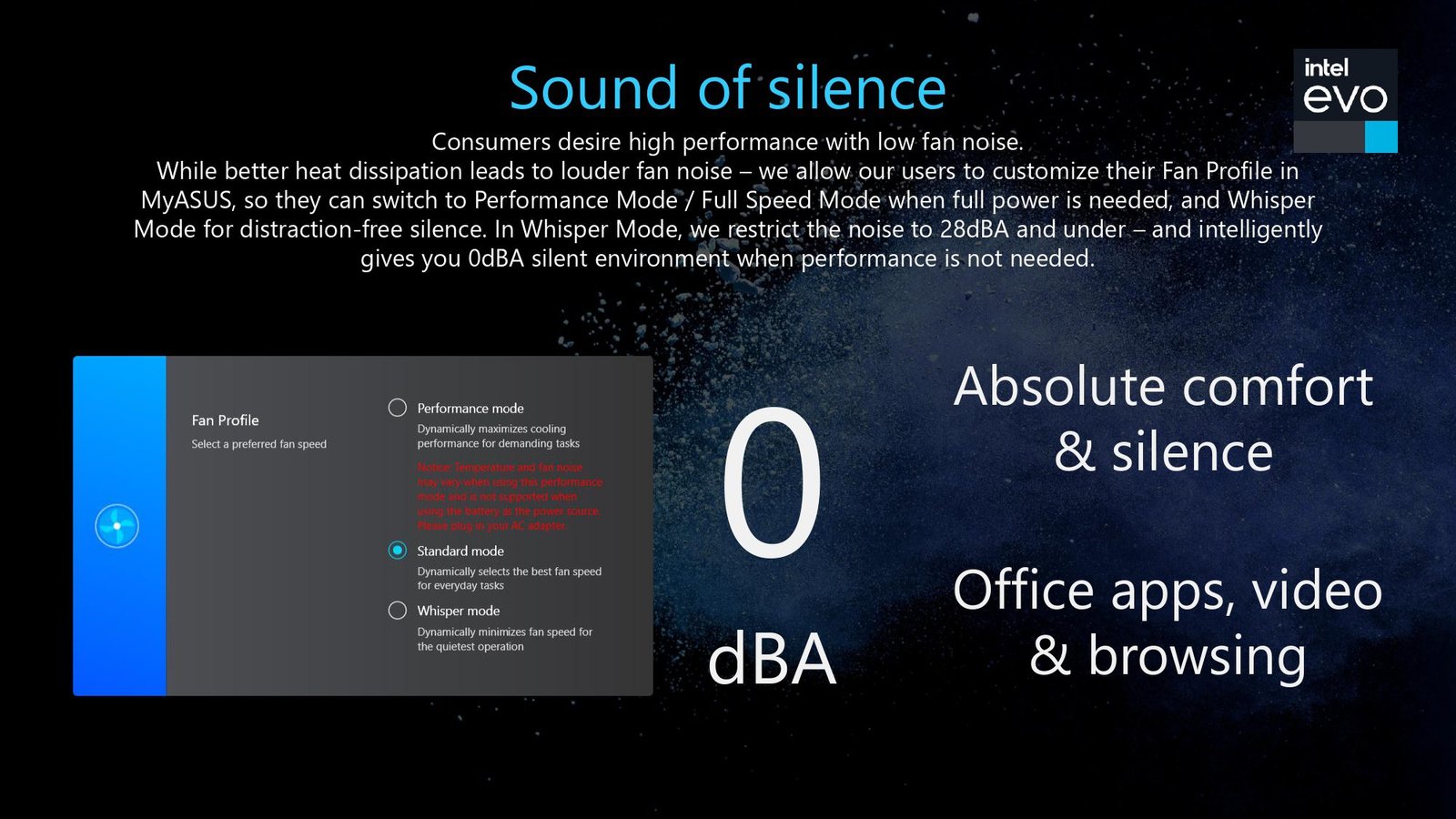 What we liked about the collaboration between ASUS and Intel is that they are investing in laptops that would transform the market and can work for gaming, content creation, and personal use at once.

View this post on Instagram
Overall the experience was very eye-opening for me, as someone interested in tech but won't call myself tech-savvy. I didn't need to know much to understand that laptops are heading in a direction we never even dreamed of a decade ago, and ASUS surely is leading the way.
If you still feel like knowing more about the trip and the upcoming products, make sure to check our Instagram story highlights and TikTok for more.
Did we miss an important feature to consider when choosing a laptop? Drop it in the comments and let us know your thoughts.