Saudi Director Sara Mesfer definitely cause a major buzz during Cairo International Film Festival with her movie "The Girls Who Burned The Night." 
Not only was everyone talking about her movie, but she also received a Special Mention in the Cinema of Tomorrow Competition.
The movie is written and directed by Sara Mesfer, and produced by Jowaher Alamri.
Jowaher Alamri is producer and director based in Saudi. With a solid of 4 years of experience in working with a variety of films and shows.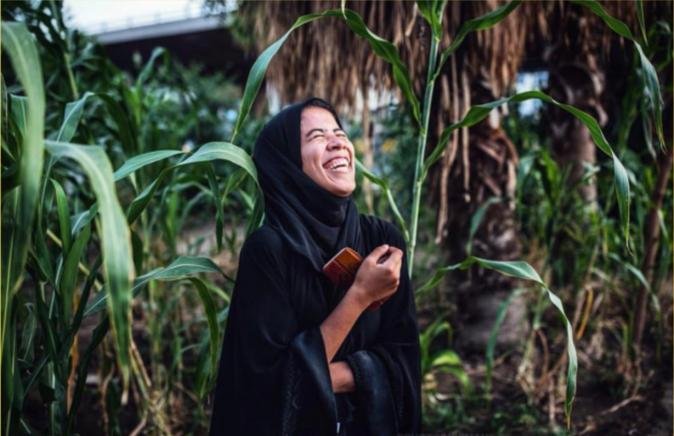 Jowaher produced "ah-18" a short film that won the silver palm in the Saudi film festival and her latest project as producer is "The Girls who Burned the Night " by Sara mesfer.
Jowaher is the director of "Sadeya left Sultan" the short film that won the jury special award in Saudi film festival 2019.
Jowaher directed "gathering with the cosmos" a short film part from an omnibus feature by 5 female directors supported by the red sea film festival.
She line produced and also worked as a production manager in several feature films and Arabic shows.
Now, Jowaher is working in the development stage of her new short film as a director and writer.
Sadly, Jowaher couldn't make it to the festival, but we still got lucky enough to have a chat with the writer and director Sara Mesfer, as well as Raghad Bajbaa, Co-producer of "The Girls Who Burned The Night."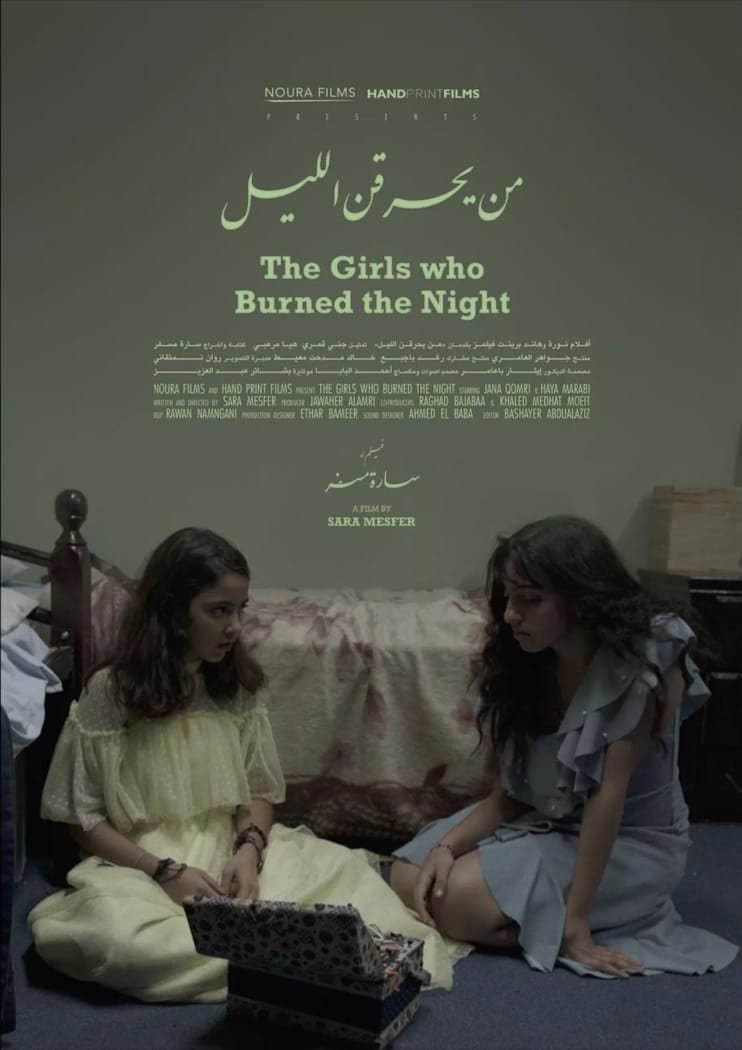 1) First, tell us about "The Girls Who Burned The Night" and its story.
Sara Mesfer: The Girls Who Burned The Night follows two sisters "Salsabeel" and "Wasson" in engagement night after the denial of going to the grocery shop.
We see them after this denial how it pushes them to discover themselves and each other, and also find violent sides they never thought of before.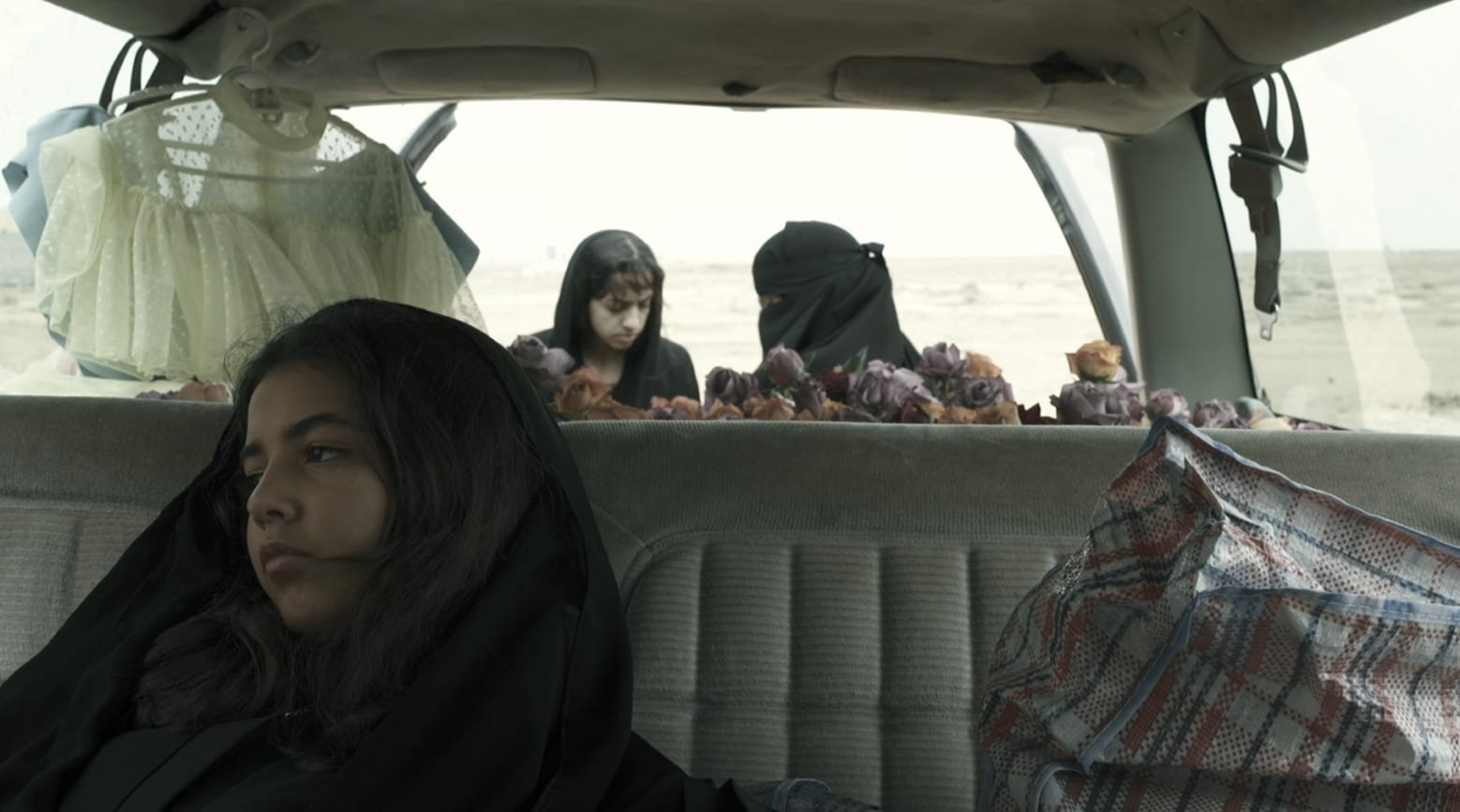 2) What section in CIFF were you participating in and How was the experience?
Raghad Bajbaa: We participated in the Cinema of Tomorrow Competition of Short Films. We were very excited, particularly about witnessing how people appreciate cinema and the tickets are always sold out.
3) Have you seen any other films at the festival?
Raghad Bajbaa: We saw many films like "This is No Evil", and also we saw short films; there are a lot of interesting varieties.
4) We're seeing a significant change and a great movement in the Saudi cinema. Why do you think that happened lately?
Sara Mesfer: the Film making movement started in the 20th century in the middle east, with Saudi Arabia mainly focusing on TV series.
Unfortunately, however, there wasn't, and still isn't, proper media coverage about it.
Of course, filmmaking is difficult in the whole world, but now there are more opportunities.
Raghad Bajbaa: Maybe because the excitement of the audience in filmmaking made it more comfortable, especially after the opening of the cinemas in Saudi Arabia.
5) Tell us about the idea of the movie and the process of making it?
Sara: It started as a thesis to graduate from cinematic art. It began as a feeling that you're trapped in a place from this feeling came the character.
From this character, came its opposite which is her sister, then the whole film came to life.
6) Sara,
Most don't understand how working on a short film is more challenging than a featured film for a writer and a director.
Can you explain this?
Sara: Actually yes, short films are way more challenging than the other films; during the making, I said to myself if I had the chance to make it into a feature I'd say more.
And I think this is a challenge that I have to say certain things in specific minutes. I chose to deliver my emotions in 24 minutes, which is the duration of the movie, and it was certainly challenging.
7) Raghad, f
rom the logistical and production part, how difficult is it to work on short films?
Raghad: Honestly, I don't see the ease and the difficulties; it depends more about what the film needs.
In our case, we prepared for the movie before filming for three months, and writing took way longer, and it took that time because we searched for people who didn't act before; so it took a lot of time.
Also Mariam El Khaiat, the casting manager was so dedicated to finding the casting for the movie who are the two girls.
8)
Why did you decide on choosing inexperienced actors?
Raghad: Honestly, the options are limited, and we preferred to get someone with a personality more than the acting skills.
So we decided to go with the idea of unprofessional actors because that was the film needed, it was Sara's call and Jawaher Ali, the leading producer.
We don't regret choosing unprofessional actors, Jana and Haya, the two sisters, added a lot to the film, and we played with the element of time so that they could spend more time with Sara in the location.
Two weeks before the filming we went to the location every two or three days and did rehearsals there so that the actors get accustomed to it.
Moreover, the movie has a lot of movement, so we wanted them to feel the place.
That was the best decision for me because I used to work as a casting director in small projects; so finding new talents is interesting for me.
9)
Aside from this movie, tell us more about your careers?
Raghad: I'd like to call myself a filmmaker more than a producer as I've been working on different sets, features, shorts, and series.
My last work on series Whispers, which is the first Saudi Netflix Original show, as well as my movie, Mesafa Sefer, which won a Golden Palm Award the Saudi Film Festival.
Recently, I have worked on producing my second featured film, 40 years and a night, which we will be announcing soon.
I worked on different roles that's why I like to call myself a filmmaker, and it helped me a lot as a line producer because it makes understand what the jobe takes for each department and each role.
In the future, I aim to get more into logistics and producing to do more independent films because I think independent shorts and features have a different sense which I'm eager to see how it will go.
Sara: Part of my education was me being in this field. It all started with my experience when I had my first internship in a feature film.
After that, I participated in shorts and feature films to get an overview look at everything how to do this and that, and I think the best way to learn is to learn from mistakes.
I used to write and direct films for myself and put them where no one can see them, and I used to go to festivals to learn.
Hence, I'd like to call myself a writer and a director.
10)
What's your advice and tips for someone who's starting filmmaking as a career?
Raghad: I feel it is society wise more than acceptable and going further and further this shouldn't' limit if the society is the matter. But getting into films, you need to put your foot down and focus on what you do.
I know that when you start you may be scared or nervous and the struggle may be more on girls because maybe you're not heard enough or something.
However, I'd say you have to speak louder if you've not listened to do your job because we learn and make mistakes, but you can do it.
Doing more features and shorts, being a freelancer makes you gain more experience to do your job the best.
Sara: As for the advice, I don't feel like I'm in a place to advise anyone, especially that my circumstances are different than other people.
I'm luckier than other people some of the things in my life made it easier for me to be here; however, I know it's not comfortable, especially with the circumstances around for the female filmmakers.
Sometimes it's not only society; many other things neglect them; that's my thing on the subject.