On the anniversary of the birth of Cinderella Soad Hosni, the international designer @karimmekhtigian published rare photos of the late artist, where Soad Hosni was carrying him a few hours after his birth.
The photos also included a photo for the Cindrella in a special occasion with different Arab stars including Abdel Halim Hafez, Shukri Sarhan and Maha Sabry.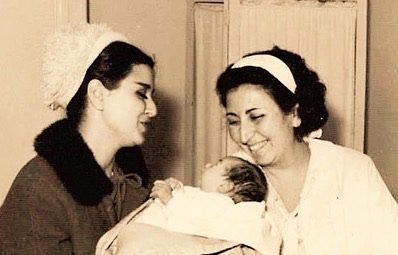 Mekhtigian commented on the photos, saying:
Growing up with the legendary Soad Hosny around was a delight and a privilege. I remember how she used to come to visit us at our family home all the time, and I remember watching her work and rehearse with my uncle and Salah Jahin on "Khali Balak mn Zozo" and thinking to myself what a beautiful, immensely talented, astonishingly strong woman and a genuine human being she is.
Karim Mekhtigian is an Egyptian international artist of Armenian origin, and one of the leading professionals in the field of design in all its forms, whether it is architectural design, decoration, branding, artistic direction and design management in general. In 1997, Makhtijian founded Alchemy Design Studio, and later the designer Mohamed Fares joined him as a partner, and currently the studio includes 3 exhibitions in Cairo and another in Bahrain.