Love them, or hate them, you have to admit that the stars of GFF this year had to be the cast for the hit series B100 Wesh.
The cast is young, talented, loved by many, and each has a very unique personality.
They had their head start with the series, and during the festival, they all, with no exception, managed to get people talking, which is in or opinion the smartest PR campaign they can do to themselves.
Especially with how early on they are in their careers.
Heck, Yousra had a whole party done for her, yet people spoke about the cast more than her.
Let us not forget that the director of b100 wesh, Kamla Abou Zekry was also attending the festival, and was seen with the cast in multiple pictures.
In fact, all the cast posted pictures with her and showed appreciation and over to the director.
But to everyone's surprise, Mrs Kamla Abou Zekry decided to become the queen of shade and call out the cast on her personal Facebook account.
What did Kamla Abou Zekry say about the cast of B100 Wesh?
On her now-deleted Facebook account, Abou Zekry stated she confirmed that since the success of the show, the fresh faces of the show became arrogant and their ego went out of control. She proceeded to quote the late Youssef Chahine and said that arrogance is any actor's grave.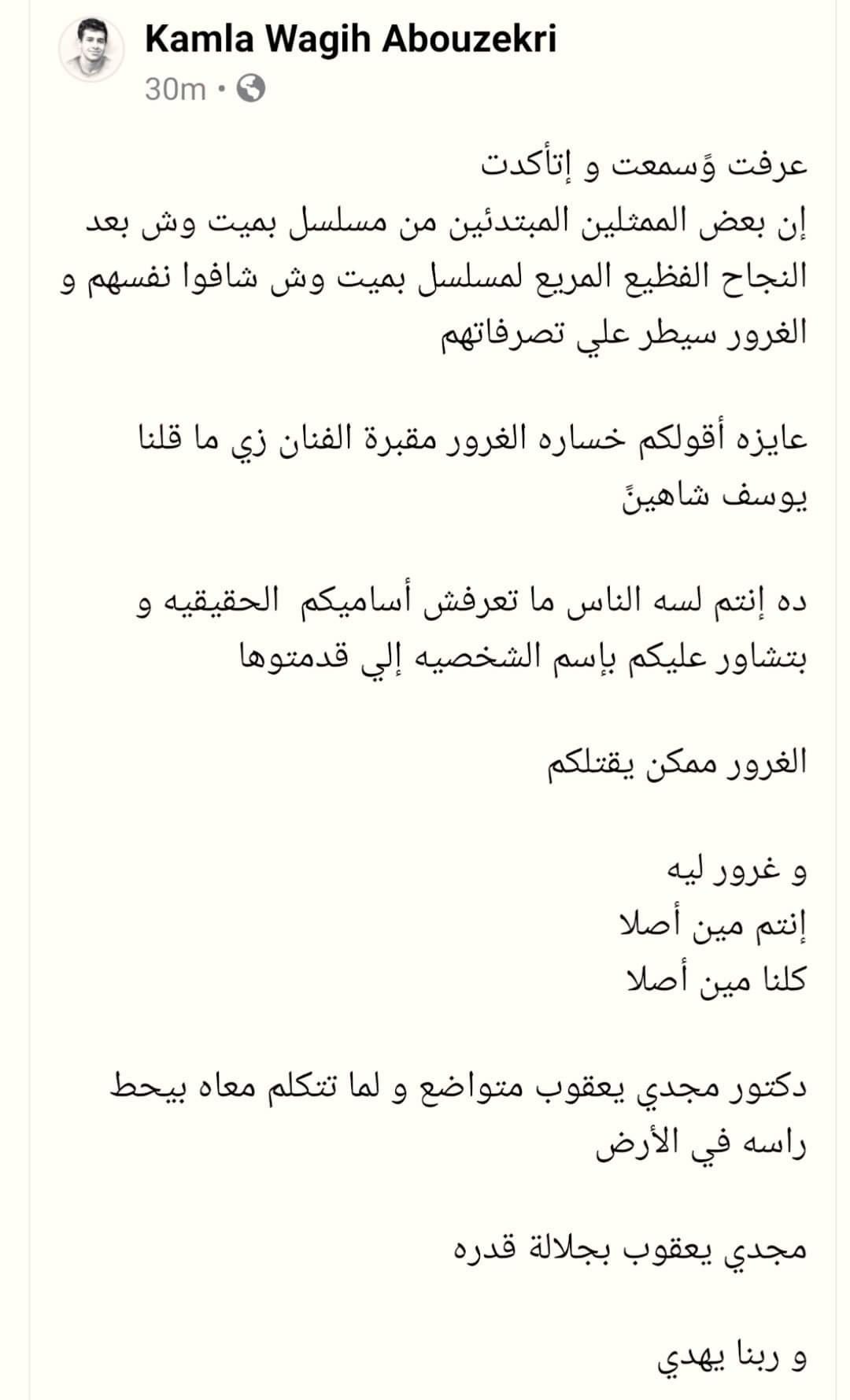 She went on with the rant asking "why are you arrogant? Who are you anyway?". She ended the rant with using Sir. Magdy Yacoub as an example for humbleness.
What's the relation between a heart surgeon and actors? We're unsure.
Abou Zekry did not specify who she meant with this status and generalised the whole new faces in the cast.
Who were the ones in Gouna?
While Asser Yassin was there as a judge, and Ola Roshdy with hubby Ahmed Dawood, the rest of the cast, who are all relatively new to the scene and had their first attendance to a film festival.
First off there was Zeinab Ghareeb who just made everyone who watched her happy and feels fuzzy inside because you can tell she was living her best life.
Donia Maher, on the other hand, had a more straightforward, elegant approach and was mostly seen with her BFF Islam Ibrahim, which was on the cute things to happen during the festival.
As for Islam Ibrahim himself, he made a statement with his mix of colours and his larger than life persona, which we knew and loved since SNL.
Mostafa Darweesh gave us a whole different side of him where he was so handsome and chic, and probably one of the best-dressed men throughout the festival.
Hassan AboElRouss went full-on Chicalistic and stuck to his brand in which he had before the show even aired for years, but only got known now. And we have to mention that the Zizo character had a lot of influence from Aboelrouss's public persona, and not the other way around.
Aside from the main actors, we saw Sarah El Tounsi in the opening night, and Sedky Sakhr throughout the festival.
El Tounsi, however, was present every day of the festival last year, and this wasn't her first appearance, and she only showed up for the opening ceremony.
As for Sedky Sakhr, while he wasn't as loud as the other cast, he made a very decent appearance and great PR for himself during the festival. And based on our own personal experience with him, he's as lovely as it gets.
Those who did not attend were Nelly Kareem, who was obviously not intended in this status, Mohamed Abdel Azim, who played Sameh, and Sherief El Desouky, who played our favourite character Saba3ba3.
The aftermath of the status:
Shortly after, the public went from praising the cast, to hating on them. Some claimed that this was due to their rudeness with the media, while others are saying it's a personal beef with Aboelrouss, without giving any context as to why.
Even talent manager Amr Koura decided to chime in and shame one of the cast, without mentioning who, for asking for more money for a TV appearance in Dubai. While, yes, the payment sounds excessive, it's still his right to ask for it, and you either pay for it, or you don't!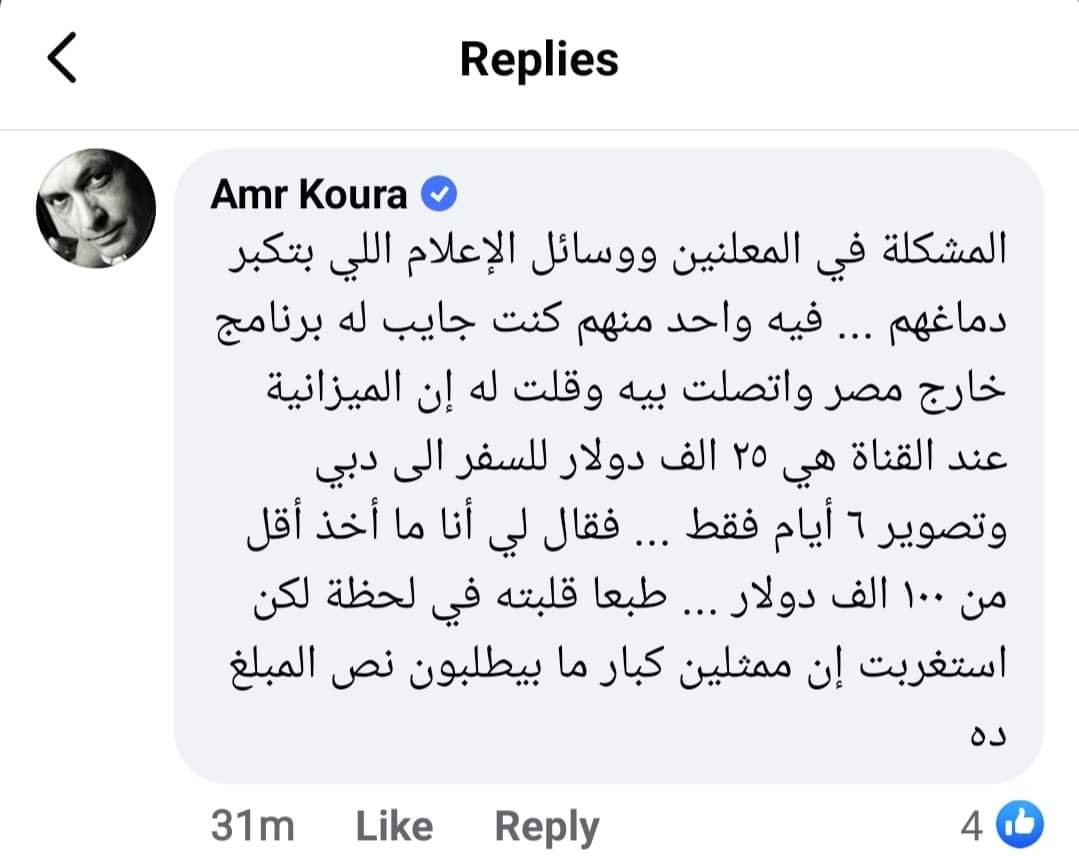 Abou zekry, instead of addressing the issue, chose to delete her Facebook account rather than defend the cast and left them to deal with the aftermath themselves.
Donia Maher was one of the first to reply to Abou Zekry's Facebook and asked her to state who she meant, cause they're all accused of this at this point.
Islam Ibrahim reposted a picture with him, and Donia Maher with Abou Zekry and jokingly said that they're off the hook.
https://www.facebook.com/eslam.ebraheem.18/posts/3443002872459678
Zeinab Ghareeb also oped for reposting an image with Abou Zekry and thanked her.
As for Mostafa Darweesh, he claimed that he's unsure who Abou Zekry means by her status, but apologies if it's him. Why he's apologising? We're unsure.
The only one who as of writing this article didn't address the issue is Hassan Aboelrouss, which cause more people to point fingers at him.
How this issue represents the "ageism", we all face in Egypt!
Young folks don't get enough recognition, and we are expected to roll over and oblige to any and everyone.
We're not allowed to be confident, or be proud of our accomplishments.
You can have someone achieve a massive success like this cast, yet get told by the person they all treated as their mentor "who do you think you are?"
But on the other hand, you have the supposed respectful director immaturely write a Facebook status attacking the whole cast and potentially ruining their careers. Yet, she'd be viewed as a respected director. Just because she's old.
The cast is now left to defend themselves and to face the backlash because of the immaturity of the "someone" who gave herself the right to dismiss all their success just because they're young and new in the industry.
With that said, the guys are more than welcomed to have big egos.
I won't be arguing on whether arrogance and a big ego are side-effects to fame in general, but honestly, if what she's saying is true, they're allowed to have big egos. The show was what it is due to these "fresh faces." They're the ones that made people watch.
As good as Asser Yassin and Nelly Karim were, no one would've cared as much about the show without the rest of the gang.
As for their rudeness to the media, according to our experience and from what we know from various people in the field, they're all respectful to media representatives. Not just that, but they also make sure to give each and every one good content to work with.
In fact, the first celebrity to repost our articles and thank us was Hassan Aboelrouss. We wrote a piece about him when we were just 2 weeks old with less than 300 followers, and he reposted and tagged us on both Instagram and Facebook. And as far as we're concerned, we're a media platform, so the rumours of him being rude to all media representatives we can gladly debunk.
The rest of the cast have been excellent throughout our coverage for GFF. Not just to us, but to all the ones we know.
So, in conclusion, let the young ones live and take their opportunity. Let them be who they deserve to be! Stop acting out of pity, and be Profesionales!