This week, we bid farewell to a visionary leader, an advocate for change, and a true patriot – George Isaac.
George Isaac's passing on 9 June 2023 was preceded by a health crisis that necessitated his transfer to the intensive care unit.
As news of his departure spread, tributes poured in from various individuals and organizations.
Abdel Moneim Imam, the head of the Justice Party, expressed his condolences on his personal Facebook page, referring to Isaac as the "saint of national work."
George Isaac's impact extended beyond the political realm. As a prominent member of the National Council for Human Rights and a notable figure in the political struggle and civil movement, his contributions were significant.
If you're unfamiliar with Isaac's legacy, we will look into the life and work of George Isaac, shedding light on his accomplishments and the legacy he leaves behind.
Early Life and Education
Born in the city of Port Said, George Isaac embarked on a journey of knowledge and enlightenment. His educational endeavors led him to the prestigious Faculty of Arts at Cairo University, where he graduated in 1964 with a major in History. Armed with a deep understanding of the past, Isaac began his professional career as a history teacher, instilling a passion for learning in his students.
Isaac's pursuit of education did not stop there. He further honed his expertise and transitioned into the role of an educational expert, leveraging his knowledge and experience to contribute meaningfully to various fields. His dedication and commitment to advancing the educational landscape laid the foundation for his future endeavors.
Eventually, he served as the director of a chain of schools in Egypt for an extensive period. Later on, he assumed the position of a media advisor, leveraging his expertise to contribute to various fields.
Political Engagements
From an early age, George Isaac demonstrated a fervent commitment to political movements aimed at securing justice and liberation for Egypt. He actively participated in the resistance against the occupation, aligning himself with the Fedayeen, a group dedicated to defending the nation's sovereignty. This early engagement in political activism set the stage for his lifelong dedication to fighting for the rights of his fellow Egyptians.
Isaac's unwavering spirit led him to stand against the tripartite aggression in Egypt, showcasing his resilience and determination. In 1969, he joined the Labor Party, becoming an ardent supporter and actively involving himself in the party's activities and demonstrations. His passion for social justice and equality fueled his political engagements, and he emerged as a steadfast advocate for change.
However, it was the establishment of the Kefaya movement that propelled Isaac to the forefront of the political landscape.
As the coordinator and spokesperson of this groundbreaking movement, he played a pivotal role in sparking a wave of change that posed significant challenges to the existing regime.
On 12 December 2004, Isaac organized the first protest under the Kefaya banner, introducing bold and unheard-of slogans such as "Enough, 24 years of Mubarak's rule."
This movement, initially comprising a mere 300 members, quickly gained momentum and grew to encompass over 20,000 individuals, with coordinators operating across 24 governorates.
Arrest and Challenges
George Isaac's commitment to his principles and his relentless pursuit of change did not come without immense challenges. Throughout his journey, he faced numerous difficulties and endured persecution from the security apparatus. His unwavering determination, however, remained unyielding.
Isaac's resolve was tested when he was arrested twice, the first instance occurring during the events of the 6 April strike. Despite the personal risks and the hardships he faced, he and his colleagues persisted in their efforts to advocate for a better Egypt. Constitutional amendments and other obstacles did not deter Isaac from his mission. His unwavering spirit served as an inspiration to others, reminding them of the importance of standing up for what is right, even in the face of adversity.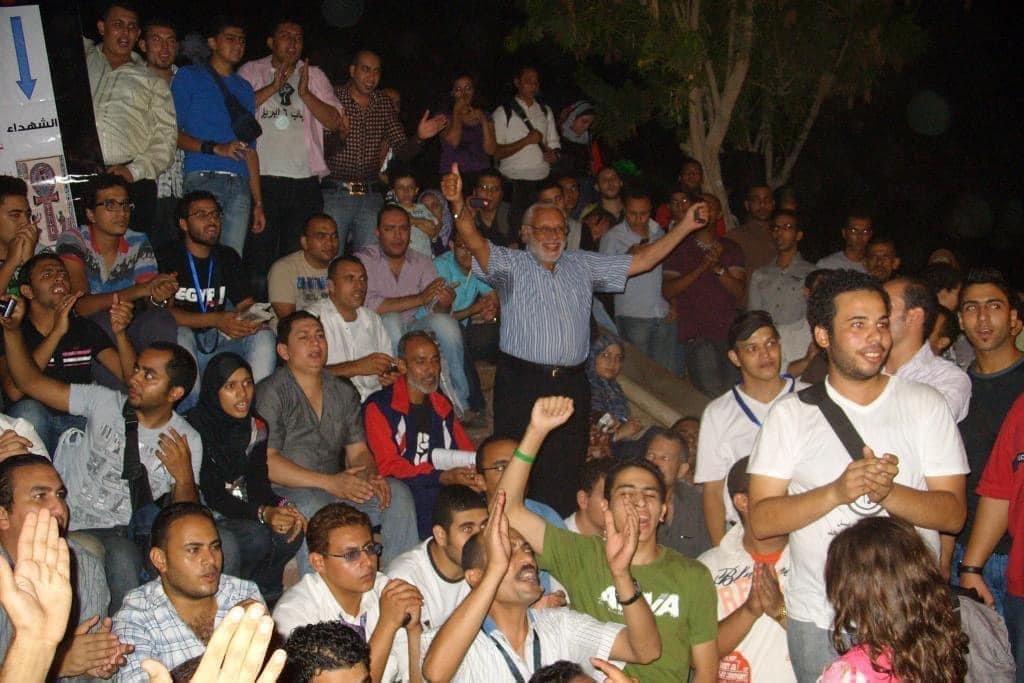 A Unifying Figure
George Isaac's influence extended beyond political affiliations. He possessed a rare ability to transcend boundaries and foster collaboration among individuals from diverse backgrounds. His inclusive approach created an environment conducive to productive work, where people from various political currents could come together to effect positive change.
Isaac's leadership qualities shone through as he became a unifying figure within the political landscape. His vision of a better Egypt resonated with individuals across the nation, regardless of their political leanings. Through dialogue, empathy, and the ability to listen, he bridged gaps and nurtured an atmosphere of understanding and cooperation.
George Isaac's life was one characterized by unwavering dedication, resilience, and an unyielding commitment to his country and his principles. From his early engagement in political movements to his instrumental role in the Kefaya movement, his contributions were invaluable. While his passing has left a void in Egypt's political landscape, his legacy will continue to inspire future generations.
Yet despite all his achievements and changes he caused, many only remember Isaac as the Christian man protecting Muslims praying during the 25 January revolution.
While his actions indeed exemplified compassion and solidarity, it is essential to acknowledge that his identity as an Egyptian nationalist transcended religious affiliations. George Isaac should be celebrated as an Egyptian above all else, without the need for additional qualifiers. His unwavering dedication to justice and equality knew no bounds, and his legacy is a testament to the unity and strength of the Egyptian people.