We just witnessed one of the most stunning shows that Egypt has presented to the world, and we are very proud!
With the grand reopening of the Luxor Avenue of Sphinx, Egypt has proven once again that we are not backing down when it comes to supporting our tourism. The celebration is not only in the name of the grand opening of the avenue of sphinxes but also in the name of the marvelous restoration of Luxor.
However, what caught our hearts was the amazing vocalists that made the show what it is. In case you have missed it, here are the full details:
Mohamed Hamaki and Lara Scandar: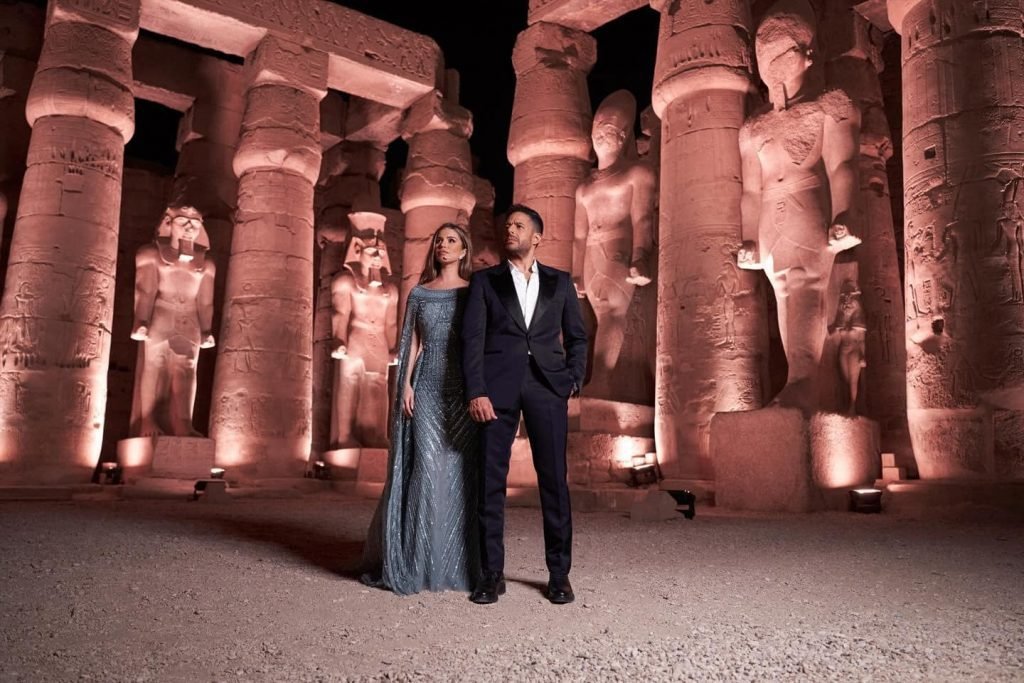 Hamaki and Scandar kicked off the ceremony with its official song: 'where life began'. Hamaki sang in Arabic, while Scandar sang in both English and French.
Hamaki is now one of the biggest names in the music industry, competing with the ranks of Tamer Hosny and Amr Diab. On the other hand, Scandar is a Star Academy alumnus. Since then, she has earned great popularity in Egypt as a pop star. Her mixed background allowed her to excel in singing in many languages next to Arabic. Such as English, French, and Italian.
Don't forget to follow both artists on their Spotify accounts: Hamaki's and Scandar's.
You can find Lara Scandar's latest single here. And Hamaki of course just released his latest hit La Malama a month ago.
Shahd Ezz:
After the Avenue of sphinx's opening song, Shahd Ezz, one of Egypt's newly introduced talents, performed the 'First Call' song in the Coptic language. The song is inspired by the Ancient Egyptian Opet Festival.
Ezz turned heads with a beautiful white gown inspired by the Ancient Egyptian style.
Make sure to support Shahd by following her online, this is her latest video showing her talents: Shahd's profile.
Haidy Moussa: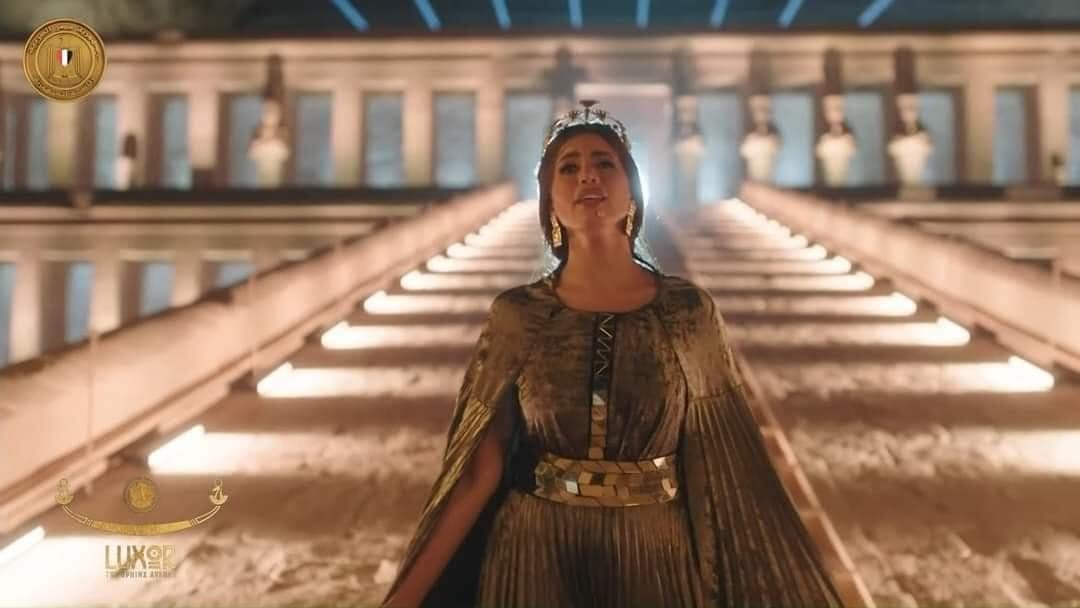 Moussa performed the Hatshepsut chant. Moussa has taken great strides in her music career, from starting in the Cairo Opera House to participating in both Star Academy and Arab Idol. She then released a couple of singles and her own album. She dabbles in acting as well. In 2017, Top Beauty World foundation chose Moussa as one of the most beautiful hundred women in the world.
Next to her social media presence, you can subscribe to Haidy's youtube channel where she just released her latest single: Tesd'a W Ta'men Bellah.
Ezz El Ostool:
El Ostool excelled in performing the Amun-Ra chant in the ancient Demotic language. Originally from Morocco but a resident of Egypt, El Ostool is skilled in composing and singing Rai, Sufi, and Saidi (Upper Egyptian) songs. The cherry on top is that he is Shahd's father!
El Ostool is actually the lead singer of the highly underrated band: Sahra Band. Make sure to follow them on their Facebook or youtube channel. And if they sound familiar, it is because you recognize them from the theme music of Ghada Adel's movie: Al Watar.
Hend El Rawy:
Hend El Rawy followed with a folklore piece from Upper Egypt. El Rawy has recently earned great attention in Egypt for her folklore songs. The theme song for the film Al Feel Al Azraq or the Blue Elephant catapulted her into the mainstream, gaining her the recognition she well deserves. She is on her way to becoming a household name in Egypt's folklore art.
Hend is the lead singer of the french band Orange Blossom and has sung the soundtrack for the tv show Marseille. You can follow the band on Deezer and Youtube. And you can catch Hend on her social media and Youtube channel as well: here.
Wael El Fashny:
Luxor Is Our Home or Luxor Baladna is a stable in Egypt's folklore performances. So who is better than Wael El Fashny to revive such beauty? El Fashny, with his strong vocals, was definitely up to the task of filling the shoes of the great Mohamed El Ezaby. El Fashny is known for singing Sufi and religious invocations as well as singing many of Ramadan's series' credits Like Taye3 and Wahet El Ghroub. Shall we say the next Ali El Haggar? He actually collaborated with Ahmed Ali El Haggar on the song Ya Asheqann:
You can catch his shows at El Sawy Culture Wheel by following him on social media: here and Youtube channel: here. He released his latest single Ana Gaylek with Music Yard.
And last but not least, Let's not forget the geniuses behind composing the music are renowned Egyptian maestro Nader Abbassi and Ahmed El Mougy.
As the world turns to Egypt tonight, we extend our gratitude and pride in all the creators and artists behind this spectacular performance. From musicians, choreographers, and dancers, to visual artists and many more. A special thanks go to all the workers in the construction and renovation of our beloved city Luxor.