Launched by Nadine Abdel Ghaffar in 2021, Forever Is Now remains the first and only exhibition of contemporary art to take place at the 4500-year-old UNESCO World Heritage site of the Pyramids of Giza and its surrounding plateau. It aims to bring together artists from around the world to reflect on the enduring legacy of one of humanity's most compelling and mysterious structures.
Through the lens of these artists' interests and practices, Forever is Now aims to trace the continuity of themes that stretch from our ancient past to the present day whilst paying homage to the ingenuity and reflections of human civilization and art.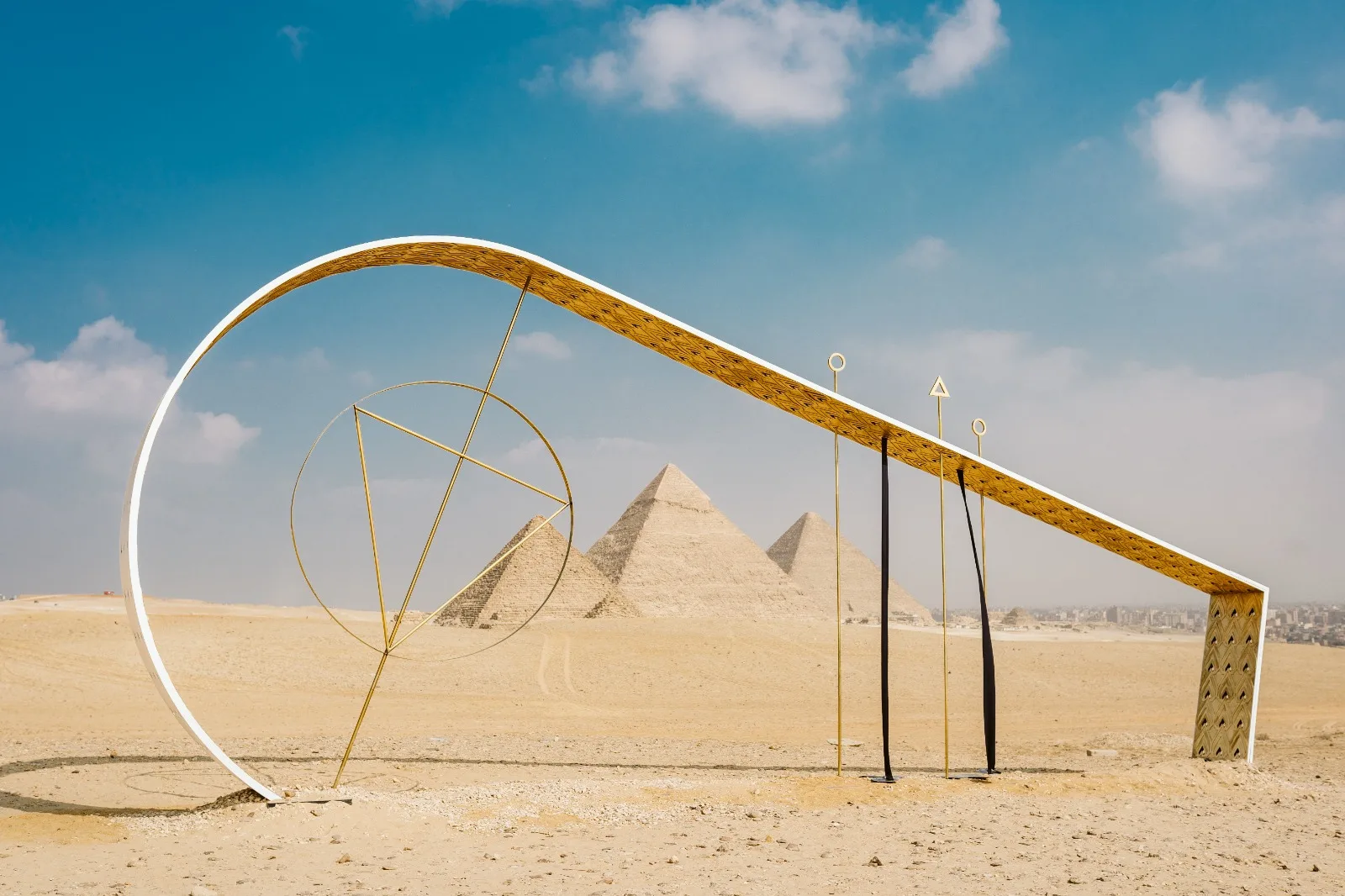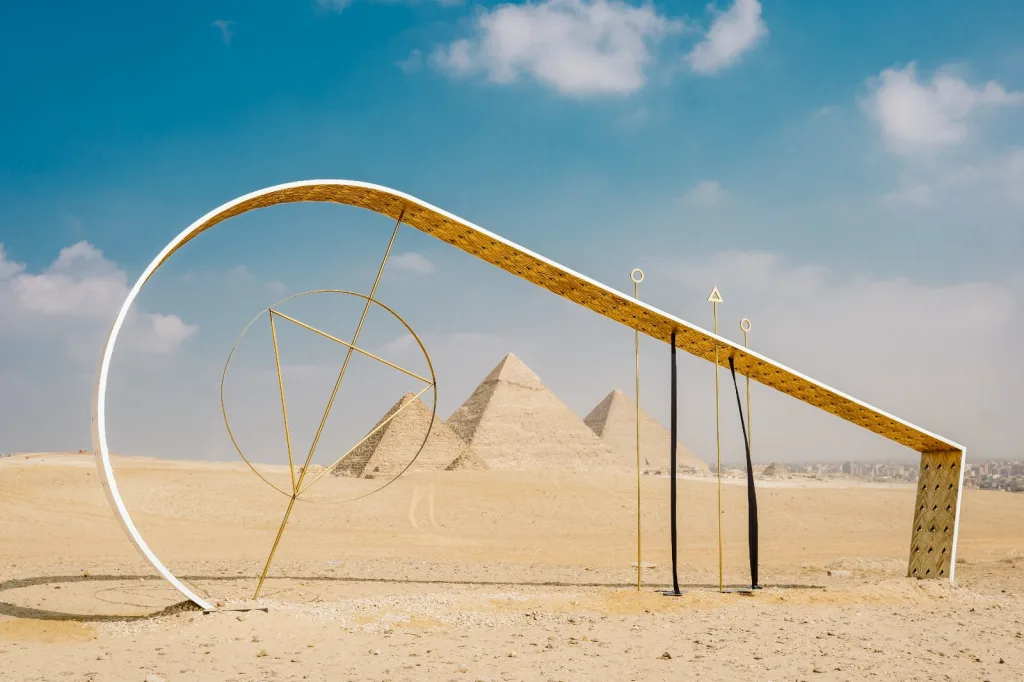 This year's edition is located around the concept "play" that will see the Giza Plateau transformed into a space of serendipity, chance and experimentation featuring interactive sculptural artworks set to invite viewers to actively engage with each installation. By becoming creators of their own experience and altering the outcome of each work, visitors to Forever is Now 03 will blur the line between artist and viewer in a playground of possibilities.
Nadine Abdel Ghaffar, Founder & Curator Art D'Egypte by Culturvator:
"This year will be our most ambitious yet with 14 participating artists – the biggest program we will stage to date. The forthcoming edition like previous iterations, will aim and continue to create unexpected and energising dialogues between humanity's ancient past and its contemporary present – ultimately demonstrating the enduring influence of ancient Egypt's cultural heritage and its ongoing ability to inspire both the artistic and public imagination in novel ways. Both Egyptians and international visitors alike will be able to interact and experience contemporary art in the context of this legendary, ancient monument."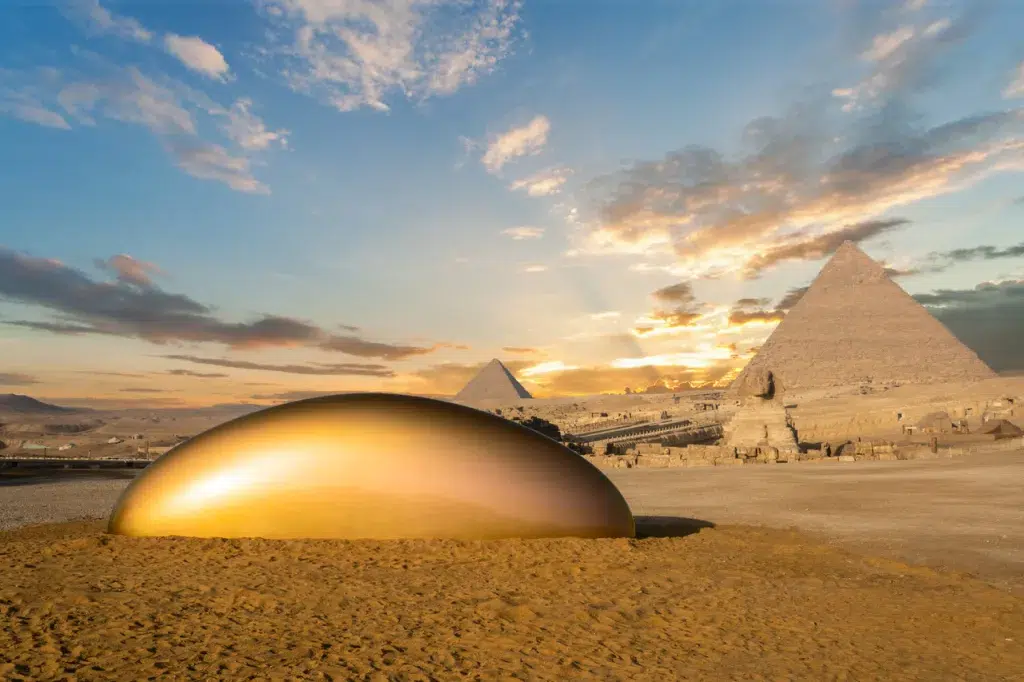 Highlights include: Arne Quinze's circular Lupine sculpture that will provide a viewpoint into an isolated vista of one of the Pyramids and its invisible axis lines; Dionysios's geometrical installation based on instructions to artificial intelligence to imagine different prayers on light; Carole Feureman's hyperrealist sculpture evoking Hathor – the ancient Egyptian goddess of love and fertility; Rashid Al Khalifa's fragments of a labyrinth, emerging from the ground at varying angles, each inscribed with motifs sourced from a 1679 work Turris Babel (The Tower of Babel) written by the Jesuit scholar Athanasius Kircher and Pilar Zeta's limestone portal sitting amidst gold and blue spherical objects, a checkerboard pathway and a mirrored egg and more to be released soon.
Participating Artists in Forever is Now 03
Arne Quinze (Belgium)
Artur Lescher (Brazil)
Azza Al Quibaisi (UAE)
Carole Feuerman (USA)
Costas Varotsos (Greece)
Dionysios (Greece)
JR (France)
Mohamed Banawy (Egypt)
Pilar Zeta (Argentina)
Rashid Al Khalifa (Bahrain)
Rashid Al Shaishai (Saudi Arabia)
Sabine Marcelis (The Netherlands)
Sam Shendi (Egypt & UK)
Stephan Breuer (France)
This project is made possible thanks to the support of the Ministry of Foreign Affairs, Ministry of Tourism and Antiquities, UNESCO and other numerous partners including Christian Dior, our hotel partner Four Seasons Nile Plaza, Sawiris Foundation, Orascom Pyramids Entertainment (OPE), BMW, Al Ismaeilia Group, Abou Ghaly Motors, The Citadel, Egyptair, DHL our logistics partner, Orange, Soma bay and our media partners MO4 Network and TV5Monde.
About Art D'Egypte & Forever is Now
Since 2021, Art D'Egypte by Culturvator has mounted an annual flagship exhibition of contemporary art with Forever is Now at the Pyramids of Giza thereby creating a dialogue between contemporary art and ancient heritage and the past and present. Last year, it celebrated the success of Forever is Now 02 featuring 12 artists from around the world. A unique proposition, Forever is Now takes place at the UNESCO World Heritage Site of the Pyramids of Giza– an exhibition held under the patronage of UNESCO and the auspices of the Ministry of Tourism and Antiquities and the Ministry of Foreign Affairs.
Last year, it welcomed several prominent public figures including Her Majesty Queen Mother Sofia of Spain; Michael Bloomberg, the United Nations Special Envoy for Climate Ambitions and Solutions and former Mayor of New York City; the Minister of Culture and Youth for the United Arab Emirates, Her Excellency Noura Al Kaabi; and many more.
Founded by Nadine Abdel Ghaffar in 2016, Art D'Egypte was set up to support Egyptian arts and cultural initiatives. Since 2023, Art D'Egypte is a project strand initiated and falling under the umbrella of Culturvator.
About Culturvator
Founded by Nadine Abdel Ghaffar in 2023, Culturvator is a multi-disciplinary cultural consultancy that works with private and public entities to activate spaces for cultural promotion, working across all creative disciplines, spanning visual arts to film, heritage, design, fashion, and music. Fostering and promoting new collaborations across the global creative industry is also at the core of the model, aiming to create new connections and immersive cultural experiences for a global audience on an international scale.
The consultancy was born out of a need to extend the reach of Art D'Egypte to the world and bring all these initiatives together under one umbrella. Following the viral success of Forever Is Now 02 in 2022, Culturvator was selected as the leading consultant on-ground in Egypt for the DIOR Men's Fall 23 runway show staged at The Pyramids of Giza in December 2022.
The organization is committed to democratizing art on a global scale and activating art scenes all year round, with collateral projects and continuous exhibitions with regional and international artists and collaborations with international brands and public figures.
About Nadine Abdel Ghaffar
Nadine Abdel Ghaffar is a Cairo-based French-Egyptian art consultant and curator responsible for creating and helping to bring about some of the most talked about and viral art and fashion moments in recent years.
Nadine Abdel Ghaffar has curated five highly successful exhibitions showcasing the works of over 50 Egyptian artists: Eternal Light at the Egyptian Museum (2017); Nothing Vanishes, Everything Transforms at the Manial Palace (2018); and Reimagined Narratives at four sites on Al-Mu'iz Street in Historic Cairo, a UNESCO World Heritage site (2019). She has also overseen two international editions of Forever Is Now at the Pyramids of Giza in 2021 and 2022. Art D'Egypte was also invited to participate in Abu Dhabi Art 2019 and ArtGenève 2020.

In 2021, she was awarded the Chevalier de l'ordre des arts des lettres by the French government in recognition for her efforts to enrich the art world and was named one of Egypt's Top 50 Women, an award given annually to honour female figures with a positive influence on society. She has also received a woman entrepreneur of the year award from the EEA (Egypt's Entrepreneur Awards).