The upcoming 45th session of the Cairo International Film Festival, scheduled from November 15th to November 24th, 2023, will honor the accomplished Egyptian actor, Ahmed Ezz, with the esteemed Faten Hamama Award for Excellence.
This recognition comes as a tribute to Ezz's remarkable artistic journey, which began in the late nineties and has left an indelible mark on the world of Egyptian cinema.
What is the Faten Hamama Award for Excellence?
The Faten Hamama Award for Excellence is a prestigious recognition presented annually at the Cairo International Film Festival. Named after the iconic Egyptian actress Faten Hamama, the award honors individuals from the Egyptian and international film industry for their outstanding contributions and lifelong dedication to enriching the art of cinema.
Honoring Excellence in Egyptian Cinema
Hussein Fahmy, the head of the Cairo Film Festival, expressed his enthusiasm about honoring Ahmed Ezz, stating,
"We are delighted to present the Faten Hamama Award to Ahmed Ezz, recognizing his exceptional contributions to Egyptian cinema. As an organization, we aim to encourage and celebrate artists who have made significant contributions to our vibrant film industry.

We eagerly look forward to the award ceremony and wish Ahmed continued success in his future endeavors."
Director Amir Ramses, director of the festival, also shared his excitement about selecting Ahmed Ezz for the Faten Hamama Award, praising his success in building an outstanding artistic career. Ramses emphasized Ezz's willingness to explore diverse film genres, making him a distinctive artist in his choices. The director believes that Ezz truly deserves this recognition for his immense talent and dedication.
Ahmed Ezz himself expressed his joy and gratitude upon receiving the news. He spoke highly of Hussein Fahmy, whom he admires as a great artist and a personal role model. Ezz also expressed his honor in receiving the award from the prestigious Cairo International Film Festival, highlighting the significance of this recognition within the presence of renowned artist Hussein Fahmy.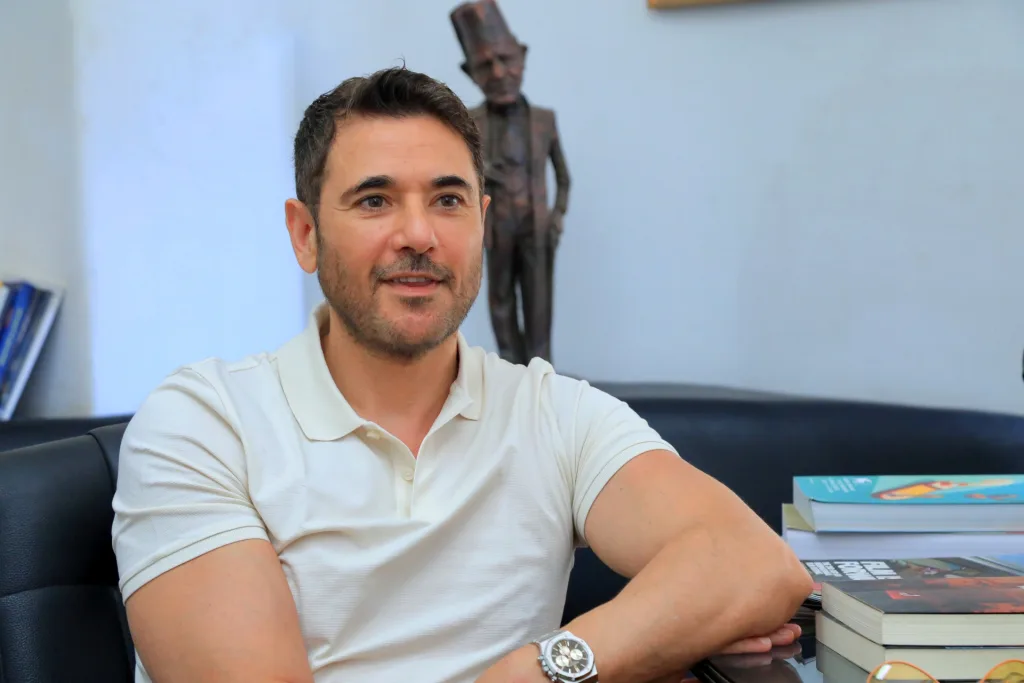 Ahmed Ezz's Cinematic Journey
Ahmed Ezz's journey in the world of cinema began with smaller roles, but it was the film "A Teenager's Diary" directed by Enas El-Deghaidy in 2001 that catapulted him into the spotlight. The movie sparked strong waves of controversy upon its release, but it also provided Ezz with the breakthrough he needed to pave his way to success. Since then, he has collaborated with esteemed directors such as Sandra Nashat, Sharif Arafa, Marwan Hamed, and more, showcasing his versatility and skill.
Ezz's filmography includes notable works like "Mlaky Alexandria" (2005), "The Ghost" (2007), "Al Maslaha" (2012), and "The Passage" (2019). His exceptional performances have earned him accolades, including the Best Actor Award at the Arab Film Awards (the "Oscar" of Arab cinema) in 2018 for his role in "The Cell." With each project, Ezz has continued to captivate audiences and leave a lasting impact on Egyptian cinema.
Awards and Box Office Success
Ahmed Ezz's talent and popularity are evident not only in critical acclaim but also at the box office. From 2019 to the present day, Ezz has starred in five films that collectively amassed a staggering revenue of 385 million pounds. This exceptional achievement solidifies his position as one of the most successful actors in Egyptian cinema, with his movies resonating with audiences and drawing significant attention.
Cairo International Film Festival: A Celebration of Cinema
The Cairo International Film Festival holds a prestigious position as the oldest and most regular festival in the Arab world and Africa. What makes this festival truly remarkable is its distinction as the only event in the Arab and African regions registered under category A by the International Federation of Producers (FIAPF) in Brasilia, France. This classification underscores the festival's global significance and its commitment to showcasing exceptional cinematic works.