Supporting the Egyptian tourism sector, Egypt's leading tourism investment company and real estate developer, Abu Soma Touristic Development Company (ASDC), owner of Somabay, hosts the grand concert of the 2CELLOS International Band at Somabay Resort – Red Sea, during Luka Šulić and Stjepan Hauser's final live tour together as a team.
This comes in collaboration with RMC Worldwide Partners and MBC Group; In line with Egypt's ambitious plan to revitalize and endorse the Red Sea as one of Egypt's most prominent touristic places, such a historical event is held with the aim to promote investments in tourism, as well as highlighting the importance of artistic and musical events.
In a special press conference held on July 26th, 2022, ASDC announced taking part in organizing this huge event, giving more details about it. The press conference witnessed the presence of Eng. Ibrahim El-Missiri, CEO of Abu Soma Touristic Development Company, Mr. Ashraf El Seissy, Head of Hospitality, Mr. Ahmed Ebeid, Managing Director of RMC Worldwide Partners, and Mr. Imad Salibi, Director of MBC Group Emerging Media and Events.
We are honored to collaborate with such leading companies that are always keen to present exceptional ideas aiming at impressing different audience categories; This historic concert is to be put as a proof of Somabay's strategy to hold various activities that promote tourism revitalization and attract tourists from all over the world to enjoy the beauty and charm of our beloved Egypt.

Eng. Ibrahim El-Missiri, CEO of Abu Soma Touristic Development Company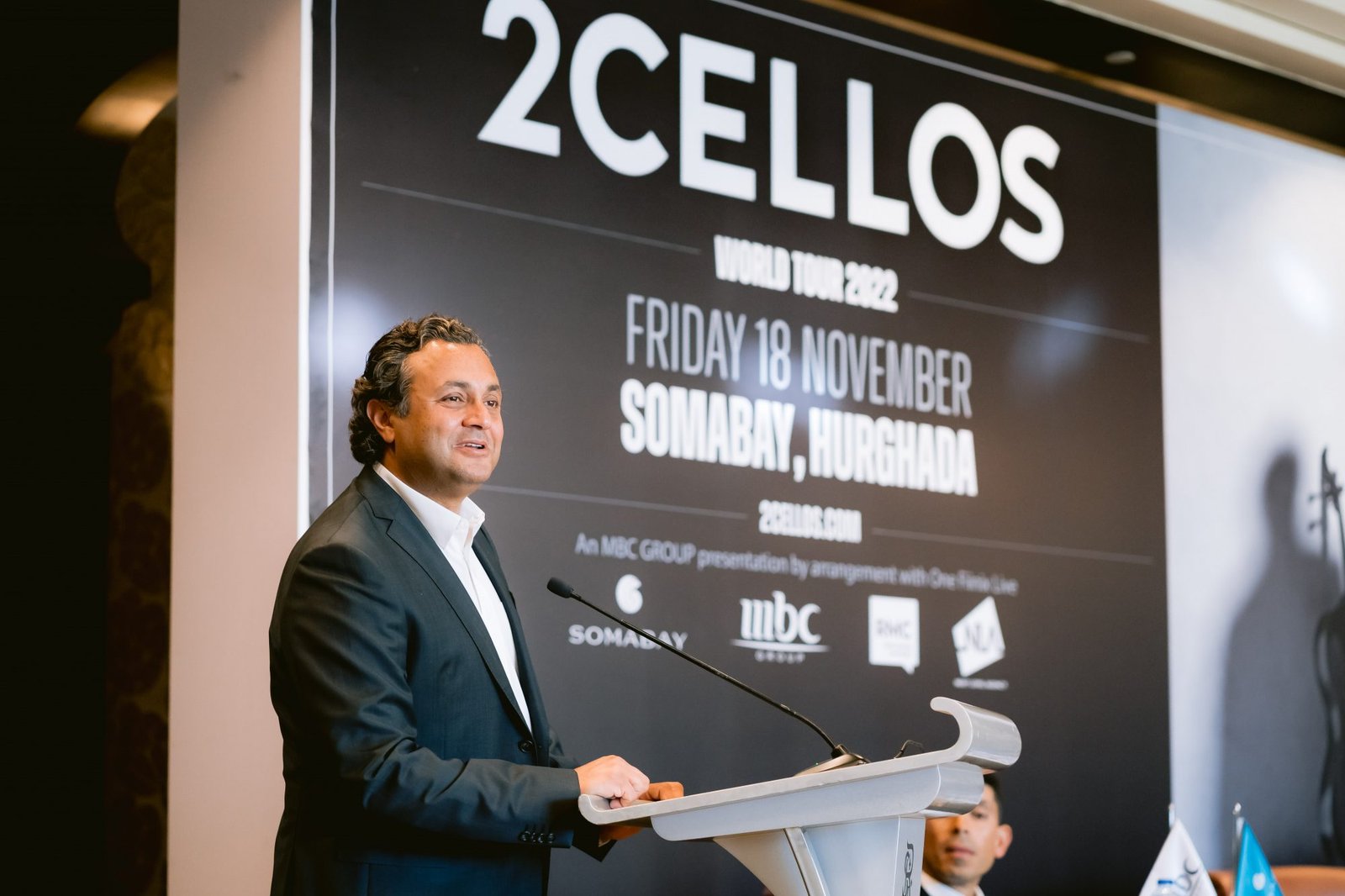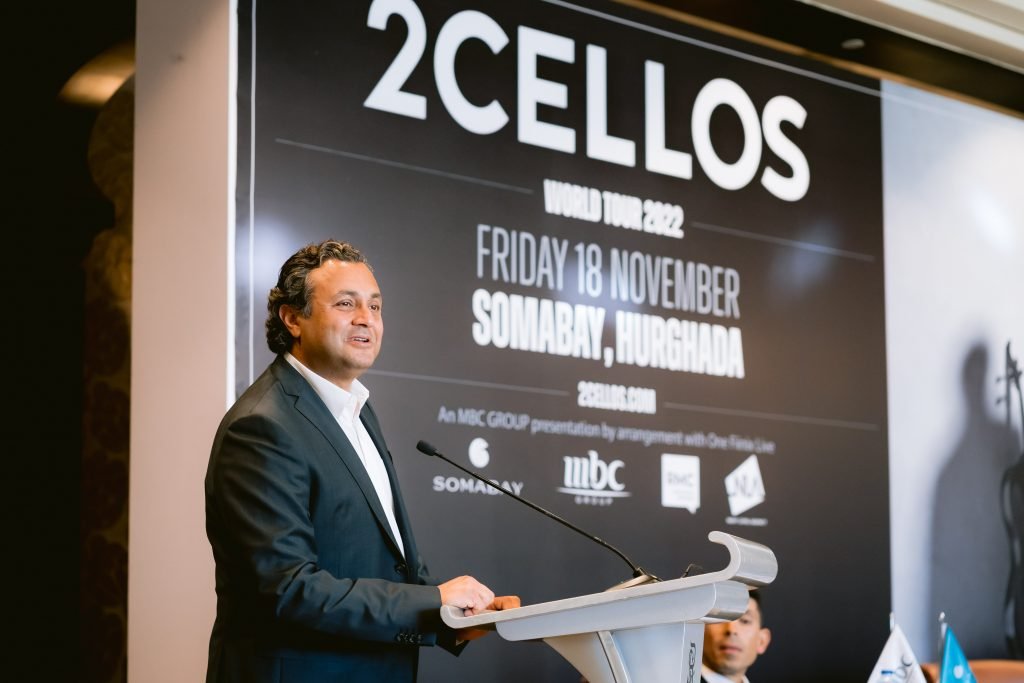 In the same context, Mr. Ahmed Ebeid, Managing Director of RMC Worldwide Partners added:
Being a part of organizing 2CELLOS concert in Egypt, we proudly contribute to the advancement of artistic tourism, which gives a prestigious image to the world about Egypt.

We are delighted to collaborate with those reputable partners and sponsors to organize this huge event, supporting the government's ambitious plan towards tourism. We hope everyone enjoys the concert and we look forward to more special events in the future.
From his side, Mr. Imad Salibi, Director of MBC Group Emerging Media and Events, added:
We are proud to organize global concerts in Egypt and Dubai for the 2CELLOS. At MBC Group, we are keen to continue participating in organizing such concerts of outstanding artistic value. On a side note, we look forward to more major concerts in the coming periods with RMC Worldwide Partners, while contributing to the promotion of artistic and cultural events.
The concert will be on 18th November, and the tickets will be sold soon by Ticketsmarche
About Somabay
Somabay is a prime touristic destination in Egypt, idyllically situated on the Red Sea's coast (just a 20-minute drive from Hurghada International Airport and only a 4-hour flight from Central Europe). Nestled on 10 million square meters of landmass, the self-contained community of Somabay is surrounded by sea on three sides. The resort site boasts some of the most beautiful sandy beaches of the Red Sea and panoramic views of desert mountains.
Life at Somabay is where fantasy scapes follow you wherever you go, and sun-drenched activities take infinite elevating forms. Home to 5 luxury resort hotels and a signature portfolio of residential properties, Somabay's one-of-a-kind settings with its full complement of premium amenities are the stage for incomparable experiences alongside friends and family.
About 2CELLOS
2CELLOS is a Croatian cellist duo consisting of classically trained cellists, Slovenian Luka Šulić and Croatian Stjepan Hauser. They are very well known for playing instrumental arrangements of well-known pop and rock songs and classical and film music. For 10 years, the duo has been presenting rock music to the world, releasing six albums that have garnered billions of views, interactions and live streaming online, and sold more than 1 million tickets to their live concerts.
Luka has given a number of solo concerts in Europe, South America and Asia. He also won a series of top prizes, including first and special prize at the VII – Lutostawski International Cello Competition in Warsaw and first prize at the Royal Academy of Music Patron's Award in Wigmore Hall (2011).
Hauser is also a prize winner of international cello competitions and awards such as Adam International Cello Festival and Competition in New Zealand 2009, and VTB Capital Prize 2009. Stjepan collected 21 first prizes among national and international competitions; as a consequence, he was invited to perform twice on Gala concerts for H.R.H Prince Charles in Buckingham Palace and St. James's Palace.
About RMC Worldwide Partners
RMC Worldwide Partners is a leading advertising company, operating in Egypt since 2002. The company is responsible for the marketing and advertising plans of major companies. In the field of art, the company is at the forefront of organizing high-end concerts and events featuring leading international, Egyptian and Arab artists.
About MBC Group
MBC GROUP is the largest media company in the Middle East & North Africa region that enriches people's lives through information, interaction and entertainment. In 2002, nearly a decade after the launch of MBC1 in London, in 1991, MBC GROUP moved its headquarters to Dubai Media City, United Arab Emirates.
Today, MBC GROUP includes over 17 leading TV channels: MBC1 (general family entertainment); MBC2 & MBC MAX (24-hour western movies); MBC3 (children's edutainment with a mix of both local productions and western acquisitions); MBC4 (entertainment for young families with a female-focus); MBC ACTION (an indigenous adrenaline-packed channel targeting young males with local and homegrown productions); MBC VARIETY (Western films and general entertainment with uninterrupted broadcasting); MBC DRAMA (24/7 Arabic drama) & MBC+ DRAMA (a joint pay-TV channel between MBC and OSN); MBC PERSIA (general family entertainment dubbed and subtitled in Farsi); WANASAH (24-hour Arabic music channel); MBC MASR & MBC MASR2 (general family entertainment geared towards the Egyptian family); MBC BOLLYWOOD (delivering the freshest in Bollywood content geared towards the region via an Arabized interface); MBC USA (on "Dish Network" in the US); MBC IRAQ (a premium channel aimed at the entire Iraqi family), MBC5 (new satellite channel dedicated to the Maghreb); all of them benefit from MBC STUDIOS which produces the region's most compelling premium content for cinema, television and on-demand platforms.
MBC GROUP also includes two FM radio stations: MBC FM (Gulf music) and Panorama FM (contemporary Arabic hit music). Furthermore, part of MBC GROUP is Shahid and its premium subscription-based service Shahid VIP, the world's leading Arabic streaming platform, home to highly rated original productions from the Arab world, a wide range of exclusive movies and premieres, as well as the top watched live Arab TV channels.