Ahmed Dawood's film Youm13 topped the Egyptian box office in revenues after Eid Al Fitr to generate today 1,414,796 reaching 13,727,989 in its total revenues. The film topped the Egyptian box office in theaters after Eid season.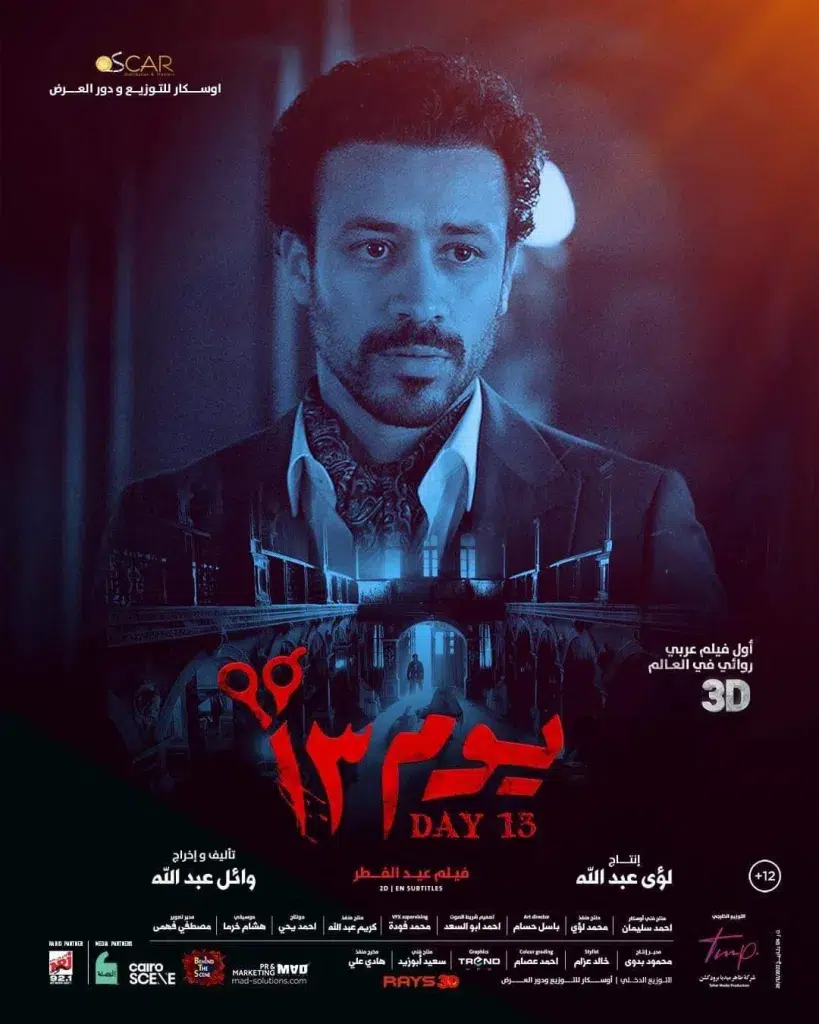 Yesterday, Youm 13 generated EGP 1,216,345 in box office, while the total revenues for the first week of its release reached EGP 11,096,848.
On the fifth day of its release in theatres, Youm 13 generated EGP 1,908,044, while on the fourth day, the revenues reached EGP 2,623,801, and EGP 3,198,841 on the third day. It is worth mentioning that on the second day of Eid Al Fitr, the film's revenue increased to EGP2,496,820 from the first day if it's released as it generated EGP 869,342.
The film is the first feature film to be released in 3D technology in the Arab world. The plot of Youm 13 revolves around Ezzeldine (played by Ahmed Dawood), who returns from abroad to his family's mansion with the intention of selling it. However, he discovers secrets that were not taken into account, leading him to question his family's past.
Youm 13 also stars Dina Elsherbiny, Sherif Mounir, Ahmed Zaher, Jumana Murad, Mahmoud Abdul Moghni, Arwa Gouda, Nisreen Amin, Mohamed Tharwat, Phaedra, Mohamed Kilani, Magdy Kamel, Nihal Anbar, Noha Abdeen, Jihan Khalil, and Enas Kamel. The film's score is composed by music composer Hisham Kharma. Youm 13 was written and directed by Wael Abdullah and produced by Oscar for Distribution and Theaters.
The film's success can be attributed to its unique storyline, the use of 3D technology, and the star-studded cast. Furthermore, Youm 13's success can be compared to other recent Egyptian films such as "Al-Mamar" and "El Ens Wal Jen," which have also generated high box office revenues.