Fires at El-Gouna Film Festival? Yeah, we can see it now happening on the Red Carpet. Our Stars are Sparking. We can see that everyone worked hard on their outfits and they rocked the Red Carpet!
Mona Zaki A mix of bold and cute!
Mona rocked the Red Carpet in a black dress and pink butterfly sleeves and train.
It's why we all love Mona Zaki, a strong woman who is playful. A true representation of her.
A clap to the designer!
In a simple white dress, with a youthful design in El-Gouna Film Festival,
A makeup that is so elegant, emerald jewelry that gave her an extra classy look.
We're in love, as always.
Just like her soul, Sarah shined on the El-Gouna Film Festival Red Carpet with a colorful dress with an abstract design. Sarah came here to party.
Minimal simple jewelry with simple hair and makeup that made her look 100x better.
Sarah, we love your positivity!
Hend Sabry looked amazingly elegant in a pastel yellow dress with a beautiful train that caught our eyes! Hend never let us down! A confident queen in every outfit.
Keep going, Hend.
Tara Emad, Elegance in an outfit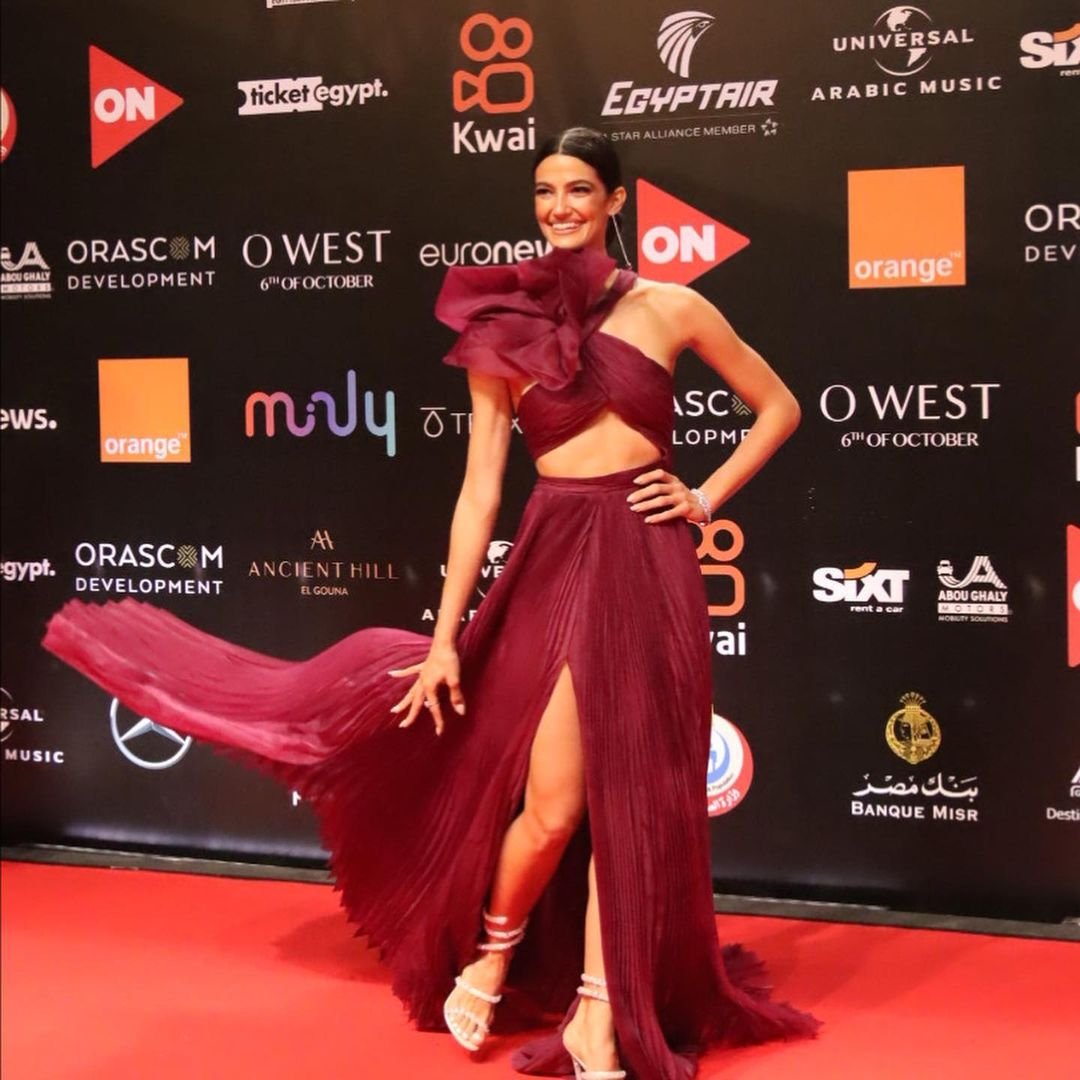 Tara used a two-piece dress, in a maroon color that really complimented her skin tone.
Tara complimented the outfit with edgy shoes that gave the look extra beauty.
Tara, you're a queen!
Sherine Reda, Sassy Shika
As always Sherine Red always turns heads. In her shimmery champagne dress that really suits her blond hair.
The cherry on top was her cute natural makeup.
Shika, we love you!
The Princess, Nesrine Tafesh
In a classy royal dress, oh so perfect!
We're in love with everything about her dress. The dress, the makeup, and the hair.
So classy and so princessy!
Nardine Farag, Less is Always More
In a pitch-black dress that amazingly fits her body.
A slit that is so perfect in a sexy way. A halter neck with silver feathers gave it an extra classy look.
Nardine, you're slaying babe.
Nadine Nassib Njeim, Why so pretty?
A true dazzling queen. She looked absolutely stunning.
A gold embroidered sparkling dress with pockets and a gold belt that gave it an extra trendy edgy look.
Nadine, we're honestly jealous.
We loved all the Outfits. Everyone clearly showed that they worked hard to look good. Every outfit had its own special thing.
We can't wait to see more outfits in the upcoming days!