The U.S. Embassy in Cairo invited designers from Austin, Texas, to Cairo as a part of the ATX-EGY Fashion exchange program.
The program guided fashion designers—11 from Austin and 10 from Egypt—through design education and a professional showcase in each other's home countries to increase global brand awareness. The ATX+EGYPT Fashion Pop-Up is fully funded by the U.S. Embassy in Cairo.
The American designers included Jonathan 'Chaka' Mahone of NefrFreshr, Musa Ato of League of Rebels, Christina Fitzgerald of ONLY by Nina Fitzgerald, Margo Dilling of Turtle Cay Island Wear, Cassandra King of CassandraCollections, and Randell Jones LNS Crew Productions.
During their visit to Egypt, the designers had a roundtable event on June 2nd, 2022, at the U.S. embassy, where the designers got to tell us more about their work, culture, and why they were determined to be a part of the exchange program.
Later on June 5th, 2022, the designers had a brief fashion show and reception at Cairo Marriott Hotel.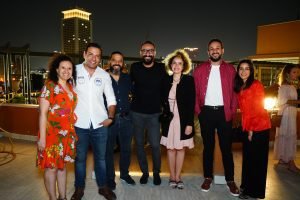 Director of Austin Community College's fashion incubator Nina Means told Austonia the Austin-based designers were supposed to open the Cairo pop-up in February. But unfortunately, the event was postponed due to COVID.
In December 2021, 10 Egyptian fashion designers participated in a training Bootcamp in Texas at the Austin Community College Fashion Incubator and attended Austin Fashion Week. In addition, they showcased their work in a "pop-up shop" that was displayed in Macy's.
ATX+EGYPT II is an international business development program focusing on fashion business management and entrepreneurship. The program supports the development and global expansion of Austin-based fashion businesses, and it increases the exposure of emerging Egyptian businesses to the Austin and United States economy.