Mass protests have been happening in Iran, New York, and Berlin against the Iranian government and the Iranian president Ebrahim Raisi. In addition, people protested all over the streets across Tehran and cities in the Kurdistan province, resulting in an estimated 221 wounded people, 250 arrests, and three alleged deaths.
The reason for all of this is the case of Mahsa Amini, a woman who died due to police brutality.
What happened to Mahsa Amini?
On September 13, Mahsa Amini was arrested by the Guidance Patrol, a vice squad of the Islamic Republic of Iran's Law Enforcement Command that oversees the public implementation of hijab regulations. In other words, she was arrested just because she didn't meet their hijab standards.
Mahsa was at the entry of Haqqani Highway in Tehran with her brother when she was arrested and transferred to the Moral Security agency.
Amini's brother was told she would be taken to a detention center to undergo a "briefing class" and released shortly. Instead, Amini arrived at Kasra Hospital, where she died on Friday after being in a coma for three days. 
The hospital claimed she was brain dead on arrival.
"Unfortunately, after 48 hours on Friday, the patient suffered a cardiac arrest again due to brain death. Despite the medical team's efforts, they failed to revive her, and the patient died."

They stated for The Guardian.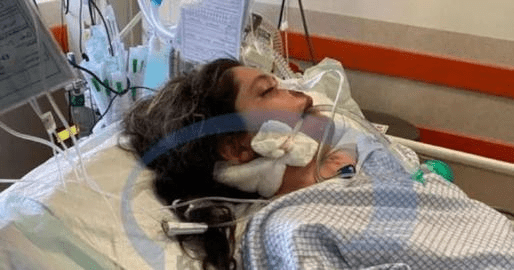 Moreover, eyewitnesses claimed the police had beaten Amini in the head with a baton and banged her head against one of their vehicles.
The police, however, denied these allegations and claimed that Mahsa suddenly went into heart failure at a station, fell on the floor, and died after two days in a coma. However, her family stated that she didn't suffer from any health issues that would result in heart failure.
Women's outrage in Iran and around the world
On September 19, Tuesday night, in the Iranian city of Kerman, thousands of women took the streets and burned their hijabs to express their anger. This protest has spread to over 20 major cities, including the capital Tehran. 
This outrage has expanded to an international scale in Belin, where more than five hundred people, including Kurdish, Iranian, and German women.
In addition, large crowds of Americans and Iranians demonstrated outside the UN headquarters in New York as the Iranian president Raisi was addressing world leaders during the 77th United Nations General Assembly summit.
People in Turkey, Greece, and Lebanon also showed their solidarity and went to the streets to protest.
Social media restrictions in Iran
As Amini's case got viral worldwide and stirred every corner, Iran restricted Facebook and Instagram on September 21. They are two of the last available social media platforms in Iran.
The reason behind that is that they want to prevent the circulation of footage of the protest. Moreover, the internet service has already been disrupted in Kurdistan province, Tehran, and other parts of the country for several days.
People in power's response to Amini's case
As everyone is expressing their anger and outrage on social media and streets, some people in powerful positions also commented on the situation.
Acting UN High Commissioner for Human Rights Nada Al-Nashif expressed alarm regarding Mahsa Amini's case.
"Mahsa Amini's tragic death and allegations of torture and ill-treatment must be promptly, impartially, and effectively investigated by an independent competent authority that ensures, in particular, that her family has access to justice and truth," said Al-Nashif.
The European Union's foreign policy chief Josep Borrell said that Mahsa Amini's "unacceptable" death was a "killing" following the injuries that she suffered in police custody.
Also, France condemned Mahsa Amini's death calling it "deeply shocking" while seeking a "transparent investigation… to shed light on the circumstances of this tragedy".
Does the morality police actually practice morality?
During the last months, the morality police have expanded street patrols, where they verbally and physically harass women who are perceived to be wearing "inappropriate hijab" and arrest them.
The UN Human Rights Office has received many verified videos of violent treatment of women, including slapping women across the face, beating them with batons, and throwing them into police cars.
According to a BBC report about morality police in Iran. There have been many disturbing testimonials by Iranian women who had to deal with the what's so-called morality police.
A woman from Tehran told the BBC that a female officer said her boots could be "too erotic" for men and detained her.
"I called my husband and asked him to bring me a pair of shoes," she said. "I then signed a paper admitting I was wearing inappropriate clothing, and I now have a criminal record."
Another woman testified,
"I was arrested with my daughter when we were stopped because of our lipstick," one woman from the central city of Isfahan told the BBC.
"They took us to the police station and asked my husband to come and sign a piece of paper that he would not let us out without a hijab."
So not only do they arrest women over simple things that are nothing but immoral, but they also put their fate between the hands of any male relative.
Other reports of experiences with the morality police, which have been shared with the BBC, include beatings and more cruel and unusual punishments. One woman said the police threatened to put cockroaches on her body during one of her arrests.
How come they're called "morality police," but they verbally and physically harm women, which is undoubtedly an act that has nothing to do with morality?
Mahsa's story is quite raging and tragic, and it just makes us wonder: Until when will women be oppressed and judged over how their choices, looks, and behaviors?
We must always speak up and call out those in power and never settle down for such injustice and oppressive practices.
Mahsa Amini was murdered in cold blood, and the world will never forget.
Let's hope that Mahsa Amini's case would be the revolution and beginning of hope and change for all Iranian women who are still facing this misery.