Ellen Degeneres is known all over the world by her kindness and overall "nice" attitude. She's a good friend of all the celebrities, and every star who appeared on her show said so.
However, during the early days of quarantine, people started saying otherwise about her. She was accused of being mean to her employees to the point of bullying.
Not just her even her producers got accused of the same things, including racism and sexual harassment!
On the 20th of March when everyone was in lockdown, podcast host, Kevin T. Porter started a thread on Twitter about the alleged rumours that apparently have been low key circulating about Ellen's mean and horrible attitude.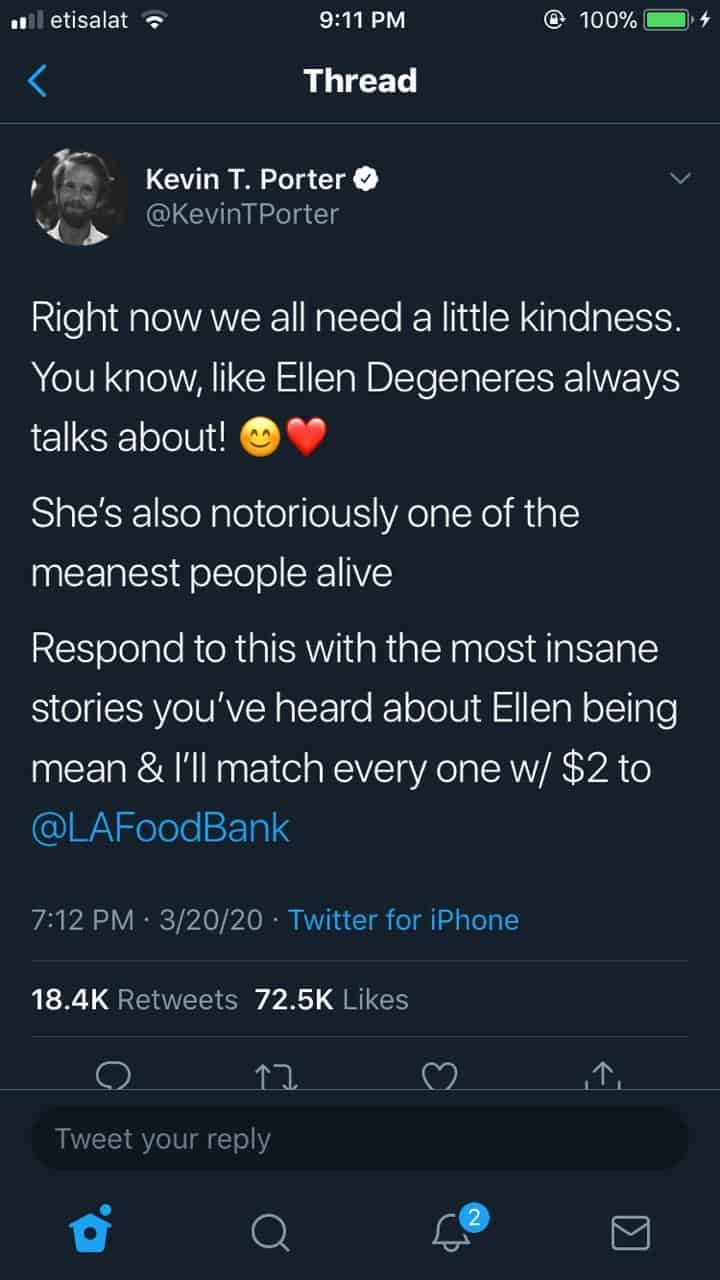 And from there, the tea was spilt, and what was one a hearsay in the industry itself became known to everyone. And just from there, several former, and current, employees started chiming in!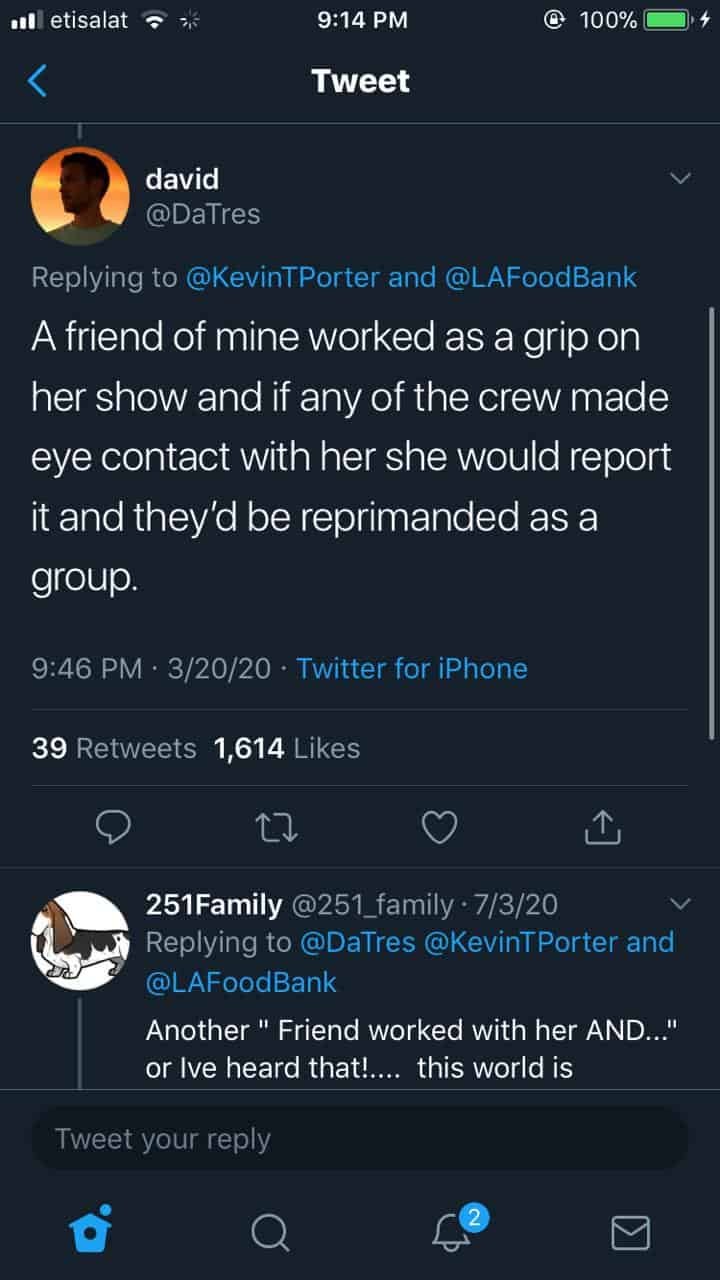 While all the accusations were just words by former and current employees, it's safe to say that there was consistency with all the allegations to make the whole thing believable.
However, once people started to say what happens backstage, several viewers began calling her out of things that actually happened on air.
Many things she did on her program were questionable, the most talked about, however, was with Mariah Carey.
For context, Mariah was rumoured to be pregnant, and Ellen decided to force her to drink alcohol to prove that she's not. Mariah was visibly upset and actually called out Ellen afterwards on her actions.
The worst part is, Mariah had a miscarriage just a few weeks after. She apparently was aware of the pregnancy complications and did not want to announce it publicly until she was sure the pregnancy was stable.
https://twitter.com/BiggestMariah48/status/1217909132004601864
Now we were almost sure that she has a horrible attitude, we did not know that she was an awful employer as well!
On the 16th of April, shortly after the tweets about her attitude started circulating, it was reported that her staff were furious with how they were treated during the pandemic. They were told that there would be a budget cut; however, no one was informed of any details. They were left not knowing if they'll be fired, demoted, or even when they will be working.
On the 16th of July, Buzzfeed interviewed 10 former employees asking about the vibes at Ellen's workplace; and they dropped a bombshell.
These former employees said that Ellen's workplace is toxic and full of racism and bullying.
There was undeniable discrimination between white employees and employees that are people of colour. It was reported that black employees basically got the worst treatment.
One former employee alleged that she was told by a show writer that they "only know the names of the white people who work here".
Moreover, another employee said they were given a warning for creating a GoFundMe campaign to raise money for medical costs that weren't covered by their company health insurance and then sharing it on social media.
Yes, this is the work environment on the show that promotes love and equality.
On the 27th of July, an investigation by WarnerMedia started.
A source reported that the Ellen Degeneres show was under an internal investigation, and everyone who was and/or still working on the set was going to be investigated regarding these allegations.
On the 30th of July and after the investigation, Ellen broke her silence.
She broke her silence with a letter sent to the Hollywood Report.
In her note, DeGeneres takes responsibility, insofar as the show bears her name, and insists that steps will be taken to "correct the issues" going forward.
"As we've grown exponentially, I've not been able to stay on top of everything and relied on others to do their jobs as they knew I'd want them done. Clearly some didn't," she writes. "That will now change and I'm committed to ensuring this does not happen again."
The half-assed apology was basically a whole bunch of "I didn't know, the producers did it," and threw even more employees under the bus.
Yikes.
However, later that night, more cases of sexual harassment allegations in the workplace were made public!
The allegations were against one of her producers Kevin Leman who allegedly asked former employees to give him oral sex at a work party!
Overall, all employees stated that the workplace felt too touchy-feely in a creepy way.
And of course, Ellen claimed that she didn't know and was "betrayed".
Some Celebrities Showed support.
Ellen's celebrities' friends started to show her support and stand by her side.
Her brother, her wife Portia, Katy Perry, Kevin Hart, and Jerry O'Connell all came out in Ellen's defence.
However, the former DJ of her show, Tony Okungbowa, came out the same night and explained the toxicity he endured while working with the show.
https://www.instagram.com/p/CDeYxlXJwnN/?utm_source=ig_embed
Although these allegations made Ellen consider quitting the show; she still made it on air.
On the 21st of September, seven months of the allegations, Ellen aired the first episode of the new season. And of course, she addressed this heated situation first thing on the show.
She apologised in a monologue and expressed her remorse.
Today we're starting a new chapter. pic.twitter.com/PvpZXnXLv5

— Ellen DeGeneres (@TheEllenShow) September 21, 2020
Although she spent 7 whole minutes issuing about the matter and apologising, just like her first apology, no one was buying it.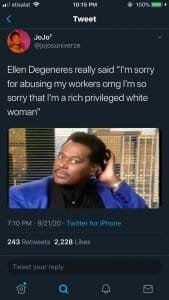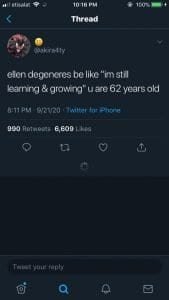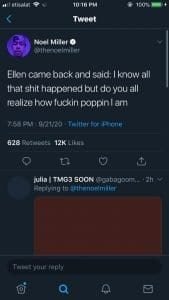 Apparently, the majority of people didn't believe her, and they accused her of lying and not showing any remorse, and even pretending that she's sorry whilst she's not!
In short, the monologue felt like it fell on deaf ears.
All in all, we have seen Ellen on TV for 18 seasons, and we need to know the truth.
We need an actual apology from her and her producers to her staff, and the guests she made to feel uncomfortable.
She needs to clean her workplace and make it a safe place.
She needs to be more aware of the things she does!
She needs to practise what she preaches!