Lithuania has been facing what could only be described as a severe migrant and foreign policy crisis, with an influx of mostly Iraqi migrants traveling into the Baltic country from its European neighbor Belarus for the past few months. 
Despite warnings from The Red Cross against what it deemed a clear non-compliance with international law, Lithuania has persisted in its decision to turn away migrants attempting to enter the country at any cost and by any means possible.
"Pushbacks of people seeking asylum are not compatible with the Geneva Convention on Refugee Status, the EU Charter of Fundamental Rights and other human rights instruments"

– Egle Samuchovaite, program director for Lithuania's Red Cross
Lithuanian border guards are provided with government orders to prevent the surge of incoming migrants in two ways. The first is nicely convincing the migrants they were lost and nicely rerouting them back to Belarus. Should this method fail, the second entails "the use of force depending on circumstances."
"First of all, (Lithuanian border) officers tell them (migrants) that they are lost; that they have arrived in the beautiful country of Belarus and got the wrong way while enjoying its nature but now they must continue the tourist trackback into that country. If that method proves unsuccessful, Lithuania has reserved the right to use force to keep the migrants away."

Vice Interior Minister Arnoldas Abramavicius.
Abramavicius also pointed out: "It can not be ruled out that (border guard) officers will face aggression from migrants," thus effectively "justifying" the so-called "necessary measures" taken to stop illegal immigration and border crossings.
"Lithuania can not accept this influx, which grows day by day,"

he asserted as Lithuania turned away 180 people last Tuesday alone.
Lithuanian rights groups and several of the country's politicians have spoken out against the use of force and aggression, despite seeing the measures taken by authorities as necessary.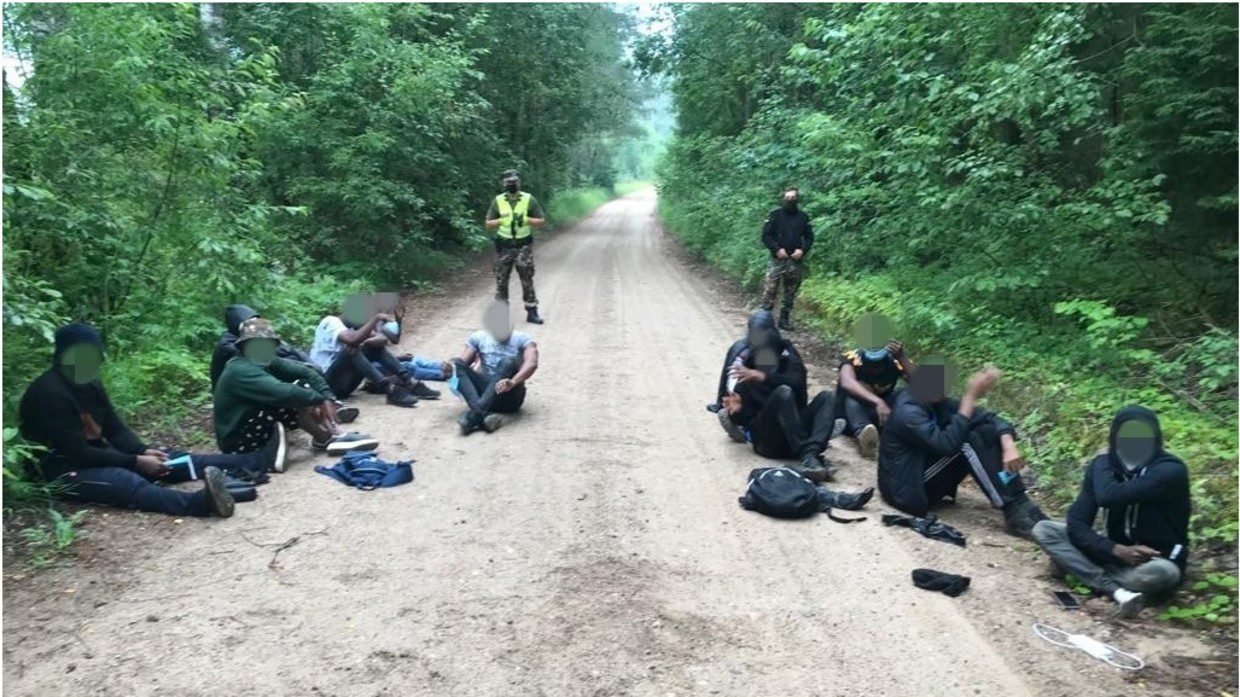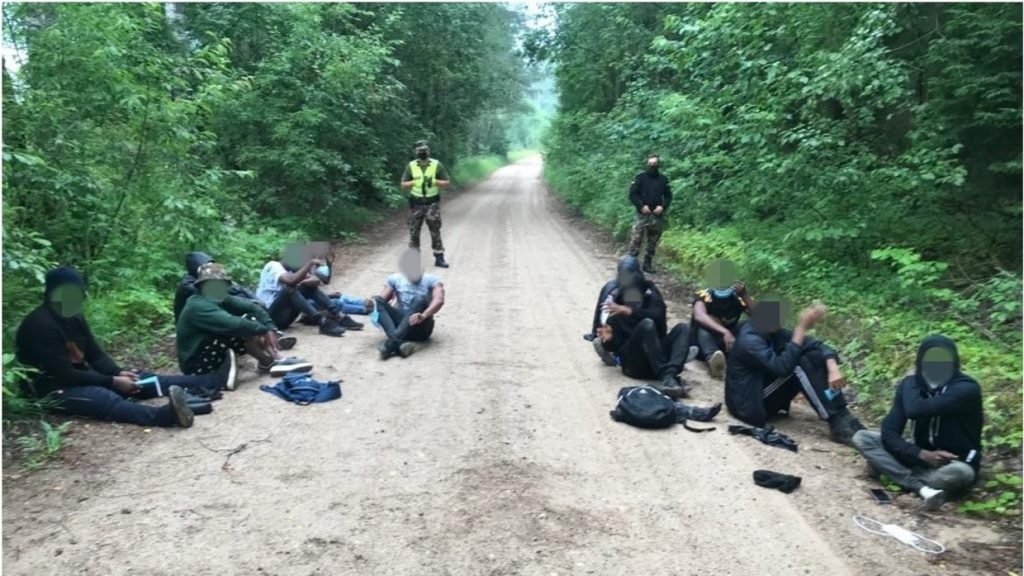 They stressed at their government the importance of respecting migrants' rights while also pointing out that each nation must "protect vulnerable people." Some called for the need to aid women who migrate with children.
The Head of the parliamentary human rights committee, Thomas Vytautas Raskevicius, acknowledged that the migrant situation "is sensitive from the point of view of human rights, and that should be assessed."
Cause of migration to Lithuania: foreign policy, Belarusian retaliation and Telegram channels
According to Lithuanian officials, 4,026 migrants have crossed from Belarus into their country. They predict 10,000 more migrants will attempt to cross their borders given the tripling number of direct flights from Iraq to the Belarus capital of Minsk.
Lithuania, a member of the European Union, sees this influx of migrants as a form of retaliation carried by Alexander Lukashenko, Belarus' authoritarian President, after the imposition of sanctions on his country back in May 2021, an air piracy incident that tested the international community order.
This incident involved Europe's "last dictator" using a terrorist bomb hoax to divert a flight from Athens to the Lithuanian capital Vilnius while it was passing through Belarusian airspace to detain an opposition activist.
Migrants, however, are originally lured through online baiting in what euobserver called "an organized network of Telegram encrypted messaging accounts."
These Telegram channels, some of which have approximately 26,000 members, are essentially used to give people seeking a better life outside their country of origin, mainly Iraq and Syria, and in countries like Austria, Germany, Italy, and Lithuania.
Another shocking detail revealed in the euobserver website is that one Telegram channel with more than 2,500 members has been linked to the name and address of an Egyptian tourist agency with branches in the Zayouna neighborhood of east Baghdad.
The channel contains posts claiming that said agency "charges $200 [€168] for infants, $550 for children between the ages of 2 and 8, and $750 for adults to get to Belarus."
These migrants are not aware that they are being manipulated by false hope since migrants are often likely to be detained or returned on their way to Lithuania from Belarus.
Stuck in the middle: migrants shunned from both sides as Belarus closes borders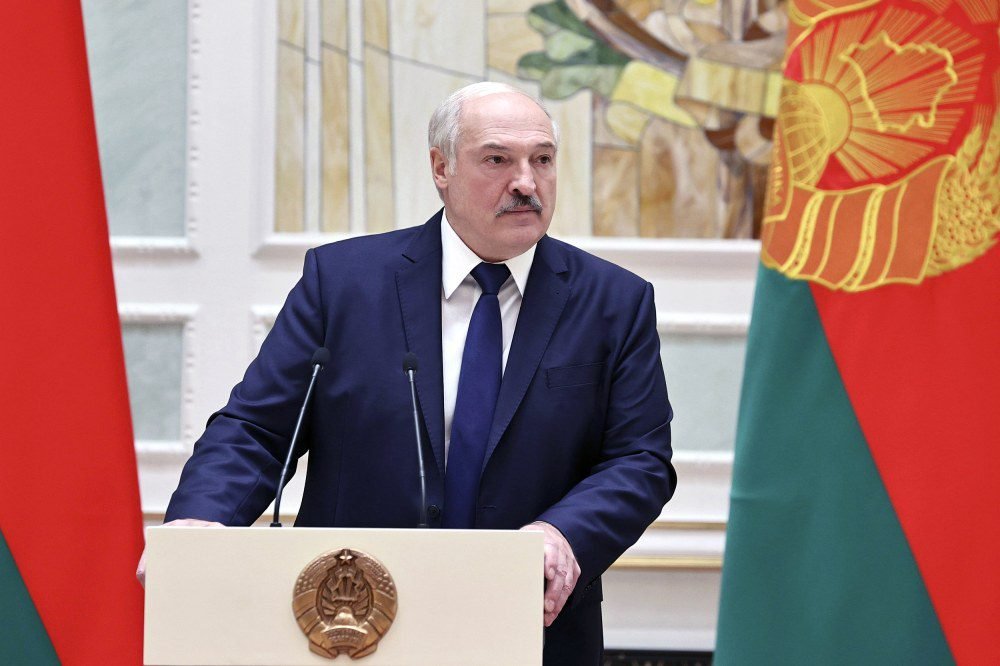 After succeeding in its plan to lure migrants into its land with untrue promises of a better life, Belarus sends the migrants off to the Lithuanian border.
With such act of deception and the established network of illegal immigration, Belarus is attempting to pressure not only Lithuania, but the European Union in its entirety.
Ironically, Belarusian President Alexander Lukashenko did not anticipate that his act of retaliation might back fire should the Lithuanians turn back the migrants. And so they did.
With no where to turn to in the face of detainment, aggression, or potentially returning home, the migrants have no option but to walk back to Belarus.
The surprise is that Lukashenko has also ordered his country's security forces on Thursday to "close every meter of the border" with Lithuania to prevent their return.
This effectively trapped migrants in a nowhere land, displaced between the two European countries in a dirty political fight, in which they are needlessly stuck in the middle of.
Building Physical Borders and EU Support
It is crucial to understand that Lithuania has no physical barriers for its almost 679 kilometers (420-mile) long border with Belarus. Still, the government wants to change that to fight back against its scheming neighbor.
Building a physical border is estimated to cost more than 100 million euros ($119 million). However, such a costly endeavor could not be financed through EU funding, despite the EU officials' support and pledge of millions of euros to help Lithuania tackle its migrant crisis.
Nonetheless, Lithuania's prime minister Ingrida Šimonytė firmly promised to install the barrier at vulnerable points, with or without EU support, and then expanded it to the "entire eastern border of the European Union."
"Let me say very frankly and directly, the government is going to implement this project,"

– Lithuania's prime minister Ingrida Šimonytė
On a visit to Lithuania, EU home affairs commissioner Ylva Johansson reasserted the Union's support against what she described on her Twitter account as "an aggressive act from the Lukashenko regime that is designed to provoke."
Although Johansson urged the importance of immediate focus on preventing irregular arrivals and sending "those with no right to stay back to their countries of origin" rather than border building.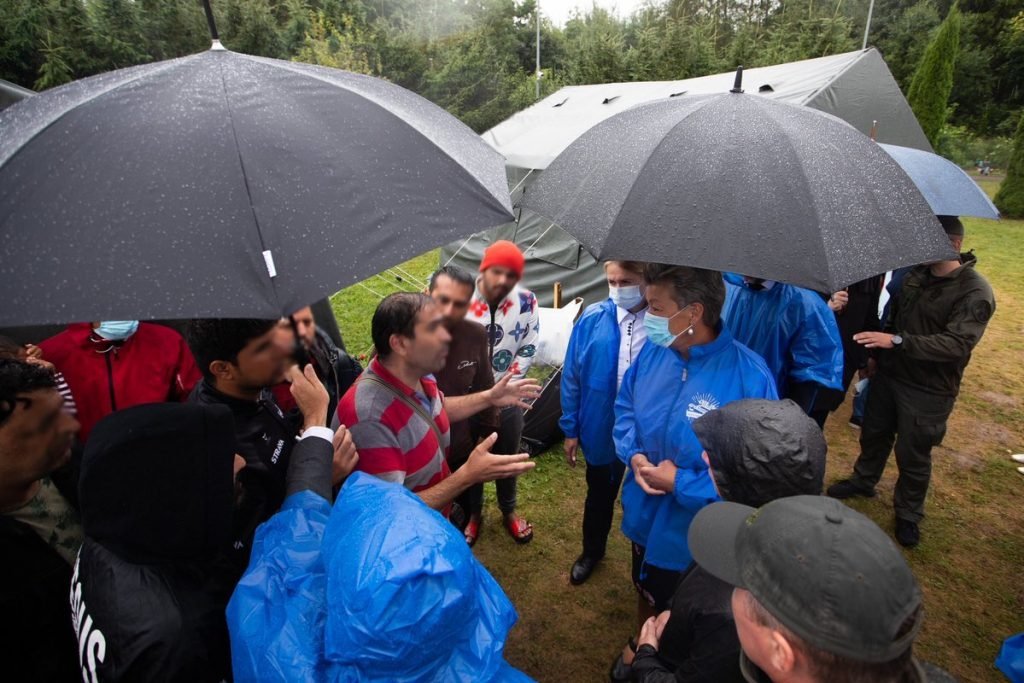 Death on the borders:
According to Belarus's state media, an Iraqi migrant died while trying to cross into Lithuania. According to Lithuania, however, it's a smear campaign by Belarus amid a growing crisis in which migrants are used as pawns by Belarus's leader, Alexander Lukashenko.
Some are comparing the incident to the one of the "Crucified boy." During the Ukrainian crisis and the war in Donbas, Russian TV showed "A refugee from Sloviansk recalls how a little son and a wife of a militiaman were executed in front of her."
The news showed unconfirmed allegations of a public crucifixion of a three-year-old boy performed by Ukrainian soldiers at the Lenin Square in Sloviansk. The story was later confirmed to be fake.
This incident was also the reason behind Donal Trump's infamous "Fake news" statement whenever he spoke about Russia.
Arab silence but Iraq finally responds
Despite the migrants consisting mainly of citizens from Arab countries, none but Iraq has addressed the matter.
During a joint news conference with his Lithuanian counterpart Gabrielius Landsbergis, Baghdad's Minister of Foreign Affairs Fuad Hussein has vowed to investigate the "alleged plan to smuggle Iraqis into Europe" and particularly Lithuania through Belarus.
"We will not accept smugglers in our society. It's our duty to protect our citizens, whether they be inside or outside the country."

Iraq's Minister of Foreign Affairs Fuad Hussein
Although a telegram channel of illegal immigration had been linked to Egypt, Egyptian authorities have not released any statement with regards to the Zamalek-residing Tourist company.