Counselor Hamada Al-Sawy ordered the Public Prosecutor to form a team to urgently investigate the killing of the victim, Salma, at Al-Shorouk Academy near Zagazig Court.
So far, the investigation reveals that Salma was stabbed 17 times, 15 from the front and 2 in the back.
It's been confirmed that they went to the same classes in university.
As for the killer, Islam, it's been said that he had the victim's name tattooed on his arm and "Salma my love" on his chest.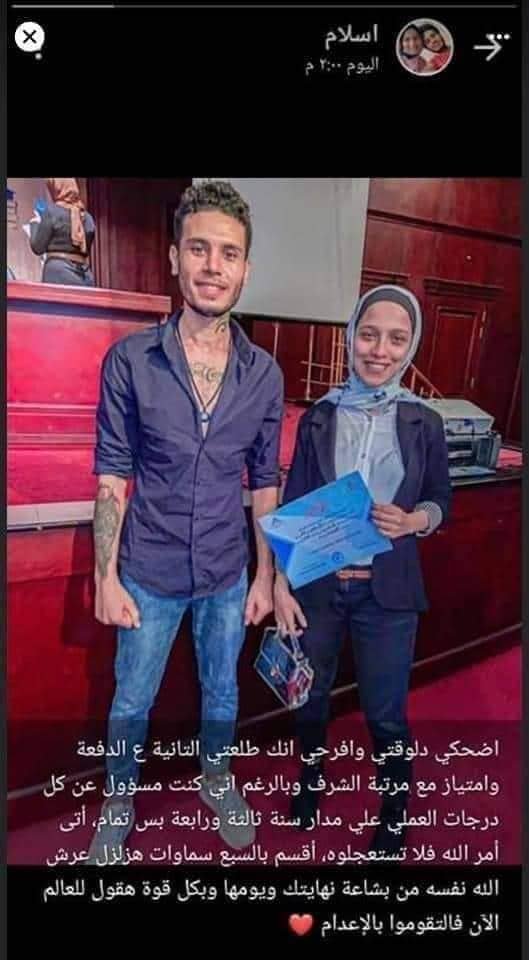 The killer confessed:
"She abandoned me, and I wanted to heal my anger by taking revenge. So I stabbed her many times. I don't know how many."
The killer claims he was in a relationship with the victim, and she ended things with him. Some media reports that he was "inspired" by the murder of Nayera, though that is still officially unconfirmed.
A screenshot of a social media post posted by the killer of a picture of him with the victim says:
"Laugh now that you are the second in the class with honors, even though I was responsible for the practical grades during the third and forth year."
The post continued:
"God's order has come, do not rush it. I swear that your end and your day is near."
The post ended with:
"I swear on the seven heavens that I will break God's thrown from how gruesome your ending will be.