Egyptian footballer and Arsenal's midfielder Mohamed Elneny was one of the first public figures to show support for Palestine amidst the current conflicts. Still, sadly the support didn't go as smooth for Elneny.
What did Mohamed Elneny say?
Midfielder wrote, 'My heart my soul, my support for you Palestine.'
As of publishing this article, the tweet received almost 25k retweets and 92k likes.
Why the backlash?
Apparently, his support for Palestine offended his zionist fans who have been campaigning to have Arsenal take action against Elneny.
Arsenal's feedback?
Arsenal, however, defended Elneny. According to the Jewish Chronicle, Arsenal said the midfielder was "entitled to express (his) views" but added they would be "speaking to Mo" about the post so he "understands the wider implications."
The complete statement from Arsenal to the Jewish Chronicle:
 "As with any employees of Arsenal, our players are entitled to express their views on their own platforms. That said, we are speaking to Mo about this, so he understands the wider implications of his post.

As a club, we are committed to confronting and eliminating all forms of discrimination and continue to champion the need for equality and diversity across all areas of life."
What are the implications? We're not sure!
The issue with Lavazza and Elneny:
There's been a viral screenshot from an email sent from the CEO of Lavazza, one of Arsenal's sponsors, replying to a fan who's complaining about Elneny's comments.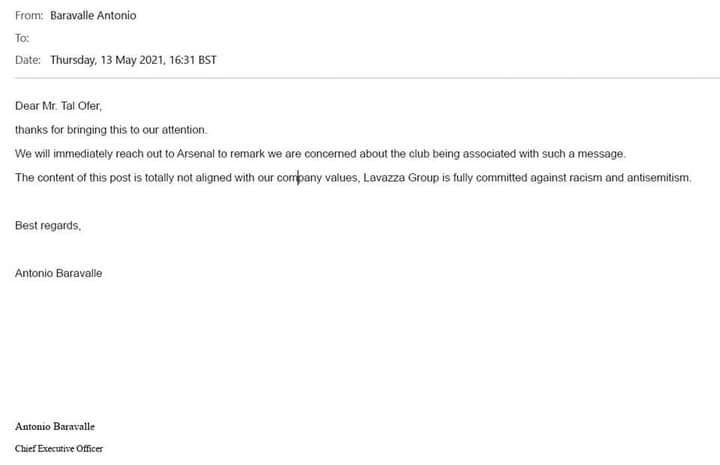 The email shows the CEO saying his comments don't match the brand's beliefs and speak to Arsenal about Elneny's comments.
There's absolutely no credible source to this screenshot, nor do we think the brand's CEO will be the one replying to customer's complaints, and as of now, we believe it's a fake screenshot.
*We're not confirming that the email is fake. We just don't find enough evidence to show authentication of the email.
Why are they only calling out Elneny?
Several other players supported Palestine, so if you're unsure why Zionists are grilling Arsenal, it's because Arsenal has a history with racism and islamophobia.
Arsenal's response to Mesut Özil defending Mesut Özil:
Arsenal exiled one of their top players, the German midfielder Mesut Özil, recently for speaking out against the mistreatment of Uighur Muslims in China.
In December 2019, Ozil, who is Muslim, released a social media post calling Uighurs "warriors who resist persecution" and criticizing both China and the silence of Muslims in response.
Arsenal distanced themselves from midfielder Ozil's comments, saying the club is "always apolitical as an organization."
China has consistently denied mistreating Uighur Muslims in the country and says they are being educated in "vocational training centers" to combat violent religious extremism.
After his post, Ozil was taken out of China's version of the Pro Evolution Soccer 2020 video game, and the club's next match against Manchester City was removed from state broadcaster CCTV's schedule.
China's foreign ministry spokesman said Ozil had been "deceived by fake news" before making his comments.
We get that Elneny's Zionist fans might feel "alienated" by the player's stance, but football has always been political!
In the article by the Jewish Chronicle, they made it sound like this was the first time politics and sports ever got mixed together.
"Football is a game that is supposed to bring people together, but that post was just divisive.

"It was insensitive and provocative. I went to the shul last night, and many of my friends were upset about it; one described it as outrageous.

"Arsenal has many Jewish supporters and also has many fans in Israel. 

Of course, Elneny is allowed to view, but he is an Arsenal player, and people are reading his views because he is an Arsenal player. 

What does Arsenal think about that?"
And it's funny that Israeli fans say that when they're allowing a club like Beitar Jerusalem…
What's Beitar Jerusalem?
The most vocal supporters of Beitar Jerusalem make up the controversial nationalist La Familia group. These fans are well known for their opposition to integrating Arabs into the club, and they are proud that Beitar Jerusalem is the only team in the IPL that has never had an Arab player, although it has had several non-Arab players of the Islamic faith. Fans in and out of the stadium's stands chant anti-Arab and racist slogans — as "Death to Arabs." The club has also been penalized many times for the behavior of its fans.
As of now, the team never had an Arabic player, but they had Muslim players.
Nigerian player Ndala Ibrahim, a Muslim, was on the team briefly in 2005 on loan from Maccabi Tel-Aviv, played 4 games, supported by coach Eli Ohana but left after being mobbed by Beitar fans. He returned to Maccabi Tel Aviv and soon returned to Nigeria.
In 2013 the team signed two Chechen Muslim players, Zaur Sadayev and Dzhabrail Kadiyev.
The club's fans reportedly displayed a banner bearing the words "Beitar – forever pure" and chanted anti-Arab slogans at a match the day the players were signed, leading to four arrests.
On 8 February 2013, 2 fans set fire to the club's administrative offices in response to the signing of Sadayev and Kadiyev.
On 3 March, Sadayev scored his first goal for Beitar during a league game against Maccabi Netanya, prompting hundreds of the team's fans to leave the stadium.
You can learn more about the team's supporters through this video:
A fun fact, Benjamin Netanyahu is a Beitar supporter. But to be fair, he did condemn the team's racism but never took action against anyone.
This leads us to the end of our rant, and what happened with Elneny is exactly why Mohamed Salah should've taken a clear side, and it's why we're disappointed.
We understand; not everyone is obligated to speak up. But when you milk being an Arab, make it your brand, have the nickname "Arabs Pride," speak up, and don't sit on the fence!
Mohamed Salah did make a tweet about the conflict, but he didn't show support for Palestine. 
All he said was enough killing of innocent people. Who are the innocent people, Salah? Yes, for us it's Palestine, but for others in the west that all they know is that Arabs and Muslims are terrorists, Israelis are the innocent ones!
His picture with the Al-Aqsa mosque doesn't automatically mean supporting Palestine since it symbolizes Jerusalem – the land Israelis claim is theirs.
Mohamed Salah's tweet is not any different than Israeli actress Gal Gadot's tweet.
Yes, Gadot, the woman who served in the Israeli Defense Force.
Israeli American Actress Natalie Portman has been using her platform to educate her followers about what is happening in Sheikh Jarrah and the concept of oppression, while Salah didn't bother to even write Palestine in his tweet.
And, no, it wasn't an honest mistake from Mo Salah. We all know that nothing gets out with passing by his agent Ramy Abbas first, and Abbas is not an idiot.
Ramy Abas, the Colombian-Lebanese football lawyer and advisor-in-chief to Mo Salah, is notoriously known to be rude, extremely smart, and maybe even conniving.
You can read more about Abbas and his career in this article by the Atlantic.
So, yeah, our pride and joy, Mr. "Mo," knew precisely what he got himself into and was okay with it. 
Needless to remind you that Mohamed Salah did support the serial sexual harasser Amr Warda before.
Again, he's allowed to do whatever he wants, freedom of speech and all, but can we just start making people be held accountable for their actions?
He's not "Farkhr el Arab;" he's just a man who happened to be born Arab.