Apple has just released the beta version of iOS 16.4, and plenty of new features exist to explore! From sign-in improvements to RSR enhancements, this update promises to make our lives easier and more enjoyable.
Let's take a closer look at some of the most exciting new features in iOS 16.4.
Sign in with a Different Apple ID
Have you ever wanted to use a different Apple ID for a specific app or service? Well, now you can! With iOS 16.4, you can sign in with a separate Apple ID without having to switch between accounts constantly. This new feature is especially useful for families who share an iPad or for those who want to keep their work and personal accounts separate.
This feature will be available for all Apple devices running iOS 16.4, including iPhones, iPads, and iPod touches. The sign-in process is easy to navigate, and you'll be prompted to enter your credentials for the separate Apple ID when you open the app.
Improved Podcast Experience
First up, we've got channels! No more digging around for your favorite provider's podcasts, because now they can all be conveniently located in one spot. Just browse the channel and discover new shows on your iPhone, iPad, or Mac. It's like a one-stop-shop for all your podcast needs!
Up Next is getting some extra love too. Episodes saved to your library will automatically be added to the queue, but if you want to remove one, just touch and hold the show's artwork. And if you're using Podcasts with CarPlay, you can still access Up Next (and Recently Played) to keep your listening journey seamless.
And finally, the episode dashboard is now crystal clear. You can see exactly how many unplayed episodes are waiting for you at the top of each show page and in the Recently Updated section of your Library. Plus, you'll be able to identify "early access" subscriber episodes that are made available to you as part of your subscription. How cool is that?
RSR Improvements
For those who may not know, RSR stands for Remote System Reset, which allows Apple to remotely reset your device if it's lost or stolen. With iOS 16.4, RSR has been improved to provide better security and privacy. Now, if your device is reset remotely, you'll receive a notification on your trusted device, and you'll be prompted to enter your Apple ID and password before you can access your device again.
According to MacRumors, this feature is an important security measure that will help prevent unauthorized access to your device. This new security measure will give users more peace of mind knowing that their personal information is protected.
Battery Health Management
With the upcoming iOS 16.4 update, users will finally be able to see just how much battery the Always-On display is draining.
According to some tests, having the Always-On display enabled can gobble up as much as 20% of your iPhone 14 Pro's battery in just 24 hours. Yikes. But if you're not too attached to your fancy wallpaper, you could still enjoy the feature with a slightly less painful 14% battery drain in the same period.
So, will you take the plunge and keep the Always-On feature enabled, or will you sacrifice it for the sake of your precious battery life? The choice is yours, iPhone user. Choose wisely.
Some Potential Bad News, Car Key dropping support for NFC
Since its debut in 2020, Car Key on the iPhone and Apple Watch has been the ultimate convenience for drivers who never want to fumble for their keys again. But according to recent findings by 9to5Mac, it seems like Apple might be dropping NFC from the feature in its upcoming iOS 16.4 update.
What does that mean for you? Well, if your car is only compatible with NFC, then you might be out of luck. You might even get a message that says "car is not compatible with this iPhone/Apple Watch model." Ouch.
But fear not, because the reason for this change is actually a good one. Ultra Wideband (UWB) is a newer and more accurate technology than NFC. It's better at measuring the distance between your iPhone and your car, and it's more secure too. So if you've got an iPhone with the U1 chip, you'll still be able to use Car Key.
Sorry to break it to you iPhone SE and Apple Watch SE users, but without the U1 chip, you might have to stick to good old fashioned keys for a while longer. But who knows, maybe Apple will surprise us with a new chip in the future. We'll just have to wait and see!
Last but definitely not least, NEW EMOJIS!
Hold on to your hats, emoji fans, because iOS 16.4 is bringing some fresh new icons to the table! As part of the Unicode Standard for Emoji Update 15.0, this update will include some delightful new options, like a shaking face, a goose, a hyacinth, and a plain pink heart. And the best part? They're also available on macOS Ventura 13.3 and watchOS 9.4.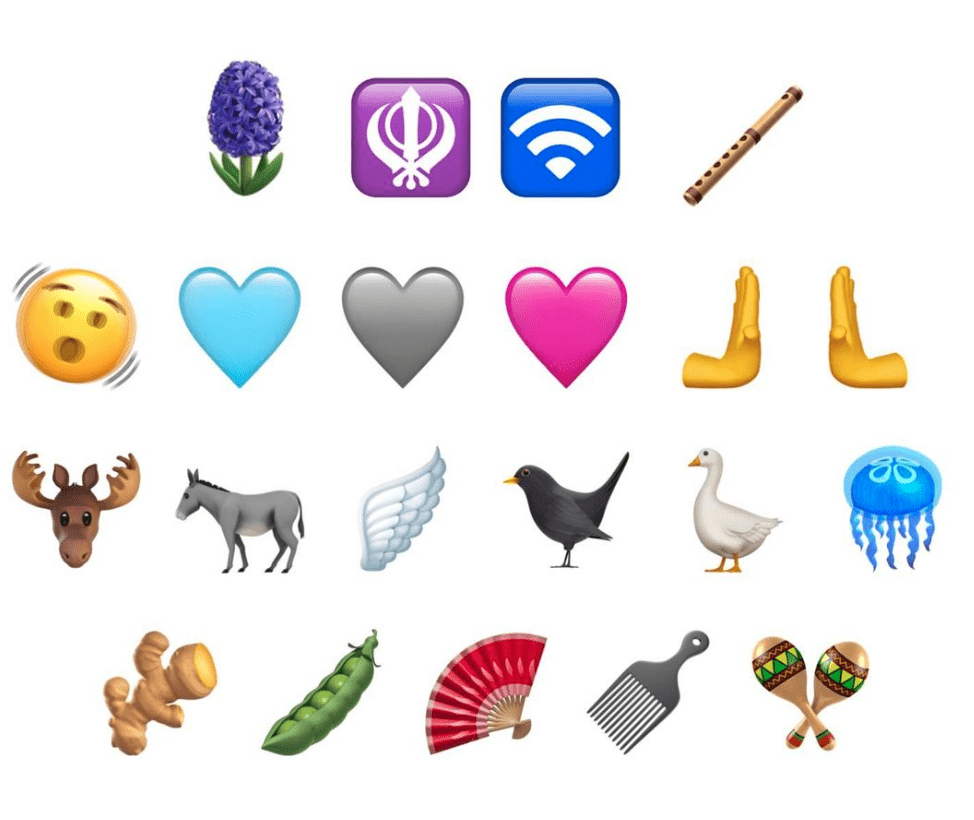 But, there's a catch. If your friends haven't updated their devices, they won't be able to see these new emoji when you send them. So, you'll just have to convince them to upgrade ASAP!
Wrap-Up
Overall, iOS 16.4 promises to be a fantastic update for Apple users. From sign-in improvements to RSR enhancements, this update is packed with features that will make our lives easier and more enjoyable. And, as always, Apple is committed to providing the highest level of security and privacy to its users. So, get ready to update your devices and start exploring all the new features in iOS 16.4!