Most – if not all – Egyptian millennials surely remember watching the film "Awqat Faragh" in 2006. The movie starred 3 young men that we'd never seen before. It was the first time seeing 3 fresh faces star take the lead in a film that discusses taboos. I remember everyone was curious to know what the future holds for the leading young men.
Here we are, almost 15 years later, and two of these men, Amr Abed and Karim Kassem, evolved into fully-fledged filmmakers with their own short film – The Ditch – participating in Cairo International Film Festival.
I remember meeting Amr Abed in early 2020, when we worked on another photo project a few months before El-Shai was even launched. The project aimed to start positioning Abed as a director. Although I was only there for the photos, the interviewer in me had to ask him about becoming a director. 
I'm terrified! It's a step I have to take, but I've been too scared to do it. Even though I'm still scared, I'm still going to do it; because what's the worst that could happen?
A couple of months after this shoot, the pandemic hit, and quarantine started. So I've always been thinking about what Amr said and our conversation about starting something new when you're already accomplished as something else. 
Funny enough, this conversation was one of the main reasons I started El-Shai. It was a no-brainer that when the film was announced to be participating in Cairo International Film Festival, I had to reach out and make a story about it.
The Ditch is directed and written by Amr Abed, produced by Karim Kassem, and stars Sedky Sakhr and Ahmad El Banhawy.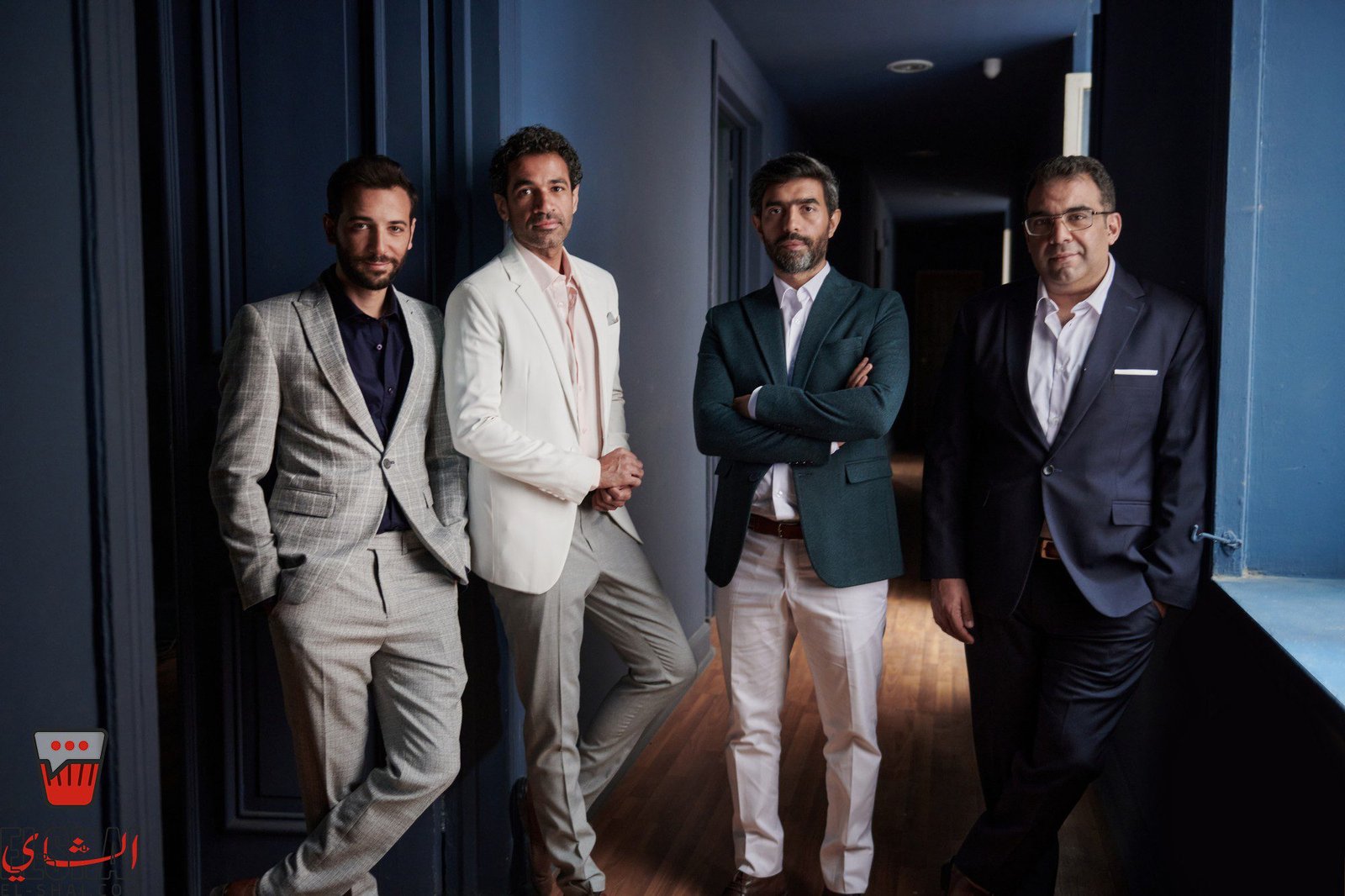 About The Ditch:
The short film, The Ditch, was the last film screened during the first short movies program in the festival, and during its screening, you can literally hear gasps, laughs, and cries from the audience — all in just 15 minutes.
The Ditch's events happen after a car is seen driving to a remote area outside Cairo. We see two brothers, Sedky Sakhr and Ahmad El Banhawy – the only actors seen in the film. We later learn that Sedky's character, Mohamed, is an actor who is self-obsessed and has to experience everything that he acts. Ahmad El Banhawy's character, Ahmed, is his older brother, who is extremely passive and has a defeated attitude.
In the film, we see Ahmed jokingly kidnapping Mohamed, who keeps asking Ahmed to take the kidnapping seriously. Later, Mohamed starts pushing Ahmed's mental limits to let Ahmed become as aggressive as possible.
Speaking now with Amr Abed about his decision to get to directing from acting, he told us:
After I got into acting since Awqat Faragh, I found myself interested and getting into other parts of the industry – from writing to directing and photography. So I would head to workshops or even study online. 

Over time, I found myself very interested in directing, and whenever I was free, I would start writing.
The Ditch might be Amr Abed's first creation to make it to the screen, but the idea came after writing his first featured film, which he is now heading to Jordan to work on.
I started writing my first featured film, which I'll be heading to Jordan to work on. The idea for The Ditch came after.

After I wrote it, I started reading it to close friends, and Karim Kassem told me he wants to produce it when I read it to him.
Karim Kassem is currently one of the top actors of his generation, with one of the most highly diverse portfolios in the business. We've seen him first in Awqat Faragh with Amr Abed. We later saw him in several other independent films, like Leil Khargy and Sawah, and commercial movies like Awlad Rizk. We can't forget the numerous TV series he joined, from Khas Gidan with Yousra and even the English hit series The State.
I would call his career more organized randomness, which can be great but needs a major risk-taker. When asked about this, and whether it's planned or not, Kassem told us:
"It's never planned. I want to try new things, different roles and experiences – to write and direct. I want everything.

My role model in the industry is Woody Allen — he writes, directs, and acts in his own work. He's my favorite, and I want to reach this level."
Speaking with both Abed and Kassem, they couldn't be more different, yet they both have so much passion for filmmaking and love and respect for one another. You can tell they trust each other blindly, and not only cause they are friends, but because they both have similar goals in their careers.
"We're both people who avoid conflict. Even when we have an issue, we keep avoiding talking about it till we have to, so we don't clash a lot. And besides being friends, we worked together a lot. People think this is our first film together, it's not. This is only the first film to be seen.

We worked together various times and even met during Awqat Faragh, then Al-Magik. We even took a directing workshop together, and Amr directed the film, and I produced it. It was a 5 minutes film starring Ola Roshdy. It was shot in one day cost around 2500 EGP."
When speaking about the casting, Amr Abed told us that he had Ahmad El Banhawy in his mind all along when he was writing.
"I went to an acting workshop with Banhawy, and there was absolutely no one else who I could've cast for this role but him."
Ahmad El Banhawy is someone you've probably never seen before, but for anyone who's seen the movie, he's a force to be reckoned with. He showed up 30 minutes before his time, which is unusual in shoots and interviews, and was visibly overwhelmed.
To break the ice, I started talking with him before the interview over coffee and some snacks, and he told me he's a self-proclaimed "amateur actor."
"I love acting, but not on screen. I'm a theater guy – I love the interaction and energy from the stage. However, I don't find the joy in acting in front of a metal body and repeating the scenes over and over."
Ahmad El Banhawy is a Program Manager – Economic Empowerment Sector at the Sawiris Foundation for Social Development. He first got into acting when he was still in university at the American University of Cairo.
When I was studying Mechanical Engineering in 1998, a director in the theater department asked me to join one of her plays. So, during my time at university, I worked in 4 plays. Afterward, I did nothing but act and produce small projects. I then quit from 2000 till 2006.

In 2006, I joined a group called "El Setoh" and later joined Ahmed Kamal's studio for acting workshops, where I met with Amr and Kareem. After that, I was on and off with the studio for around 5 years.

In November 2019, Amr called me for this role, and it was filmed in 2020, and the rest is history.
When asked about how he felt about the film and the character, Banhawy said:
I thought Amr was crazy, and so was the film. So, of course, I was in!
Speaking about the challenges he faced while shooting the film, Banhawy told us that the acting technique was most challenging for him.
Amr was very adamant about the acting technique we used. He basically wanted us to act by not acting. It was a way that Sedky was familiar with, but I wasn't. So we trained for months and months until we reached the final result.

And I'll be honest; at first, I didn't get why Amr insisted on all these little details, but after seeing the final results, I got it. While the character is very different from me, it looked like I was myself on screen. Even my wife said it felt genuine.
Now heading to Sedky Sakhr, the other leading man of the film. Sakhr was also an engineer before becoming an actor and a musician. He did, however, take his craft seriously in 2020, and he's been working almost non-stop!
On how he joined The Ditch, Sedky said:
Amr sent me the script without asking me to join. He just told me to read it, and we'll talk about it later. I saw that it was written and directed by him.

We met and started to discuss the film. I said my opinion — this part is great, this might need to change, etc. — then he told me I want you for the role of Mohamed. And then it happened.
Sedky's role in the film was very physically demanding, and just by watching, you can tell that it looked exhausting and maybe even borderline unsafe.
The role was very challenging. I was bound through most of the film, and the filming conditions were rough. There was even a scene where I fell in the ditch, and I actually fell for real. I injured my head, and it was a hassle to continue working and hide the bruises with makeup. The funny thing is, the scene wasn't even used.
The interviews were held before actually seeing the film and before it was screened in Cairo International Film Festival. After talking with them, it seemed like it would be a good movie, but watching it was a whole other experience.
After it was screened, I remember leaving the theater and having someone tap my shoulder and ask, "what did you think?"
It was Banhawy, whose acting was, like he said, incredibly genuine, yet the character is a complete 180 from what he actually is.
As someone who uses words for a living, I was actually speechless. Nothing I could say would've been enough.
All I could tell him was, "please don't be just an amateur actor because I want to see more of you cause I'm already a fan."
He cried, and I cried, and it was an embarrassing mess for both of us.
To defuse the situation, I called for Sedky Sakhr to congratulate him and be with Banhawy, who was still crying. The moment ended up with a hug between both men, where you can see them both feel like they finally "made it."
I've met with Sedky many times before and seen many of his work. After leaving the film, I automatically moved him from the "rising star" category in my head to an actor who I know will be taking over very soon.
As for Amr, after the film, he felt like he had the weight of the world just getting lifted off his shoulder. He looked proud but also glad its finally over.
Karim, after the film, however, was visibly overwhelmed, though we're all used to seeing him extra confident.
Just looking at these four men after the screening was something that needed a film of its own. You can see a dream getting achieved by each of them separately, yet together through a low-budget independent film that managed to get a standing ovation in one of the biggest festivals in the world, all because they had the passion for it.
Unfortunately, the film didn't win at the festival, but these men still won much from this short film. When asking Amr about the plans they have for the film after CIFF, he said:
All I care about is to have the film seen and for the viewers to be entertained and feel something. The story is close to me, and I don't care about the festivals or awards. Of course, it's great, but I care about people feeling something more. Even if they don't like the movie – I just want them to feel anything and be entertained.
Photoshoot credits:
Photographer: Amr Medhat @verticalanglestudio
Production: Aliens Production @aliens_production
Studio: Aliens Studios @aliensstudio.eg
Stylist: Kariem Fadl @kariemfadl
MUA: Sara Soudy @makeupbysarasoudy
Suites: Moamen Awad @moamenawadofficial