Ahead of his 23rd birthday, Spotify is celebrating Wrapped 2020's most-streamed artist, Wegz. Having grown exponentially over the past two years, he is now one of the most prominent trap artists in the region and a regular name on the charts.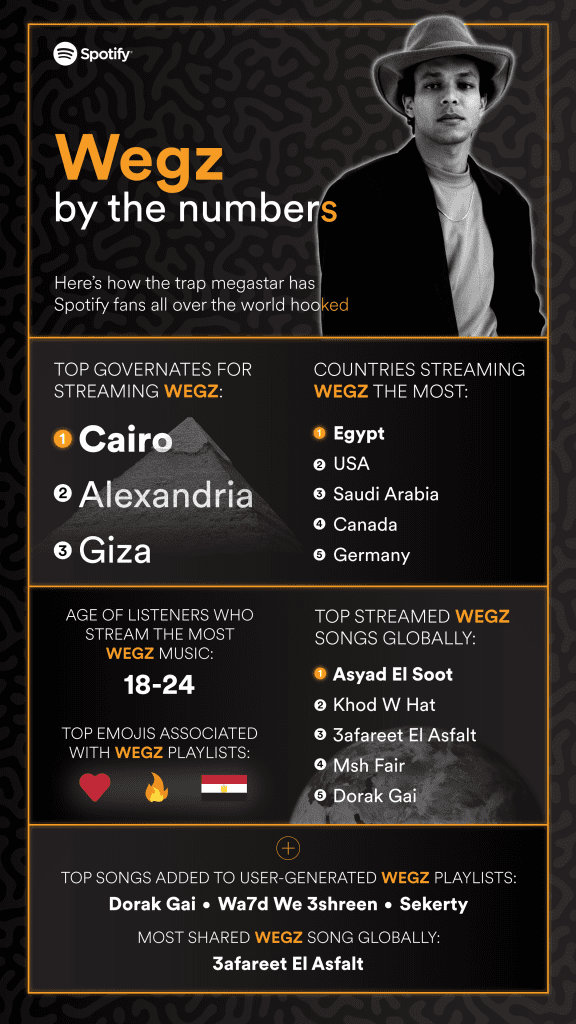 As one of Egypt's hottest exports, Wegz's influence can be seen outside of his home country. Along with Egypt, the United States, Saudi Arabia, Canada, and Germany are the countries where he is streamed the most. Further breaking it down, the top cities streaming him globally are Cairo and Alexandria; after all, he is "El Wardeyan's son," and has devoted several verses to his neighborhood and has a song named after it.
When it comes down to user-generated playlists, the song added the most to playlists inspired by Wegz is "Dorak Gai", according to Spotify data. With lyrics that resonate most with Gen-Zers, it is no surprise that the trap megastar is streamed most by those between the ages of 18 and 24.
Earlier this month, he landed four spots in the top 20 on Spotify's Songs of Summer list.
Head over to This Is Wegz to celebrate him in style.